My Diary and Other Poems, Ishika Bansal.
Diamond Pocket Books (P) New Delhi, pages 86 Price Rs 150/-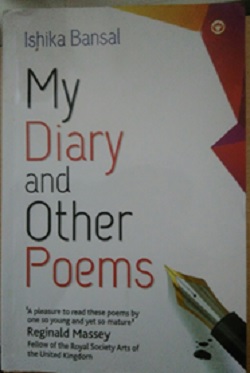 A student of Ninth Class, publishing a book of poetry is a matter for jubilation. This book under review is the second the first being Thread of Life brought out in 2017.

Ishika Bansal is a precocious lover of poetic self-expression. This collection carries several names of very greats in the blurbs: Reginald Massey of Royal Society of Arts in the U.K., Bhupinder Parihar and Rajiv Khandelwal, the renowned love poet. Then there are Udaya Narayan Singh, Professor in Amity University – earlier Director of Central Institute of Indian Languages, Mysore, Professor Harish K. Thakur, Editor of Conifer Calls, Shimla, Dr Awnish Singh Chauhan, Editor of Creation and Criticism, U. Atreya Sarma, Chief Editor of Muse India and Bhupinder Aziz Parihar, Shiromani Litterateur. The budding poet makes some comments too.

In this collection Miss Bansal brought out 47 short and small, succinct and moralistic poems. Surely brevity is the soul of wit and Ishika is very brief. The following are a few samples for the readers' immediate reading.
Words are the life breath for expression and poetry as well. The very first poem in this book is about words:
…. ….. …
They can bring in a lot of change
Depends on how we use them
Work with them wisely
They are words. (p.37)

The poet goes on further adding part 2 with wisdom:

Words used in a god manner are like gold
But they are like a flower
Which never comes into hold. (p38)

The title poem tells us about the school going girl's diary treating it like a friend:

When I open, write and close you
I feel a lot of satisfaction
And all your drafted sheets
Track my every position and action. (p..39)
The poet looks at her class and describes it as hustling:

A lot of noise, teacher yelling at us
Most probably the fish market
Or the travellers coming out of the bis
… … …
We are all moody and truly insane
The innocence lies in hustle and bustle
Which will not be renewed again. (p.40)

The poet has a dictum – speak out:
Don't let ani idea remain unheard
Maybe innovative or absurd
Our speech decides the strength we possess
So, speak out, be aloud (sic)
Maybe you convince someone one day. (p.42)

Here is an attempt to look within the process of realization in the young poetic mind

In the zigzag, jumbled poetry, I am
In the folded, personalized pages, I am
Chirpy bird's friend
In the blue sky
In the green meadow, I am
I am with quirky friends
In their giggles and pranks, I am
I am in the mesmerizing content of a book
In the tossed, marinated, fresh poem, I am (p.47)

The poet becomes philosophical and looks on the other side of the world:
… … …
Unity decreasing, getting unduly individualistic
Forgetting the hard work
Faith dwindling into rituals

The rich go for boasting, the poor make a yell
Caste, religion, race n pinnacle
Mankind gone to hell

Let us be high now, let others get demotion
This race is making people insane
And making them forget emotions. (p.49)

All said and done, the young sleep loving the feeling. Here is a confession

My sullen stressful face
As this hectic day gets over
I feel to cash in my chips on my bed
This can surely cheer me up
Because I live in the world of fantasy
There's no strain, no pain
I like to dream, dream all day
I love to sleep, sleep again. (p.52)

There is a passion, an uncontrollable urge to pen

A fresh poem is a lost friend
Lost for some time
But seems to meet in the end.
… … …
A fresh poem always encourages me
To write many more
Always boosts up my confidence
And relaxes me from the deep core. (p.54)

Hope is a thing with feathers as an American poet wrote once. This poet under study won hardships wrote with a hope.

Don't care what people say
And the viewpoints they have for you
Remember, the positive vibes
Can generate within you, yourself
And can end within you

Believe these hardships as
Another chance to excel
And part ways with the people
Keeping your calm repel. (p.59)

Mother is always lovable and this poet tells us

It's a really petty thing to think of her
As just our caretaker
She is the one and the only on
A multi tasker
A perfect homemaker (sic) (p.60)

There are techniques galore and of those one is copy, cut and paste.

For those who think
Yes, I copy, cut and paste
The words are my own
But yes, I blend the taste.
….
Because it's nothing less than a dream
To create a piece of art. (p.64)

There is moralising too, something which adds to imaginative exuberance and diplomacy.

Obduracy and wickedness can
No longer make you win
Look over your mistakes
Accept them with a grin

Overlook enmity and anger
Friendship with resolve to access
Look over your overlooks
You'll no doubt achieve success. (p.70)

A word of advice and caution as a present for a friend:

Sheer happiness, you're turning thirteen
Beware of all, that looks attractive
As you're entering the world of teens.
… … …
Never cry, your tears are
As precious as a pearl
But when you smile and laugh
You're the most beautiful girl. (p.73)

Every thing must have an end a conclusion and this poet is basically a skilled penperson.
A good conclusion
Is like drops of rain in an arid land.
While an abrupt end can lead everything to the vain.
That ending which gives the most relatable outcome
Scientific, logical and scholastic
A befitting conclusion is one that
Hammers home the message
And sounds didactic. (p.80)

I conclude that this is a great beginning for a lucid and brilliant future.