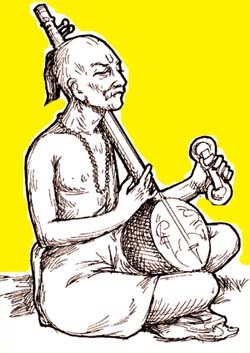 Surdas, the lyricist, songster and devotee has created thousands of poems, in Brajbhasha. They are typically lyrical, originally harmonic as an essential part of the poet's commitment. His most acknowledged compilation is titled Sursagar i.e. the Ocean of Sur, lyric. The most accepted image of Surdas, in the mind of a common man in Hindi speaking area, is that of a blind, dedicated poet who was a great worshipper of Krishna, and who was liberated by Krishna himself when he fell into a well and could not get out for seven days. After that, he got a new life and became famous as Surdas.

A more convincing story as a proof of his blindness is his meeting with Akbar. As a liberal and religiously forbearing king, Akbar wished to meet the blind poet as a creative genius. Surdas's brilliance as a poet and a musician was brought to Akbar's attention by Tansen. Tansen, one of the nine gems in Emperor Akbar's court, and a distinguished artist, has said the following about Surdas:
"Kindhaun sur ko sar lagyo
Kindhaun sur ki pir
Kindhaun sur ko pada lagyo
Bendhyaun sakal sarir"

(Some are hurt by a warrior's arrow
some are tortured by pain
Those hit by Sur's lyrics
are pierced, through and through?)
This saying indicates that Surdas is held in immense view in diverse traditions, literary, creative and melodious. That is the main reason why his devotional songs prolong to be sung even after five centuries.

According to Bhav Prakash, Surdas was born in the family of a Saraswat Brahmin, in the village Sihi, near Delhi. He was blind from the birth. He was gifted with miraculous powers and could tell the location of misplaced things and could also properly answer matters about the future. He left his home as a child and lived near a pond, not far away from Sihi. At the age of eighteen he moved to Gaughat where he lived till the age of thirty one, when his meeting with Vallabhacharya happened. By this time he had assembled a significant following, and along with his mysterious powers, was already becoming renowned for his sacrosanct songs. A consummate musician, he sang mostly padas of obedience, humbleness and appeal. After his rendezvous as the official devotional vocalist at the temple of Shrinathji by Vallabhacharya, he spent the rest of his life in Braj area. He died in Parasoli.

Even if we pay no attention to the devout feature of Surdas, that he was a devotee of Krishna and absolutely committed to him through body and soul; or that it was a ingredient of his obligation to chant about Krishna's life and celestial games, the truth residues that he holds a very towering position in medieval Hindi verse, based just on the legendary merits of his lines. His lyrics, known as padas, were the most trendy technique for performance of devotional songs in the medieval period. Deriving from Siddha poets, this elegiac structure was refined and perfected by poets like Jayadeva and Vidyapati. The padas were always sung, as a rule in conventional Indian mode of ragas. The type gradually but increasingly broadened over North India, its stream getting momentum through the choir and dedicated parishioners. The vocal folklore, an intrinsic element of Indian existence and belief, also helped to keep the variety and the transcript of the padas animate for centuries. It also involved mythology and stories and succinct sayings about the poet.

The essentials about Surdas' life and symphony are more imperfect than his other contemporary poets. The most exhaustive description is established in an account, Chaurasi Vaishnavan Ki Varta (the narrative about eighty-four Vaishnavas) and its edited version Bhav Prakash written in 1698 A.D. The narrative about Surdas contains six chapters, and according to these Vartas, he was born in 1478 A.D., and died, after a stretched life, between 1581-1585 A.D. He was a disciple of Vallabhacharya (1478-1530) the founder of Pushti sect. Later on Surdas assumed a very important place in the sect and was privileged as being one of the eight important poets, called Ashtachhap, or Eight Seals.

The Persian sources have also created some uncertainty about Surdas in Ain-e-Akbari, a historical work by Abdul Fazl. Written in 1597 A.D. it contains the names of the musicians and the singers in Akbar's court. It is revealed that there was a father-son band of musicians named Ramdas and Surdas-- the son Surdas, the poet, is the composer of Sursagar. Going to Surdas's own writings, there are some references in Sur Saravali and Sahitya Lahri. Apparently Surdas wrote Sur Saravali after finishing with the major bulk of Sursagar. Another accepted and widespread credence is that Surdas wrote 125,000 padas.

Surdas' bhakti and verse cannot be divided, they are reciprocally reliant. They make his life and works an important Indian religious occurrence. His choice of theme is restricted, specially when in contrast to poets like Tulsidas, or Sufi poets like Malik Muhammad Jayasi. He did not include all phases of Krishna's manifestation, neither as the king of Dwarika or the champion of the Bhagavad-Gita. He only concerted upon Krishna as a child as the loved one of people of Braj and as the celestial redeemer of his disciple. This idea was familiar and in harmony to pushtimarg where the reverence of the infant and lover Krishna is accentuated. The colossal choice of Surdas' idiom is nowhere extra palpable than in his entirely evocative poems. The recognition to elevate Brajbhasha from a provincial language to the language of literature and of the poetry of Krishna sect in Hindi unquestionably goes to Surdas.
Image courtesy:YogaMeditation.com.au