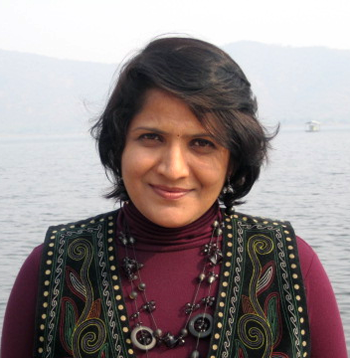 Dr. Nandini Sahu has accomplished her doctorate in English literature under the guidance of Dr. Niranjan Mohanty, Professor of English, Visva Bharati, Santiniketan. She is a poet and a creative writer of international repute and has been widely published in India, U.S.A, U.K., Africa and Pakistan. Dr. Sahu has presented papers on various subjects in India and abroad. She is a double gold medalist in English literature and also the award winner of All India Poetry Contest, the Shiksha Ratna Purashkar and Bouddha Creative Writers' Award.

She is the author / editor of eleven books titled 'The Other Voice' (a poetry collection) , 'Recollection as Redemption', 'Post-Modernist Delegation to English Language Teaching', 'The Silence', (a poetry collection), 'The Post Colonial Space: Writing the Self and the Nation', "Silver Poems on My Lips" (a poetry collection), Folklore and the Alternative Modernities (Vol. 1 and Vol II), 'Sukamaa and Other Poems', 'Suvarnarekha' , and 'Sita (A Poem)' - all published from New Delhi.
She is the Founder/Chief Editor of two bi-annual peer-reviewed journals in English, Interdisciplinary Journal of Literature and Language and Panorama Literaria.