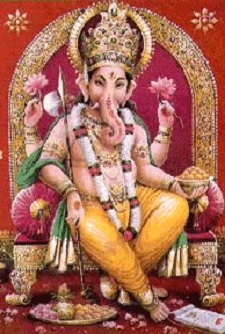 Typically, Hindu worship begins with special prayers to Ganesha, the elephant-headed God. Priority is given to this god, whosoever is the presiding deity mainly worshipped.

Ganesh or Vinayaka is elder son of Lord Shiva. Vianayaka Chaturthi Day commemorates the coronation of Lord Ganesha as head of all Ganas which are celestial entities or divine hosts of intelligence. The festival day is observed in the family as well as the community for collective worship. The festival is celebrated with utmost faith, pomp and fervor.

Before Independence, Lokmanya Tilak, a freedom fighter from Maharashtra in India, encouraged public celebration of this 10-day long festival. He thought esprit de corps during the festival would promote the collective will of the masses to help drive away alien rule.

Ahead of the festival, the things required for pooja (worship) are bought from the makeshift roadside shops. They include a tiny toy umbrella, a canopy made of bamboo sticks, banana shoots to place on the either side of the deity, a garland made of colorful fancy material, select grasses and herbs and raw fruits which are known to be liked by the elephant-headed god, and lastly a suitable idol, one that is preferably made of clay/earth - the last is to go well with wishes of environmentally conscious community in place of idols painted with carcinogenic colors.

The highlights of Lord Ganesha's idols are his various unique features - His huge belly, curved trunk and broken right tusk, besides other inexhaustibly famed attributes. Children are immensely enthralled by Lord Ganesha, who in fact is the revered brother of Lord Muruga.

Lord Ganesha or Vinayaka has two wives, namely Siddhi and Buddhi (Power and Wisdom). He is renowned as the scribe for penning Mahabharata epic and hence He is worshipped by the students for doing well in the ensuing examinations. The Lord is also famed for eliminating a notorious demon, and as such known for his emulative valor.

Community idols are typically huge in different shapes/ avatars (some of them are creatively shaped to depict him with some fancied attributes that go with the current craze such as cricket, computer, astronauts, et al.) The idols are installed in most of the street corners. Various cultural programs are scheduled on all 10 days that include free distribution of food/Prasad to one and all. On the final day, processions of idols mounted on various vehicles are taken out along with merriments toward water bodies for Visarjan (immersion). The large idols are lowered into the lakes or sea with the help of huge cranes. The sights at the immersion are worth watching and it is lovable to be a part of that religious fervor which attracts even foreign tourists.