The first Sikh turbaned Policeman in America was gunned down on 27th September during a routine traffic stop. The joint Sikh and Police ceremony of Deputy Sandeep Singh Dhaliwal's funeral in Cypress, Texas was attended by over 5 thousand mourners. The mourners included family, the Sikh community, the law enforcement community, as well as many from all walks of life, who were moved by his compassion and story. The program started with Kirtan and after the singing it was followed by English translation of the shabad (Hymn) sung. The Kirtan was followed by tributes from community leader Dr. H. S. Azad, Amy Lasko, and Captain Simratpal Singh from US Army and others. The Law Enforcement Memorial service started with HCSO Honor Guard, music – Rescue, and was followed by Speakers including Lt. Governor Dan Patrick, Texas Senator Ted Cruz, Attorney General Gurbir Singh Grewal, Houston Mayor Sylvester Turner, Judge Lina Hindalgo, Sheriff Ed. Gonzalez, and former Sheriff Adrian Garcia. After the service, members of the Harris County Sheriff's Office said their goodbyes to Dhaliwal with full honors and a 21-gun salute.

End of Watch September 27 2019

End of watch with Date in Law Enforcement terminology refers to the date, when a Law Enforcement Officer is killed in the Line of Duty, which was 09-27-2019 in case of Sandeep. Sandeep, 42, pulled over a vehicle around 12:45 PM in the 14800 Block of Willancy Court in Cypress, Texas for running the red light. After a brief conversation with the driver of the car, Sandeep returned back to his squad car. Within few seconds the driver ran up after him shooting him multiple times from the back on the neck. Sandeep was airlifted to the hospital, where he died.

Robert Solis, 47, was soon caught and was charged with capital murder case. Solis had a criminal record that includes conviction for aggravated assault with weapons, kidnapping, driving intoxicated etc. The tragic death cast a complete gloom not just in the Sikh Community or the law enforcement communities but the entire city of Houston. The ground swell of support and empathy that was seen was unprecedented. Even in his tragic death Sandeep had united the city and echoes were felt around the nation and the world.

We hear many times that one individual can make a difference, and most of the time we dismiss it as pep talk. But in this particular event it was an unprecedented reality and not just words from pulpit. The tears dropping down from the cheeks, the banners in the yard, the attendance at the vigils, memorial services were living testimonials that one can make a difference.

Call to Duty

The call to Duty came to Sandeep over a decade ago in a very strange circumstances, who was engaged in successful trucking business. There was a robbery in a Sikh household and the family called 911 for help. The police party which arrived at the scene treated family members like criminals because the daughter was Amritdhari (baptized) and was wearing a ceremonial kirpan (sword). Andy Garcia, who was Sheriff-Elect at that time came to know about the incident and personally came to Gurudwara Sikh Center and apologized on behalf of police, although he was not yet sworn in. He sought to strengthen the relationship with Sikh Community and encouraged congregants to apply for police positions. He assured he will personally help the individuals with getting necessary exemption to wear the turban in uniform.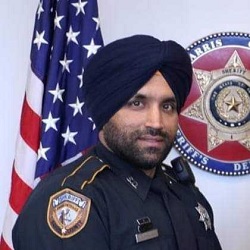 Sandeep was so inspired and he met Garcia, closed his trucking business, growing his hair again and started his journey in law enforcement as civilian detention officer. He progressed on becoming a peace officer and eventually progressed to become the first Deputy in 2015 to sport a turban in USA. Thus he came to be known as a trailblazer. His statement to NBC at that time' "As a Sikh American, I felt need to represent the Sikh Community in Law Enforcement." sums up his deep desire to serve the community.

On Duty

On duty, he was the first with turban instead of hat which surely raised not just eye brows but sarcasms too, which he endured in his mission driven life. But he mentally strengthened himself for the onslaught which is best summed in his words, "It will be a way of opening up the conversation so I can explain to people what Sikhs are all about."

The bold initiative in a partnership with Sheriff Andy Garcia to implement a religious accommodation policy endeared him to the entire community in the nation. In the process he was to become a role model, a hero and inspiration to many others. We will see more on in the next paragraph on Legacy.

Legacy

The trailblazer surely left an indelible impact not just in the community he served, but his achievements reverberated throughout the nation. The people from all over USA and Canada especially in law enforcement and armed forces came here to honor that legacy. Gurvinder Singh, a New York Police Department officer who traveled to the memorial services, said Dhaliwal's actions inspired him to seek similar approval in New York.

"He was a motivation to a lot of guys here, "said Singh, president of the Sikh Officers' Association. "Even though we lost an officer, you're going to see a lot more Sikh officers out there, and serving our community." Sartaj Singh Bal said moments before the services "I think he was a hero to the next generation,". Harris County Sheriff Ed Gonzalez said Dhaliwal was "a man of dedication, faith, love and compassion." New Jersey Attorney General Gurbir S Grewal, the nation's first Sikh state's attorney general, said Dhaliwal "inspired an entire generation of Sikhs to public service."

Sandeep represented the richness and diversity of Houston, who stepped outside his comfort zone, seeks friendship with strangers, and help others in the process raised awareness of Sikh Faith. Where can one find another example of living the Guru's teaching of treating everyone as one? He embodied the spirit of the faith he practiced and he spread it around.