Well if the words "Khuley Darshan" piqued your attention, then let us first address them as to why these words are part of the title. Actually these words mean "open visitation" and are an integral part of Sikh prayers that are recited at all places over the world. These words have been an integral part of the prayer since the time of the partition of India at the time of independence. These were incorporated in the prayers as they reflected the collective Sikh psyche to be associated with the holiest Sikh historical shrines that became part of Pakistan, while the majority of Sikh population in West Panjab crossed the border "Radcliffe Line" and moved to India. This year 12 November 2019, marks the 550th Parkash Purab (Birthday celebration) of Guru Nanak Dev Ji so the quest of open visitation became an urgent desire, which we fulfilled in March this year. Here I would like to share some most important historical places, as those are true heritage but we are not connected with them.

Gurudwara Janam Asthan, Nankana Sahib: We visited the place of birth of First Sikh Guru Nanak Dev Ji on the first day of year as per Nanakshahi calendar. The first sight of the complex takes you in a state of awe. We attended the program and heard keertan, and after the program we had darshan of Sukhasan place (Guru Granth Sahib's retiring room for the night) and langar (dinner) in the langar hall. The food tasted very delicious as eating the food there felt like a blessing. The tears of thankfulness were rolling down the cheek in a stream. We were counting our blessings of being there at such an auspicious place that day. Other historical places in Nankana Sahib associated with childhood of Guru Nanak Dev Ji are Gurudwara Patti (wooden tablet for writing) Sahib, Gurudwara Bal Lila, Gurudwara Kiara Sahib, Gurudwara Mall Ji Sahib, Gurudwara Tambu Sahib.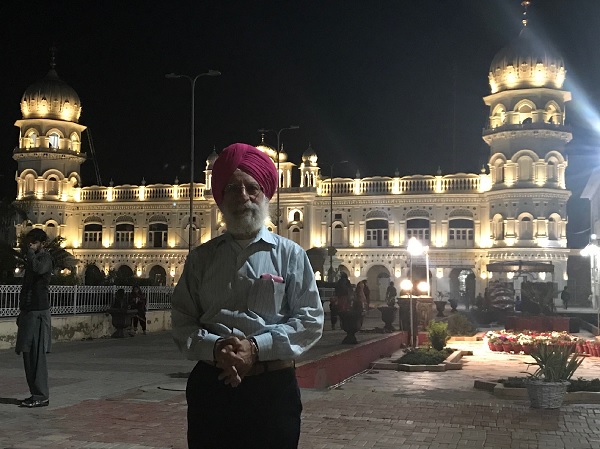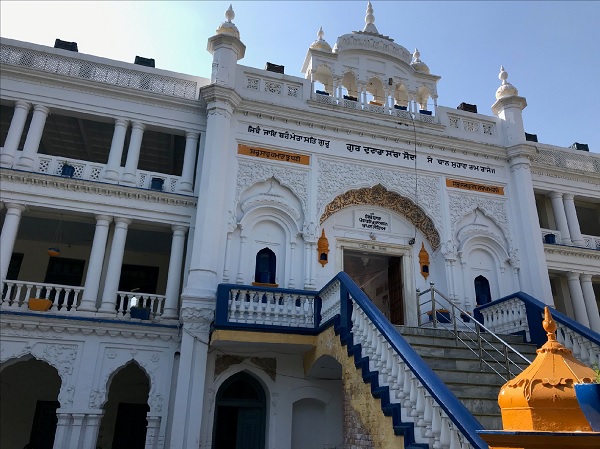 Gurudwara Sacha Sauda, Farookabad: The Gurudwara building is a three story impressive structure with domes overlooking the wide swath of fields and open green space. The shrine was built by Maharaja Ranjit Singh and is over 180 years old. After the partition in 1947, the Gurudwara was in disuse and it was only in 2000 AD it reopened. The ambience there is so soothing, that a yearning emanates from within why not just stay here. The bani, and the kirtan recited there is transmitting sweet nectar to the vegetation there, thus creating a blissful environment.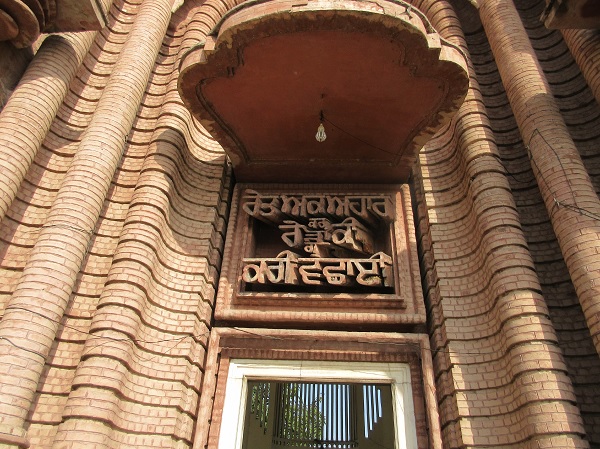 Gurudwara Rori Sahib, Eminabad: This was first stop of Guru Ji in 1500, when he embarked on long journeys to provide solace to the entire mankind. Guru Ji visited this township Eminabad as it is known now (earlier Saidpur) quite a few times. Guru Ji had foretold Bhai Lalo, well in advance of twelve years that the great misery people will suffer at the hands of invading armies of Babur. However, Guru Ji was here again in 1521, when Babur invaded India. At that time of invasion, the entire township was plundered, looted and razed down by the invading forces. Guru Nanak stayed with Bhai Lalo after the destruction of the Saidpur by Babur. The piles of rubbish and debris in Punjabi are known as Rori. So, this place also derives its name from the word Rori, which became bed of Guru Ji during those two visits. The reign of plunder, rape, rapine and taking prisoners for sale followed. Even Guru Ji and Mardana were not spared they were also taken prisoners. Guru Ji has written a shabad known as Babur bani, in which Guru Ji has painted the grim picture of devastation.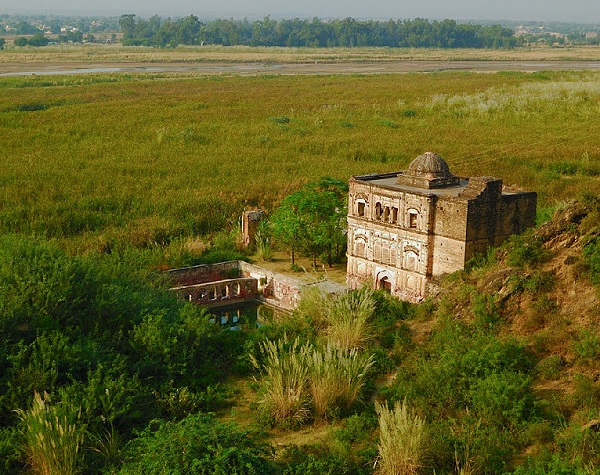 Gurudwara Choa Sahib, Rohtas: There was a severe shortage of water in Rohtas and Guru Nanak Dev Ji struck the earth with his cane and moved a stone, from there a natural spring started flowing. Then about 50 years later the engineers of Emperor Sher Shah Suri attempted to shift the spring up the hill to be used as a source of water for the newly constructed Rohtas Fort. The king's engineers attempted the feat three times, failing each time as the spring could not be restrained by the walls of the fort. The spring defied the restraining efforts to be confined to the fort and is available to all. The shrine has not been in use since 1947 and was only reopened in June 2019.




Gurudwara Panja Sahib, Hassan Abdal: Guru Nanak Dev Ji along with Bhai Mardana Ji while returning from Kabul via Peshawar reached Hasan Abdal in Attock District in the month of April, 1521. Under a shady cool tree, Guru Nanak and Bhai Mardana started reciting Kirtan and soon devotees gathered around them. This annoyed a local saint, Hazrat Shah Wali Qandhari, who meditated atop a nearby hill but he was helpless. Without getting into further details of event, let us come to the end when Wali rolled a rock from the hilltop to crush GuruJi and Mardana. Guru Ji stopped it with his hand and from that day it is firmly embedded there. The hand impression of Guru Ji still exists on it despite numerous efforts to erase it.

Gurudwara Babe Ke Ber, Sialkot: In 1510 AD from Eminabad, Guru Ji came to Sialkot, and decided to camp under a shady Ber tree near the burial grounds. In this city lived a famous Muslim Pir named Hamza Gaus. He had great occult powers, and he used spells and charms to fulfill wishes of the people. There is very interesting story of Guru Ji's encounter with Hamza Gaus. The shrine has not been in use since 1947 and was only reopened in July 2019.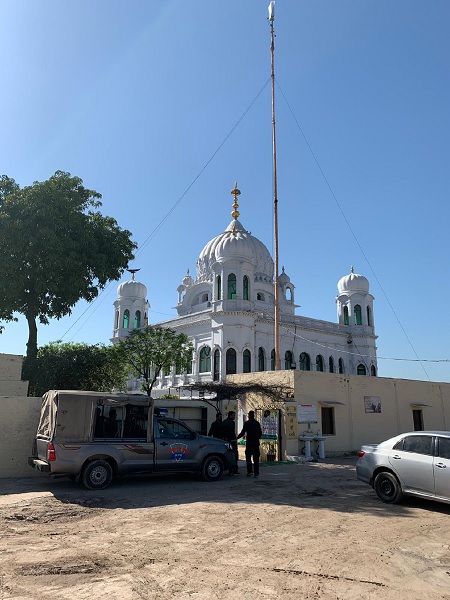 Gurudwara Darbar Sahib, Kartarpur: The news of Kartarpur corridor has been in the headlines lately as it being opened for visitation without the visa. The concept of Kartarpur city was conceived by Guru Nanak Dev Ji, and he gave it concrete shape in 1522 AD; when he moved and settled there. He was 52 years old then and lived last 18 years of his life there with his family. In fact, it is longest stint of Guru Ji's life in one place. This serene, congregational cum egalitarian commune that Guru Ji conceived became a magnet attracting adherents of different faiths to it, who followed Guru Ji and made it their home. Here Guru Ji had shown the way to satisfy the physical and spiritual hunger, and even today the same magical effect can be experienced. The soil and air are enough to well the eyes into steady stream of tears of emotional feelings of being blessed to be there. The ambience and lush green farms transport you to another world. This place is the final resting of Sikh faith's founder Guru Nanak Dev with having Samadh of Hindus and Sikhs and a Mazaar of Muslims, peacefully coexisting under its one roof.

Overall, we had a great and exciting time visiting these shrines associated with Guru Nanak Dev Ji. The general hospitality from lay public was overwhelming, the food was very tasty. Before we realized the planned 10 days stay were over like a dream. In fact, we never felt that we were in another country as the people, culture, manners, language spoken are the same. We left after a successful visit with prayers and wishes that let these 2 countries on either side of Radcliffe line live peacefully. Both the nations are economically poor with significant population under the poverty line, yet millions are being spent on defense by both sides to protect from the other. But if we realize that the other is very same as us then we can usher in a new era of cooperation, friendship, trade, travel and economic upliftment of the masses. There are many heritage sites on either side of divide which people from other side would like to visit.