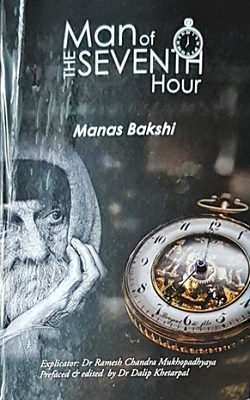 Man of the Seventh Hour, Manas Bakshi,
The Poetry Society of India,
Gurugram Paper Bank, Pages 160,
Private Rs. 390/- U S Dollar $ 27
I had occasion to see almost all the poetic works of Manas Bakshi. His subjects are unique. Man of the Seventh Hour is about mankind with angst and deeply thought provoking. Man, Woman, Universe is the beginning of the beginning. Blood, Passion and Genesis follows. Evolution, Convulsion and Revolution follow. Life cycle follows in a strange continuity, gyrating in Man's entity. He, the human being finding everything mundane and beyond with ascetic perceptibility.

The title of the book leads to titillating ideas and complex ratiocination at the same time. We knew of seven which has several cadences at the same time. Seven leads to seven suggestions and seven qualitative meanderings. Seven Deadly Sins: Pride, Envy, Wrath, Sloth, Covetousness, Gluttony, and Lust. Then there are seven league boots carrying their wearers who fled from persecution in the 3rd century who fell asleep in a cave. They did not awaken until their discovery more than two hundred years later. Then there is seven days of wonder which absorbs public interest for a while and forgotten later.

The reader puts down the book trying to understand guess and estimate the composition. Words in the book are in the minimum but the ideas they provoke and install lead to delve deep about man's imminent future.

Dr. Dalip Khetarpal wrote a preface for this slender volume besides editing it. Dr. Ramesh Chandra Mukhopadhyay wrote a long explication. The preface says this: To me this book has a special attraction because, first of all the very title, "Man of the Seventh Hour" divided into seven sections is a psycho-analytical master piece on modern man who alone is responsible for his pitiable plight today – be it the terrorist outburst or Tsunami – like catastrophes besides loss of faith in human beings ". So, this is a special kind of book which is two in one: Bakshi and the exegete who explicated, Dr. Ramesh Chandra Mukhopadhyaya.

The prelude must be read first. The poet tells the reader whichs is to be ruminated after enough ratiocination. Then there seven parts: Victory, Desire, Greed, Fear, Conflict, Rage and Decadence. These are discussed in this review which leads later to the explicator Mukhopadhyaya to be read.

The poet traditionally starts with a Prelude which concludes thus:

Life cycle
A strange continuity
In
All that's materialistic
All that's superficial
All that's supernatural
Gyrating
In my entity.
Human being
It's me
Everything mundane and beyond
Not beyond
My ascetic perceptibility.
(Prelude, p. 2)

This sets the backdrop of this complex composition.

First Hour: Victory
Endless time
Fathomless time
In the vortex
Of birth and death
An eternal riddle
Around each ephemeral existence.
The aesthetic magnificence
The cosmic splendour
That's the Universe
Every morning
Yet not fading out
At night
Glimmers to show
Nocturnal ecstasy
Rhapsodic to
To redeem itself
In
Human movements
May be
An ascription
Of his divinity
And diversity.
(First Hour; Victory, pp2-3)

Life
Embracing Nature
Unfurling as a lotus
Visualising a fecund future,

Victory of Man
Focusing on
New frontiers
Around
His progeny's survival texture.

Texture is a word used with absolute precision which the reader is inspired to get into. All the lines in the poem are very brief but seminal inspiring the reader to think further and delve deeper. (Victory, p,7)

Desire is the Second hour. This speaks of man's desires hounded limitlessly by wants, desires, dreams and lust. This insurgent urge, passion, described as a driving force is as transient as a lightning. Needs grow limitless as thy are obsessed by greed and lust. Since there is no satiation there is deadly squandering.

From birth to death
Facing
The infallible lesson of Time
Living itself is a question - -
Hounded by
The endless desires of mind,
A life-time
~*~

Primitive longing
And primary incertitude
Over,
Human being
Becomes desirous
More than he needs to be
Squandering everything
To satiate
His desirous self.
(Second Hour, Desire, p.5 and 6)

The third hour is greed. Greed is an innate and littles. There is an incorrigible urge and hankering and scrambling for the peak of self-aggrandizement which is described as galore, plentiful and destructive in the end. The atmosphere is vitiated. Everything becomes hazy making the vision myopic and very dim.

Does Twenty First Century Man know
What he really needs
To satisfy himself?
Where is end of the greed
That seems
An endless frenzy?
~*~

Man knows well
In a mammon-centred orb
How money-borne-virus
Makes him selfish, a snob:
Empowered every day
With the spur of his greed
Man seeks to be overpowered
Even at times, with feline tricks.
~*~

Empowered every day
With the spur of his greed
Man seeks to be all powered
Even at times, with feline tricks.
Third Hour, Greed (p. 8)

The poet has delved deep into the depths of man at the brink of total destruction and annihilation with his senseless qualities. Fate and then faith are created by man's own stupid thinking. One cannot find fault with an almighty of his creation. God has made man in his own image but not with the seven hours discussed by a thinking human being. Fear is the deadly quality and so the fourth hour.

Here man
Stands alone
To think over
What he has lost
Altogether
In the dreary desert
Thar's now
His own heart!
~*~

He has made
Nature
Pale into
A skeletal residue
Amidst
Ecological and nuclear threat
Forgetting
That gift of Nature
Too requires
To be viewed with
Human feelings.
~*~

Stranded before
Conscience goal,
A prisoner
Man himself
Woman herself,
Syndrome of solipsism
Has no end
~*~

For extremism and terrorism
Product
Of the same
Establishment in power
As Needs
To grow it
For safeguarding
The power-wielder in a critical hour …
But
Who saves whom
When living itself
Becomes an infernal gloom?
~*~

God's image
In himself,
In yourself in ourselves
And therefrom
Begins conflict
Rivalry, revenge
And chaos
~*~

It is
The same
Hydra-headed monster
Call him
A hoodlum
Or a hypocrite,
Shorn of realisation
Of his own outfit
Commits
The sae crime
Repeats the mistake,
Draws
A terrorism -like
Train-net
Unaware
Of his own self!
Fifth Hour: Rage (p.21 and 22, 24, 25 and 26)

Conflict comes before stupidity and lack of proper understanding. It is caused by basic evil. The poet begins talking of night club, discotheque, insipid theme, raucous music and night insects of evil in destiny. The poet thinks of Twenty First Century Man. Though we in twentieth century now we are the twentieth century things are looking grim and dismally dark.

The entire universe
Now threatens
To sink
Into its own
Windy networks
~*~

Chaos and conflict
Conspiracy and crime
Show way
To nowhere
But man-made
Outrageous consequences
When
Overgrowing
With power to defy his own
Human psyche
Man
Is about to bring
His ultimate ruin!
~*~

When
Unblushing
But failing
To think of himself
Absolved
Of all this,
Man
Falters and slips,
Into
Some-time-linked pitfalls
Murky with
Putrescent muck and parasitic weed
Replica of his own
Manipulative politics –
~*~

Brooding
Over
Our fate
Of his
Future
Generation –
Draws blank
To think
Even
Of his
Own
Destination!
Sixth Hour: Conflict (p.27 to 32 in parts)

The chalice of life
Is diabolic
~*~
For
In the seventh hour
Of realization
Of what is what
Without mortification
Every one
In sin-grown
Every one
Is sin-prone
~*~

Now
Ominous desolation
Seems to be
His destiny
Numberless deaths
Numberless crimes
Worshipper of beauty
Now
Destructor of nature
Disregarding
His grace and bliss,
Ma of the seventh hour
Paying the price
For
His crime and sins!
~*~

Doesn't
Tsunami foretell
The advent of
The great deluge
To
Wash off
The evils and inequalities
Now
Rampant in this earth?
~*~

Agreed or not
It's
Pertinent to question
Wii not
Judgement-day
Bloom in reality
To
Compel
Still remorseless man
To
Wake up
And
Do penance
(Seventh Hour: Decadence, pages 34 to 43 in parts)

Manas Baskshi's poetry is powerful and been flowering more and more brilliantly down the years. He has been seeing the ways of the contemporary world, understanding the moral and spiritual degradation. Poets are basically intellectuals with imagination and powers of explicit expression. Bakshi is now sixty plus and he has already brought more than half a dozen volumes of delectable verse. This is his latest. I must admit that I did not go into the explication of the veteran Dr Ramesh Chandra Mukhopadhyaya. It must have gone into deeper depths of understanding.