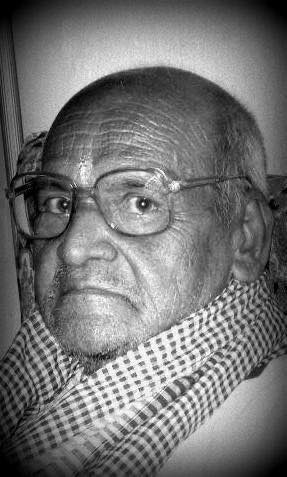 Look at his piercing eyes and strong resolve in his face. He is Shree Ganapati Nath Jajware.

When I passed my matriculation exams, he was a student of Pana Medical College. He used to be an icon for aspiring students and young men of Deoghar. I looked towards him with awe and respect. He was also a very fine football player and was viewed as an inspiring man worth emulating.

I had passed matriculation exams in the first division. That had , in my estimate, entitled me to talk to him. He was at home recuperating after a severe ailment. I went to him with the pretence of seeking advice regarding the choice of subjects to opt for in my higher studies. He received me with love and encouraged me to speak out. However I was nonplussed by his first query. He had asked me whether I preferred maths or literature. I was confused. He was amused. He came to my help and told me, I also find it difficult to make a choice. Then he explained the rationale of the query. Science needs an aptitude for maths.

During my initial stage in college, I came to him for solving some difficulties in my chemistry lessons. That might have been just excuses for seeking his company.

Chance events play decisive roles not only in history, but also in shaping each of us. Ganapati Babu was made to give up his medical studies and opt to be a school teacher.I happened to be his colleague in R.L. Shroff High School, for a year. I got the opportunity to work closely with him in the setting of laboratory . I had occasion to accompany him to Patna for purchase equipment and chemicals for the school lab. The two of us were entrusted to organise the cultural programme during Saraswati Puja.

Ganapati Babu was an exceptional person. He reminds me of an observation by an eminent philosopher. "The world is a stage and we are all performers. Each of us is assigned a role to play. Script of some of the performers is often changed midway. A talented performer goes on performing as efficiently even if his/her script is subjected to unexpected drastic changes."

He was set on the way to be a Doctor which would have catapulted into the select list of celebrities. He became a humble school teacher. He still remained a performer, a much respected and successful teacher. He was never down, never out.

I consider myself fortunate and privileged for having his enduring affection for me even though we went different paths. In the later phase of his life he had mostly withdrawn himself . Even then he would accompany me in the evening stroll to Tower Chowk. My friend Tribeni Babu would say in light vein only you have the capacity to bring him out. That was such a flattering compliment for me.