The Fiery Women, Dr. S. Padmapriya,
Penman books, New Delhi, 272 pages, Price Rs350/- $8.99
Illuminating Fictional Polychromatic Phantasmagoria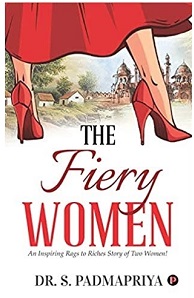 Dr. S. Padmapriya has a Doctorate in Economics from the University of Madras. She possesses Teaching, Research and Administrative experience in addition to over 23 years of experience as a published writer. She has written poems, short stories, essays, general articles, critical articles, research articles, book reviews and forewords which have been published. She has three collections of poetry ('Great Heights', 'The Glittering Galaxy', 'Galaxy') to her credit. 'The Fiery Women', her first novel has been published in 2020. She has been included in the landmark book, 'A Critical Survey of Indo- English Poetry' (2016) and is also one of the 50 women poets writing in English in India. 'History of Contemporary Indian English Poetry' (2019)

For some reason I remembered the ancient playwright Bahasa and his Swapna Vasavadatta. Padma's (hereafter I call her so) called her work a novel but is not a thriller, crime-fiction or anything like that. The work is sometimes serious, sometimes story like, informative and sometimes scintillating and readable piece of fiction throughout. Sometimes comes a sootradhari and sometimes a questioner, pruchchaka comes up setting up/illustrating a new mode of writing.

This post-modern piece of fiction has a prologue and it sets the tone of the narrative in the

Announcement of the seventeen-year woman Preetha. Here it is:

"There is less in man than we think of,
And more in God than we know of,
The hands of Destiny are long,
It trips us and we fall.
When jealous predators think us doomed
He helps us rise,
Rise like the phoenix,
Above them all!
Don't cry when all is lost,
Believe in HIM,
His prowess is vast.'

This new-world narrator/novelist begins saying "My soul is in this book" in the preface…In my twenties, I also began to realise that I had a burning desire to tell a story that I believed could influence young people to make the right choices in life….I found my characters shaping up in a unique way and becoming more mature and wiser, much like myself.

The text has two sections: The Journey and The Karma theory. The book ends with an epilogue of five pages of 'must read'.

There is a vivid new kind of puppet show in this new type of fiction we can call the beginning of a new kind of writing.

The Prologue is promising, starting with the character Preetha' poem:

'There is less in man than we think of,
And more in God than we now of
The hands of Destiny are long,
It trips us and we fall.
When jealous predators think us doomed,
He helps us rise
Rise. Like a phoenix,
Above them all.
Don't cry when all's lost
Believe in HIM
For HIS PROWESS is vast.

The first chapter, the village of D'Salem has a poem with these last four lines:

Every human and how is different
This is most evident
Each of us is searching for one's Destiny…

India has lost much of her regal splendour owing to British rule which had replaced the ancient Indian cultural supremacy withs own. Was she, the ancient Goddess or a modern one? 1947 would be the year that Mother Bharat would realise that she was still the same time-revered Goddess but in her modern independent avatar.

Preetha became an orphan and as an orphan she spent days in Vreetapur, a village near D'Salem. It is a Christin orphanage. Preetha liked the school prayer which concluded with

Never run away, From the chosen path of virtue, It revels in its revealing.

She was taken to the Green City, an express train starting one stop before D'Salem. She was sold to man for twenty-five rupees as was taken to Bandarpur. There she learnt about child abuse and human trafficking. Soon she was heard saying "A person's character by circumstances alone.'

The meanderings which rouse you to read fast and inspire you too has an epilogue. We are asked: "Would be able to weigh the intangibles only by comparison but are such comparisons really necessary. Are good and evil really mutually exclusive?" The last words of the narrator are 'One needs to keep swimming against the fiery currents of life – for they are essential for our purification and resurrection!' You have to read seriously to enjoy the gumption of this new novelist!!!