Mallavarapu Rajiv, Ignorant Bliss, Srikakulam Book Trust, 2020, 56 pages, Price Rs.75/-
This writer, Rajeev Mallavarapu, an eighteen-year old, has ideas and feelings of life and its real significance. It augurs well that when he blooms further, he would flourish as a philosopher.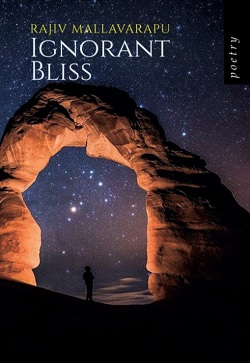 Realizes he while pondering:
Myriads of dreams 'martyred'
As the man in me grew farther
Dreams of a young boy bartered
As my life got way bit harder
Thoughts come up and he mulls:
A dreamer, I was at birth
In dreams of wonder grown
Sold for some wood for a hearth
To sleep as the wind, cold blown
He goes up flowering, up and up:
The ignorant bliss of an innocent child
Oh! How wondrous their laughter sounds
Gone are the days, we've grown them fast
Wish we could laugh, one last time
Realization dawns:
I work to make legacies
I live for sweet memories
Because one gives life meaning
While one makes it worthy
And neither I'll give up,
I live for them both
Wisdom denies limits, it goes on expanding:
This legacy of mine is not for me
Nor for the world to recognize me
It's for my family to remember me

Head held high to live their life
It's for my loved ones to treasure me
A good life lived that they recall in life
Imagination goes round in expanding whirls:
Maybe the untamed sea
In all its great might
Is just trying to resist
The burning fires of our will to fight

Is this web of ours self-spun?
The truth of our life a burning pyre?
If it is, then like a phoenix we will rise
Flying free off the spiralling web that's spun

What dreams May come
What dreams come nigh
These dreams do need a soul to fly
A soul that looks with a curious eye

Aloud I laughed
At the world's jest sense
Alone I cried
When it made no sense

For along I came
To pay my penance
For the chances I took
And the chances I didn't take!
All that we, the elders, must say with admiration is - God bless this young one!