The media has been lately inundated with the news of threat by Sohail Butt Attari, of Lahore to close the Gurudwara Shaheed Ganj and open the mosque there. Here, an attempt has been made to understand the whole picture unbiased with suggestions for course of action.

The Current Flash Point

In a video posted on July 26, 2020, Sohail Butt Attari, who also runs a shop in Landa Bazar, and activist with Darbar Hazrat Shah Kaku Chisti, along with some local activists, has threatened Gopal Singh Chawla, the former chief of Pakistan Gurdwara Prabandhak Committee (PGPC). Sohail claims that the land on which Gurdwara Shaheed Bhai Taru Singh and its adjoining 4-5 Kanals of Gurudwara land, belongs to Mazar of Muslim prophet Hazrat Shah Kaku Chishti and adjoining Masjid Shaheed Ganj, ANI reported.

Apparently this is not something happening all of a sudden. In the Pakistani newspaper Dawn, on April 12, 2020 Majid Sheikh reported in these words:

"That ruling held the ground till 2012, when a group of Naulakha Bazaar shopkeepers led by a certain Sohail Butt encroached on the land of Gurdwara Bhai Taru Singh and the Shaheedganj Gurdwara. They have taken over 90 per cent of the land by curtaining it off. The Sikh leaders of Lahore and Pakistan have tried in vain to reason."

Now after the recent incident, the Pakistan ETPB has already lodged a protest to DIG Police on July 27, 2020 regarding the "Reprehensible Act" and named Sohail Butt in the complaint as shown below: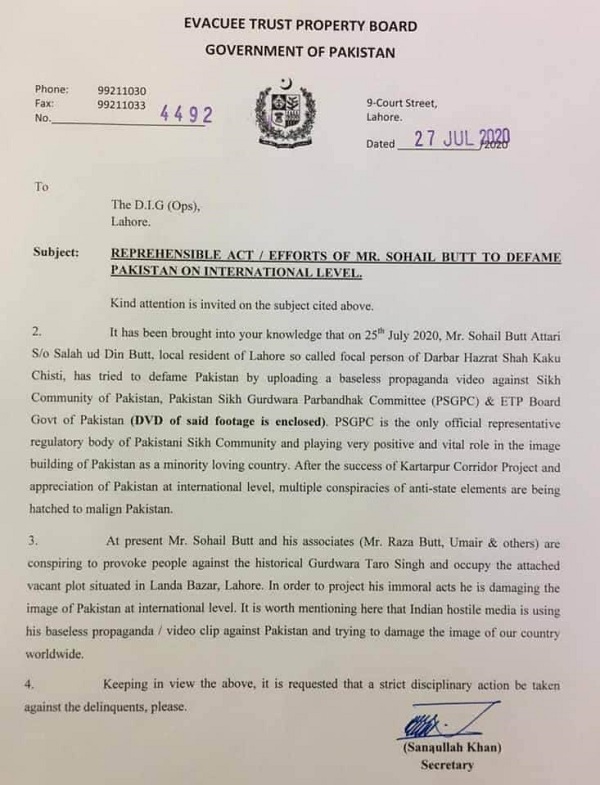 As of now the issue has not been resolved. So, Sohail Butt is attempting to encroach on the famous Sikh history landmark and make it part of Masjid that does not exist. The possibility of prime property in old commercial district becoming part of commercial hub of Landa Bazar could not be ruled out considering that Sohail Butt has a shop in that market. But the other motives cannot be ruled out either which only time will unfold. Now let explore the history of Shaeed Ganj.

History Explored

The Shaheed Ganj complex in Naulakha Bazar where the Gurdwara stands is associated with the Gurdwara Shaheed Ganj Bhai Taru Singh (Shaheedi Asthan), and Gurdwara Shahid Ganj Singh Singhian. Gurdwara Shahidi Asthan is a historic gurdwara where Bhai Taru Singh Ji made the highest sacrifice, when his scalp was removed for refusing to cut his hair on 01 July, 1745.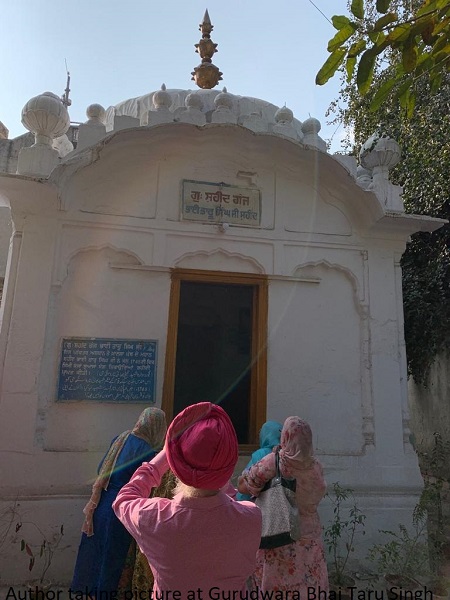 A separate Gurdwara Singh Singhnian also stands at some distance, commemorating martyrdom of Sikh men, women and children, who were martyred during Mughal rule in the 18th century.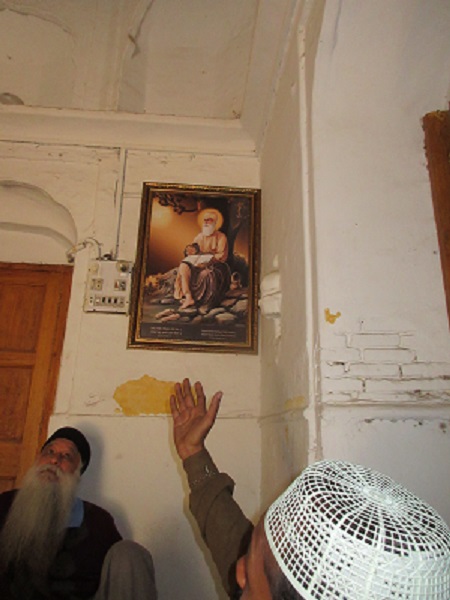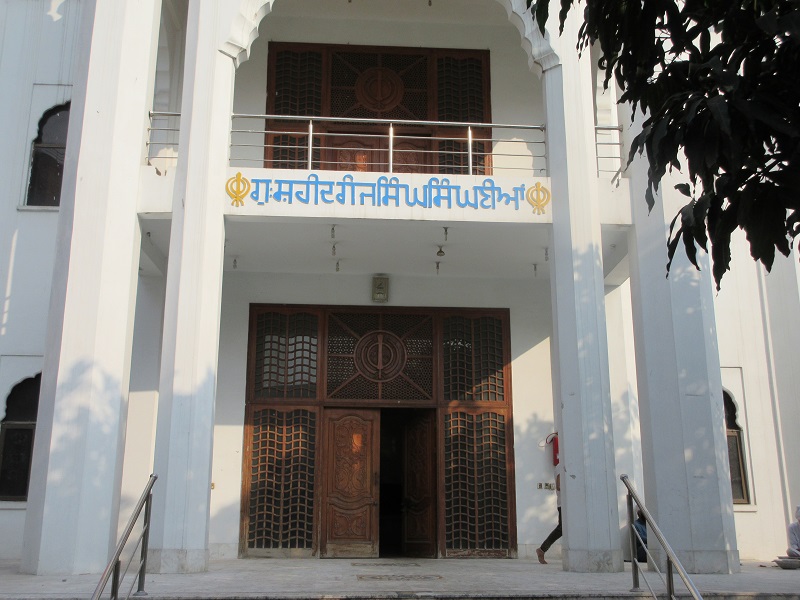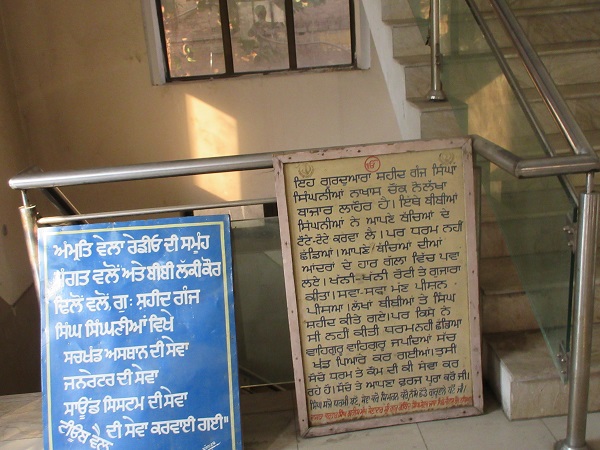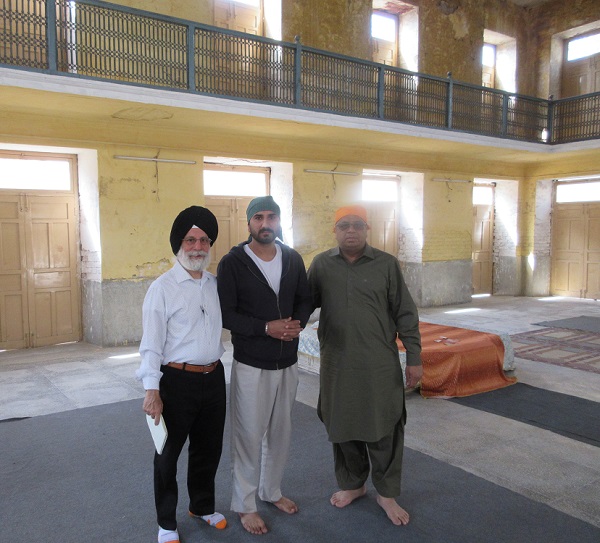 Mir Mannu, the governor of Lahore, during 1748-53 had raised a building shaped like a mosque sitting where the Muftis -Muslim judges, gave their summary judgments after giving their victims a straight choice between conversion to Islam and death. The martyrdom of Bhai Taru Singh and scores of other Sikhs is ample proof of that, in their love of the Sikh way of life, the Sikhs chose the latter.

There have been intermittent attempts to associate Shaheed Ganj mosque (now non-existent), and Darbar Hazrat Shah Kaku Chishti (dargah) to Shaheed Ganj. The search on internet for Darbar Hazrat Shah Kaku Chishti, did not locate their website, but YouTube and Twitter posting were available online.

In his magnum opus 'Lost Heritage' author Amardeep Singh makes mention of case brought by Nur Muhammad in 1850, claiming that that a mosque once existed at this place. The court ruled against his claims, but fresh ones were filed in 1854, 1893, 1927, 1935 and 1938 and each being dismissed by court. In 2010, a mob inflicted damage on the Gurdwara building, the impact is still visible. He also mentions that that during his visit he noticed presence of fresh rubble along the periphery as an indication of damage in recent years. The London-based Privy Council, the highest court of appeal during the British era also rejected Muslim claim on May 2, 1940. Now with this new escalation from Sohail Butt, According to Ali Kazmi, of BBC Punjabi News, "Last time Lahore High Court ruled in favor of Sikhs in 1980." ETPB rebuilt the Gurudwara in 2004 at the site of supreme sacrifice. The sacrifice of Bhai Mani Singh, Bhai Taru Singh and Shaheed Singh Singhian is part of our collective prayer. Sikhs always remember this tragic history along with atrocities commited by Mir Mannu and draw inspiration from it. The below words of Shaheed Singh Singhian are firmly etched in Sikh psyche:





Translation:
Mannu is the sickle and we are his victims.
The more he kills, the more we grow!

The Present Picture

In 2010, a mob inflicted damage on the Gurdwara building, the impact of which is still visible. Amardeep Singh in his classic book on the Sikh heritage in Pakistan mentions that during his visit he no-ticed the presence of fresh rubble along the periphery as an indication of damage in recent years.

During our visit in March 2019, we too noticed that the shrine has survived for over 72 years after partition, despite the fact there are very few Sikhs visiting these shrines, still ETPB has done a commendable job of upkeep of these historical places. The land grabbers have taken advantage of the vacuum created by the mass migration of Sikhs, by exploiting the situation for personal gains. Yet, the devotion, reverence, and comradery that we experienced there are firmly etched in our memory.

Pakistan-based historian Shahid Shabbir claims that mosque structure was next to the Gurdwara Bhai Taru Singh Shaheedi Asthan. It is believed that the mosque, which was allegedly closed after the British took over and Sikh community won a court case, was built during the reign of Mughal emperor Shah Jahan by one of his cooks and completed in early 1720s. "Subsequently, a public square and the area around the mosque were allegedly used by the Mughals to persecute and punish the Sikhs and people from other communities who would refuse to convert. They were publicly executed. Taru Singh was also persecuted here," says Shahid Shabbir, a historian working on the Sikh history in Pakistan.

Dalvir Singh Pannu, author of 'The Sikh Heritage: Beyond Borders' believes that the mosque was next to Gurdwara Singh Singhnian and had no relation to Shaheedi Asthan.

As quoted in an Indian Express report, Pakistan-based historian Imran William, who is working exten-sively on the Sikh legacy in Pakistan, contradicts all of them. He says, "There is no documentary proof anywhere that a mosque existed at all. The five-arched structure next to Bhai Taru Singh Shaheedi Asthan was claimed to be a mosque but it was never proved. There is even a question mark on the historical value of the Darbar Hazrat Kaku Chisti. It came up later in a structure which was originally a part of gurdwara."

All three historians, however, agreed on one point. "The man in the video claiming that he will take back the mosque land himself doesn't know where the mosque was and which land he is talking about."

A senior Sikh official from Pakistan told The Indian Express, "There is no architectural evidence of any mosque now. The Darbar structure is historical but it wasn't originally a Darbar. It was part of gurdwara and has been converted into a Darbar in past some years only. There used to be a thara (slab) at the spot of Gurdwara Singh Singhania Singhnian where the Mughals executed Sikh women and children. If at all, the mosque was near it, the Gurdwara building came up later but no one can pinpoint where exactly the mosque was."

The Gurdwara came up in the 1760s after the Bhangi Misl Sikh army conquered Lahore and it is said that the prayers at the mosque were stopped after Sikhs took over. Later the gurdwara, it is believed, also received a large jagir (land to maintain its expenses) during Maharaja Ranjit Singh's reign. It is, however, unclear when exactly the Dargah came up.

President of the Gurdwara Parbandhak Sikh Committee (PSGPC) of Pakistan Satwant Singh said, "Sikhs around the world are sad to hear news about Gurdwara Shaheed Bhai Taru Singh. The vision of the Pakistani government, especially Prime Minister Imran Khan, is to promote peace and brotherhood. The incident that happened at Shaheedi Asthan was an individual act. There is a plot behind the gurdwara, which is the property of the Evacuee Trust Property Board (ETBP). They plan to take that plot. This is wrong and cannot be tolerated. "

"If we take action, it will damage the Sikh and Muslim brotherhood. Nor will it be a solution to the problem. I have raised this issue with ETPB and other government departments. We want the government to overcome such problems at its level," Satwant Singh said.

"PSGPC is the only governing body representing the official Sikh community of Pakistan and plays a vital role in building the image of Pakistan as a country that loves minorities. After the success of the Kartarpur Corridor project and Pakistan's appreciation at the international level, several conspiracies of anti-state elements were hatched to slander the country", the complaint said.

ETPB said that Suhail Butt and his colleagues, Raza Butt, Umair, and others conspired to provoke people against Gurdwara Taru Singh and try to occupy an empty plot next to it in Landa Bazar, Lahore. "To project his charitable actions, he has damaged the image of Pakistan at the international level. Strict disciplinary action must be taken."

What can we all do?

There are only limited options available to make positive contribution about the issue, especially when one is not physically there. Here are five simple suggestions for action:
Write letters to ETPB and PM of Pakistan about the efforts to eliminate a famous Sikh Historical marker, which is inspiration to Sikh community.

Write to SGPC asking them to take up the issue with Governments of India and Pakistan.

Write letters to newspapers sharing your anguish and pain, along with facts from history.

The most important is to pray to Almighty to save this historical landmark.

All Sikhs should make efforts to visit the Gurudwaras in Pakistan.
References:

1. instant.com
2. Indian Express
3. Globalvillagespace.com
4. Dawn.com
5. Singh, Amardeep. Lost Heritage: The Sikh Legacy in Pakistan. The Nagara Trust (2016)