Solitude and Other Poems by Rajender Krishan ISBN: 978-81-8253-414-8
Amazon ASIN: B08LV52XZF Available on Amazon
A Study of His Solitude and Other Poems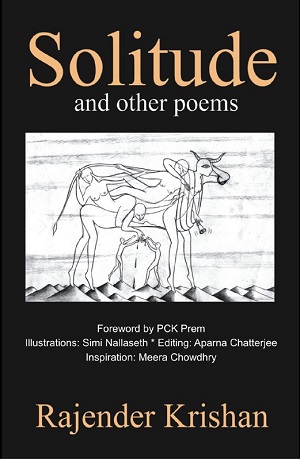 While going through Rajender Krishan's first collection of poems named Solitude and Other Poems, the poems included in the book tell of the spiritually religious tradition continuing to till now as an indefatigable trend and tenor of Indian life-view and thinking ranging from Kashmir to Kanyakumari, Himalayan ranges to the plains and beyond and the votaries of it crossing the seas to propagate it world-wide as for cosmic peace and happiness which but human soul is ever thirsty, ever hungry of, always aspiring, always yearning to get it as the lotus of meditation and imagination.

If Rajender Krishan is a poet, he is a poet of love and its philosophy, he is a poet of Indian thought and tradition that is Hindu view of life and philosophy. But to be a Hindu is to be pantheistic, holistic, mystical, yogic, tantric, magical, mythical and religious. The heart is the temple of God. Nature telling of His mystical presence.Whose handiwork is this world? Human mind wants to know it, but unable to get the answers. Who am I? We ask it, who is here to answer them?
Rajender discusses the same into his poetry, but in a racial way using the archetypes. We do not know how to assess and analyze his poetry. A non-resident Indian, settled in the USA, he is a poet Indian in thought and content. There is something as that of Himalayan wisdom, yogic delving and the Bhakti yoga in him distilling as the drops of the nectar of ancient wisdom and meditation. Indian philosophy, spirituality, religion and ethics form the basis of his poetry, Indian metaphysics, theology, myth and mysticism. His journey is from love to classical love poetry, the progression of human mind to greater heights of philosophy.

Linguistically, his is an archetype deriving from Hindu stocks, from the realms of a racial consciousness that he belongs to. But the feeling of love is so strong in him and he cannot go elsewhere leaving the hub. A prem-margi poet he can but think in terms of prem, godly love and ananda leading unto Him. The diya of prem keeps into his poetry and the poet lost in divya prem, Love Divine which is but spiritual love. Who is whose lover? How to say it? Who loves whom really, selflessly or amorously? We do not know what sort of love is his. Is it of a saint or a bhogi? Is it of a yogi or not? Can one be in life? Can one banish human lust and attachment? The houses of maya-moha, can these be dismantled? This is the world we are from; this is the world where we have end up and mingle up with the five elements. Now, say you, what it remains, remains here as the residue?

Silence as a poem can be taken into consideration:
When the primordial sound
resonates unidirectionally
then ascends
that precious moment
encapsulating all my reticence
is - what I call -Silence

It is in this moment
of absolute freedom
when from deep within
a little budunfolds
with myriad fragrances
and blooming desires

Night awakens
sleep discards all coverings
and I cannot help
butembrace my beloved
to encase the petals
in the bouquet of love
and baptize the moment
as Nirvana
Silent Love written in the form of a love poem presents him as a lover reminding of the hugs and clasps of Radha and Krishna:
Invariably
Love is best expressed in silence
It becomes potent
With thoughts
That are unheard
Yet perceived, captured
And echoed
By the winds.

When the gentle breeze
From the free flowing winds
Embraces your bare skin –
Don't you feel the caresses
Of Krishna?

Radhaaaaaaaaaan!
Sandbanks is a poem of the duality of love expressed in terms of meeting and parting, the river flowing in between the banks:
eternal lovers
– the sandbanks –
stand apart
giving space
and their unseen union
sings the melody
of unbound joy
under the perennial flow
of the holy rivers
gushing
in the ecstasy
of becoming one
with the might
of the infinite ocean.
'Who is Valentine?' as a typical love poem encompasses in so many things.Is it a tribute, a homage to St. Valentine, at the altar of the saint? A bouquet of flowers on the tomb. Who is whose Valentine, how to say it? Whose love is true and sincere, sacred and sacrosanct? Who are but true lovers? Love is as fresh as a red rose which, but we do not know it, whose hue is dazzling red.
To be in love
"I" need "You"
You who becomes
My mirror own

Then only
Do I rejoice your successes
And feel the pain of your failures
Then only
In the Mirror Infinite
The mundane "I" and "You"
Breathe the breath of Love

Then "We" wonder not
Who is Valentine?
Because, we are
The Valentine.