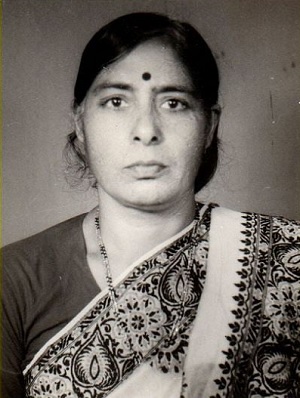 With a hope still sparkling in my eyes, I boarded the bus from Karnal to Delhi along with my brother and my Uncle, my father's friend. Thousands of thoughts preoccupied our minds; words lost their meanings. No conversations on the way, no words exchanged. We travelled the three hour long journey as mute passengers but our thoughts were always on the move. Not a single moment passed when we were at peace. The phone call, that my father made that morning from Delhi to my uncle, still felt like a false call. 'Come fast' was all that he could say. But I could feel him hiding something when he cut the phone with the unfinished sentence. His otherwise very bold and clear voice seemed defeated that day. It felt like the voice of a man who seemed to have lost. I was still hopeful for he never said anything to confirm my doubts.

Just a week ago, my mother, Dr. Aruna Tyagi, a prolific author and a poetess, was hale and hearty. She had been the source of inspiration to many due to her determination and strength. She had dealt with all the bad times with courage and vigour. No one could deny the fact that she was the ideal person – an ideal daughter, an ideal wife, an ideal mother, an ideal woman. She was simply perfect in all that she did- be it her career, her writing, teaching, cooking, knitting, socializing or homemaking. Her love for all whom she knew was her greatest attribute.

The memories flashed back to my mind as I saw outside the window of the Haryana Roadways Bus heading fast to Delhi. The scenery, the people nothing caught my attention that day. I was always a keen observer and a lover of nature but that day nothing mattered. I wanted the bus driver to speed up and reach Delhi as fast as possible. But time, on such occasions, crawls at the slowest snail-like pace. I was hiding my tears from my brother and my uncle.

My mother had been suffering from severe pain whole night four to five days ago. Sitting by her side, all I could do was to look at her helplessly as my brother tried to comfort her. She asked both of us to go back to sleep as she felt somewhat better. By morning, the pain had attacked again. My younger brother was ready with the car to take her to the hospital when I woke up at about five in the morning. She could hardly walk the few steps from the bedroom to the porch. But she refused to be carried. She had not lost her strength that we were always proud of. Once when someone had offered her a walking stick for support, not many days ago, she had replied rather sternly, 'The day I shall need this, I would rather leave this world.' We never knew that that day wasn't too far away when she would actually leave us all.

The Civil Hospital doctors treated her well but they failed to diagnose the actual cause of her pain. She was gasping for breath after some time. I held her hand and placing her head on my shoulder, tried to comfort her, 'It will all be fine.' But she wasn't convinced. 'What will be fine?' The doctor was talking to my father, 'It's nothing serious.' She overheard him and retorted, 'I am dying here and you are saying it's nothing serious.' The doctor smiled looking at my father which I certainly did not like. Soon she was referred to AIIMS, New Delhi. My father asked me and my brother to go back home and bring some stuff while he and my eldest brother would make arrangements for the travel.

I went out of the Hospital, went straight to the PCO. At that time I remembered my Mamaji's phone number and dialed him. 'They are taking Mummy to AIIMS' was all that I said. He boarded the bus to Karnal as soon as he heard this, wasting no time. Reaching right-away to the Hospital, he was right in time. My mother was in the Ambulance, sleeping. I heard my uncle arguing with the Hospital staff that was not willing to send the Oxygen cylinder in the Ambulance for emergency. I called out to my mother several times but she didn't respond. I wanted to tell her that I love her and that I wanted her to come back home soon. But that was the last time I was to see her….

My mother was in a Coma when she was admitted to AIIMS but she regained consciousness and told my father that she wanted to go back home. She was more concerned about me and my brother who were at Karnal.

That fateful day, April 21, 1995, my eldest brother had just left her room, when suddenly she…..she closed her eyes…..forever…..leaving us……never to return…..

When I reached Delhi along with my brother and my uncle, I had expected to be going straight to the Hospital to see her. But when we reached the Cremation Ground 'Nigambodh Ghat' and I saw my mother on a stone slab, dressed in a red sari with sindoor and a bindi on her forehead, I was…..I actually have no words to describe my emotions at that time….

They took her and I wailed, but....She went up to the Heaven along with the rising flames….

She lives in my memories, in the works that I dedicate to her, in my dreams where I reach out to her, in the tears that flow incessantly at times, in the thoughts that she passed on to me, in her teachings that I pass on to my children, in the boundless love that she showered upon me….