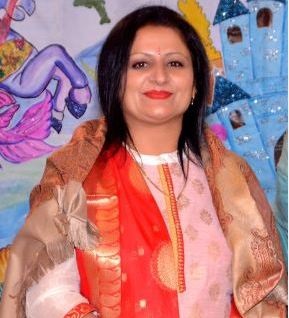 Dr. Giti Tyagi (b. 1976, Karnal, India) is an Editor, Creative Artist, International Author & Poetess, Book Reviewer and Translator from India. She is the author of 'Priceless Pearls', 'The Ascent Of A New Dawn' and 'Crossroads & Other Stories'. She is the Editor of 'Beyond Corona: The Silver Lining'.

Giti Tyagi is Masters in English, Masters in Education and holds a UGC-NET certificate. She is a former Senior Lecturer from MM University, Ambala, India. She is an Educational Consultant at Karnal, India. She is a State Level Basketball Champion. She has won several Appreciation Awards for Innovative Teaching. She was honoured for her contributions in the literary world in 2019.

Giti Tyagi is the Winner of Kavyotsav 2021.

Giti Tyagi's poems, stories, articles and book reviews have been published in reputed National and International magazines, journals, ebooks and anthologies. Giti's much appreciated poems and stories have been winning hearts of the readers of all age groups. She has won several poetry and creative writing competitions and is an extremely popular story writer for children's magazines.

An avid reader, an observer of life and a lover of nature, Giti's writings touch every aspect of life filled with the mellifluous tunes of space and time, the wonders of the beauty of nature inspiring her imagination, the secrets of life, the beauty of the creation and the creator, the hidden emotions that rule the human psyche. Her poetry continues to spread the fragrant aroma touching the hearts of the readers far and wide.