'Amma's Gospel' by Rajender Krishan
Paperback ISBN-13 : 978-1-947403116 Amazon ebook ASIN : B08LSYFLN4
Available on Amazon USA | Amazon India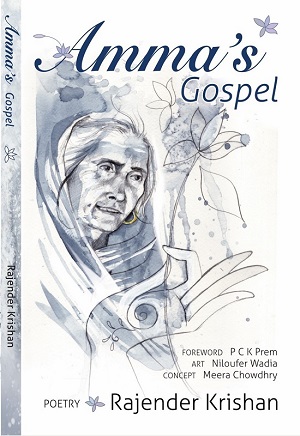 Amma's Gospel is a collection of poems by Rajender Krishan. As the name suggests, it is a book deep into Indian ethos. The mother is the most important and dominant image of the Indian male mind. The mother has an elevated place in the collective psyche.

The whole book has a typical Indian smell. Indian thought when taken in essence elevates the spirit and soul. Outer coatings, rituals, social practices may dampen the innate light of Indian way of life. But when it comes into the hands of a poet like Rajender Krishan, the beauty and the appeal are there for all to see and feel.

OM is 'primordial energy'. It is 'the sound of silence'. OM is the only verse that manifests the universe eternally. Similarly, the spirit of Namaste (Naman Asti) is shared respect as well as shared camaraderie.

"We hear together
The symphony playing the notes
Of love, light, truth, harmony
In our throbbing heart's solitude
Vibrating and enriching
Humility, compassion, fortitude."
(Namaste)

The poem Amma ji is the portrait of countless Indian women who have lived and died for family. These women are strong yet identity-less. They hold the family together. They face toughest circumstances and yet never give up. Their faith in God can never be shaken. They do what is to be done, the duty. I could see my grandmothers here in this poem and so many other women who get up early, bathe, pray, cook, put the house in order and are the gentle couch for every member of the family. So much love has gone into writing this poem.

"Amma had faced the colonial
subjugation and suppression,
Finally gained independence
only to become a refugee,
a migrant in her own country
In the post - partitioned India".

And so the poem flows.

The poem Greetings underlines the importance of rational greetings. All hi's and byes cannot match a Namaste, a Pranam, a smiling face, a sincere heart, the pulsating vibration of pure intentions. We should greet from heart. We should refrain from lip service.

"Conveying gratitude
With a pleasing attitude
You merely do not greet
Every big and small
Essentially you bow
To the witness
That pervades all.
...
When will I learn?"

The poet thus asks. Superficial Greetings are meaningless.

Leela is such an Indian word. It cannot be translated. This world is a play, an act by God and it is called Leela. The whole world is His Leela.

"Conscious of being alive
is being cognizant of breathing... "
(Leela)

Then we come to the poem, Amma's Gospel. The gospel is not to hurry, not to worry, ponder and then respond with a pure heart and try to be the same through the ups and downs of life. It is such a valuable lesson, Amma's gospel. Do not get into the game of deception. Clutching to past complexes only makes you a victim. Be the master of your destiny, not its slave neither a victim. Leave the blame game. Leave the ego. It is a precious poem indeed.

"Love yourself
by being true to yourself
Be not in haste to react
First anticipate then contemplate
and
then respond
follow the right path
Be happy
Be successful.
...
Have I fathomed?"

Why Pray? is again an important poem. One gets what one deserves and when it is due. Prayer cleanses the soul. This is how one must pray.

"There are no better riches than
acceptance of life as it is
Doing what you can do best
Resilience to withstand all hurdles
Good health to meet
the purpose of every day
Wisdom to differentiate
between right and wrong
Being humble and grateful
in His compassionate Grace."
(Why Pray?)

The poem Cyclical is based on the ancient Indian belief of circular time. The past, present and future keep rolling. Being never ends. Only the status of the jeeva changes.

"Such is the game plan
of Prakriti and Purusha
that innumerable civilizations
have come and gone
and man is still wandering
here, there, everywhere
in understanding
the greater cycle of nature."
(Cyclical)

In Quest, the poet tells us that life is what exists between birth and death. Life is simply NOW. We should listen to life.

One of my favorite poems of this collection is Words. In a remarkably simple and practical manner, the poet brings before the reader the power of a word.

Indian ethos says, shabd brahm asti, the word is the supreme reality. That is the logic behind mantras and their repetition. Amma proved the power of the word practically. She tells the poet to take one word, say, water and close eyes and visualize all that comes associated with water -

"Jal, Water, thirst
clouds, lightning, thunder,
rain, shower, brook,
spring, well, lake, pond,
river, fish, turtles, swimming,
Dams, floods, tides, ocean...

Oh yes, bathing,
washing, cooking,
cleaning, hygiene, laundry...
And of course,
liquids, juices, fruits
sweet, sour, tasty,
and my favorite
summer delight
... the watermelons.

And I stopped... gasping for breath"

(Word)

This is how Amma exemplified the power of the word. Each word is layered and loaded. It has the power to flood us. It has the power to transform us.

The next poem Amma describes the mother in all her glory, her lullabies, her caring, her cooking, her command, her kindness, spirituality and above all her family. Her command is superb

"Face the bullies squarely
settle scores outside
before returning home."

It is a striking command and so practical and necessary. One does not have to bring outside worries home. Settle scores outside.

In the poem Caring, Amma is the ultimate refuge with her smile, care, open arms, embrace, guidance, encouragement and her reassuring self.
Healing is relevant in the context of COVID.

"TO BE:
clean, committed, content,
honest, kind, loyal, non-violent,
preserving, poised, and tolerant
and
NOT TO BE:
a cheat, greedy or a thief."
(Healing)

The poem Esteem is special. Most Indian women will identify with it. The way women keep silent to keep dignity and peace is so well reflected here.

"He barked, she heard
Her silence, he felt
Intrigued, he quizzed
She remained quiet

To her the respect
for the precepts of dignity
was far more important
than winning an argument."
(Esteem)

The poems beautifully flow with ideas, thoughts, feelings describing key precepts of life. Maturity is about gracious expression, unpretentiousness, and a keen sense of discretion. Compassion, charity of kindness, tolerance and love begin at home. The destination of parenting is emancipation of the self. The poise is about expression, when to speak, how, how much, why and most importantly when to be quiet.

The poem Shiva is in any ways my favorite in this collection. It describes Shiva the way He should be described, the elemental God, the raw force, the brute, careless power.

"River in tresses
Flames in eye
Nectar on crescent
Poison in throat
Ashes on body
Revelry with ghosts...
Necklet Serpent
Cosmic Trident
Energy vibrating
Damru pulsating

Images rivaling
Forces opposing
Typify diversity
Coexisting alive by
The union divine of
The dancing Nataraja."

The poem Patience is such an appropriate tribute to Nandi, the ever waiting bull at the gate of Shiva's abode. Nandi symbolizes the all-important quality of patience.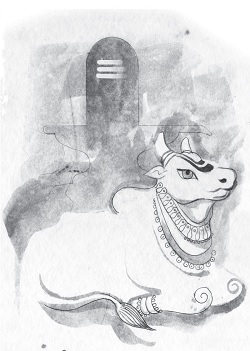 "No matter what
needs to be done
warrants performance
with humility, attention
and caring commitment

akin to the devotion
of Nandi the bull
sitting outside
the Shiva temple
with intense forbearance."
(Patience)

The point to be noted here is that the waiting of Nandi is not passive. It is intense. It is alive.

We have a number of poems on the here and now of life. Today is a wonderful gift to experience life. The present is eternity. Facing 'now' is facing eternity. The poem Unpredictable says that a woman's love is unfathomable.

Gurudwara, the threshold of the Guru will destroy ego. Are we ready to enter?

Steps is about journey, the chosen path, direction and the resolve to keep moving. Devotion is the key to overflowing bliss. Nature is the other name of duality. The Mystic does not learn. The mystic unlearns to arrive at the vacuum. The idea is highly philosophical. The problems of life are Godsent catalysts and that is the message of Impetus.

Steps are all about journey, path, direction and the spirit of going on. Devotion leads to fulfilment and overflowing bliss. Nature is nothing but duality. While the world learns and tries to learn, the mystic unlearns, untangles, goes free. The poem Impetus rightly says that problems are Godsent catalysts in life. The essence of Life is labor, lapse, laughter, lethargy, longing, love. It is a journey full of paradox, riddle, puzzle, vagary and various variables. Life is Transient. Life itself is in transit. So, we better celebrate and be lively and carefree. The poem Do It is interesting as it hints at what to do, how to do, no time to do, no need to do or just as the leader days, "Don't talk, just do it."

Independence, the poem says that realizing that we depend on elements, offering gratitude for that and surrendering - this is independence. The Observation is that there is nothing baser in this world than being beastly. The poem Maya is beautiful, succinct, and just sufficient in itself.

"That
what was not
yesterday
but is
today
and will not be
tomorrow

If this is not trickery
- and illusion -
then what is it?"

Leaf represents the cycle of life, the end if which is dust and then nirvana.

Detachment is to switch off disconnect at will and enjoying the moment, relaxing. Being conscious of disconnect is also a kind of connect.

Welcoming and warm home is the heaven which reflects one's good deeds. The hell is opposite of this. Ultimately, both heaven and hell are reflections of the self.

Guilt again is a simple poem with a straight message of avoiding acts that lead to guilt, shame, infamy and disgrace.

In Repudiation, then poet says that gains gained by subjugation, suppression, plotting and fixing never last long.

"Amma insisted:
Renounce deceit
Shun crookedness."

The Musing is that we must be keen observers, objective, curious and discrete. The Purpose is to sow the seed of purpose in life. Finally, we come to Renunciation where age is the realization of fragility of life and withdraw from worldly affairs. Accept things as they are till the vacation lasts.

This collection of poems is the poet's gift of vision to the world. The poet comes as a philosopher here. Whatever he has learned in life, whatever he knows about life has been said here. The soul of the book is Indian. The mother comes as the wise one, the adorable one. The best part is simplicity. Things have not been complicated. There is philosophy in everyday events of life. The language is lucid. The essence of things is conveyed. It is such a readable book of poems.

More on Amma's Gospel