O Lord You met me in my dreams; I stood up to hug you,
But it was a mere flash, and I remained shivering and crying.
— Bhai Vir Singh
Introduction
The title of this piece is bound to produce some sense of bewilderment. The follow up question that emerges out of this bewilderment is that, if there are six rivers than the land should have been called land of six rivers. Otherwise, the so called the sixth river is just a metaphor. Actually, Harindranath Chattopadhyay the famous poet and actor named Bhai Vir Singh 'The Sixth River of Panjab'. But then a metaphor employed by a poet, is unrestrained by the rigors of rigid mathematical regimen.

Mr. Chattopadhyay is best remembered for his role as Shiv Nath Sharma, the patriarch of the ironically named Shanti Niwas in Hrishikesh Mukherjee's film Bawarchi (1972).

Panjab is land of five rivers, where these water bodies originate from the Himalayan peaks flowing into the plains and finally discharging into Arabian Sea. These five rivers gave birth to the ancient Indus Valley Civilization. Bhai Vir Singh's literary contributions in terms of quality and quantity were not less prodigious then these rivers and gave birth to another kind of cultural civilization. This unique sixth river flowed ink on the paper from the pen of Bhai Sahib. This ink descended from the Himalayan heights of Bhai Sahib's spiritual realm and merged into the hearts of masses quenching literary, poetic, and spiritual thirsts. Even today this river, by the doyen of Panjabi literature is filling the hearts with love, reverence and faith.

Brief Life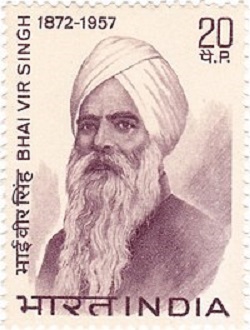 Bhai Vir Singh was born on 5th December 1872 to Dr. Charan Singh and his wife Uttam Kaur in Amritsar. Dr. Charan Singh was a successful medical practitioner, as well as a scholar of Brij Bhasha, Hindi and Sanskrit. Bhai Sahib spent considerable time of his childhood with his Nana-maternal grandfather Giani Hazara Singh. Even in his childhood, he assisted his Nana Ji in translating Sheikh Saadi's work from Urdu and Persian into Panjabi. One day, the child innocently said to his Nana Ji that there was a need to create more books in Panjabi, so why he was merely translating instead writing original books. Nana Giani Hazara Singh laughed and said, "My dear son, I could not write original books but you are sure to do so." The casual words of loving Nana proved to be correct like prophesy as we witnessed. He joined a school at the age of eight. In 1891 he passed the matriculation examination from the Church Mission School, standing first in the District of Amritsar and was awarded a gold medal by District administration.

Reverend McKenzie was the Principal of the School then, and his wife was teaching Bible classes in the school. Even after Bhai Sahib finishing studies and had left the school, Principal McKenzie still kept in touch with Bhai Sahib, as he was very impressed with him. Upon retirement at the time of his departure back to England, he asked Bhai Sahib to visit him in his bungalow. McKenzie offered him his personal Bible after autographing it and said to him, "I am giving you this not with a motive of converting you, but that you may wish to refer to it occasionally". He added, "When you look at it you will remember me. Your remembrance will help me in acquiring spiritual excellence and promote my religious progress."

He had three job offers upon finishing schooling, but he had his mind on setting up a printing press. In 1892 he set up a printing press in partnership with Wazir Singh and it was named Wazir-e- Hind Printing Press. During 1892-94 Bhai Vir Singh founded Khalsa Tract Society with an aim of printing tracks propagating Guru's Philosophy and to promote Panjabi language and literature. He was instrumental in setting up Chief Khalsa Diwan in 1901. In 1902 he was the founding father of Khalsa College, Amritsar. In 1908 he established Central Sikh Orphanage, and was one of the promoters of Panjab and Sind Bank which still is operational. In 1909 Anand Marriage Act for Sikh weddings was enacted under his guidance. In 1935 he set up a Central Institution for the blind. In 1949 Panjab University, Chandigarh awarded him honorary Doctorate in Literature, in appreciation of his massive contributions to Panjabi literature. In 1953 Shaitya Academy awarded his book "Mere Saian Jeo" the first prize. In 1954, Government of India appointed him as Member of Sahitya Academy. On the Republic day in 1956 Bhai Sahib was honored by Government of India with Padma Bhushan.

He was so full of humility that he would not put his name on his writings. His urge was to always remain in the background, preferring anonymity. As a consequence, in spite of his first rate writings and a spate of humanitarian work that he undertook, he was relatively uncelebrated. However, in his later years his services to literature, arts, philosophy, religion and humanity, shown out like a bright Sun. Thus the light of imminence was shined on him, which proved as a distraction to him in his writing endeavors, as it took away his precious time. On June 10, 1957 he bade farewell to the world with folded hands in prayer and in a farewell gesture.

Literary Life

The literary contributions of the sixth river of Panjab have been divided into four distinct periods as under:

1. From Childhood to 1897

Books authored during this period were in nature religious and moral. The short tracks that he wrote for Khalsa Tract Society were warmly received by the masses, becoming very popular. Even as a neophyte his prose reflected a lot of novelty and freshness about it. The choice of words and their artistic diction held a promise of his growing into a man of letters.

2. Second Period from 1898 -1902

The year 1898 saw the publication of Bhai Vir Singh's novel Sundari, a landmark in the modern Panjabi literature. Some critics went so far as to call it the first novel of the Panjabi language. Till date it is the most read book in Panjabi, it has been translated into many languages and even an animated movie has been made. With 'Sundri', Bhai Vir Singh ji rekindled the latent spirit to awaken the nation from its deep slumber, enthused with new vitality and vigor. The story in the novel depicts incidents and events which inculcate universal brotherhood and love for humanity. A Sikh girl treats an injured Moghul sepoy saving his life, but when he finds out that she is a Sikh woman, he attacks her with his dagger. Surasti, the earlier name of Sundri, was forcibly taken away by the Moghul official, to be inducted into harem of Nawab. How she escaped, took Amrit to become Sikh and renamed Sundri, she earns respects of the members of the Sikh Jatha who treat her as their own sister. Besides Sundri his other novels were Bijay Singh, Satwant Kaur and tracks on lives of Sikh Gurus that were published by Khalsa Track Society, later published in book form. At the end of this period he was just 30.

3. Third Period from 1903 -1928

This period of 25 years was the most productive period of his creative outpourings. The list of major works is as below:
Bharthari Hari Jiwan Tae Niti Shatak – Biography of famous grammarian and poet (1916)
Rana Surat Singh – A epic novel in poetry form (1905)
Raja Lakhdata Singh – A play (1910)
Sat Aukhian Ratan – Portrayal of a vivid picture of loss of Guru Gobind Singh's dear ones, providing the readers succor from grief (1919)
Dil Tarang – A collection of Poems

(1920)

Tarel Tupke - A collection of Poems

(1921)

Lahran De Haar – A collection of Poems written during (1921)

Matak Hulare – Anthology of Poems he wrote during his visit to Kashmir in (1922)

Bijlian De Haar – A collection of Poems written during (1922-27)

Shubhag Ji – A novel (1921)

Baba Naudh Singh - a novel on a widow's desperate urge for a reunion with her dead husband (1921)

Nargas – Song of a Sikh (1924)

Kalgidhar Chamatkar- Biography of Guru Gobind Singh Ji (1925)

Satwant Kaur Part 2 – (1927)

Leharan De Haar – Anthology of Poems (1928)

Guru Nanak Chamatkar - Biography of Guru Nanak Dev Ji (1928)
4. Fourth Period from 1928 -1957
Preet Veena Te Kant Maheli– Anthology of romantic Poems (1929)
Kambdi Kalai – A poem collection [Title translated: The Trembling Wrist] (1933)
Lehar Hulare - Anthology of poems (1946)
Kant Maheli – (1950)
Ashtgur Chamatkar- Biography of other 8 Gurus (1952)
Merae Saiyan Jeo - Anthology of poems (1953) - Winner of best book by Sahitya Academy of India
Santhiya (Commentary on) Sri Guru Granth Sahib Seven Volumes 7 – Covering 607 pages of Guru Granth Sahib. He did not live to complete the remaining pages (work was printed posthumously).
The above list is just popular titles and is partial, incomplete, but it provides the essence of output of the creative gusher unleashed in his lifetime. His books interpretation and commentaries on various subjects are not included above. During 1954 Sikh Education Conference in Mumbai (then Bombay) honored him with a Commemorative Volume as a salute to his creativity. There was a tremendous applause from the audience, who insisted that he come to stage and say few words. He wrote a line from Guru Granth Sahib on a piece of paper and handed it over to Hardit Singh Malik who was presiding over the function, to read it to audience on his behalf. The words depicted his true humility and the words were:

"Hum rulate firate koiee baat na poochhataa gur satigur sang keere hum thaape." (SGGS, Pg. No. 167)

Translation: I was rolling around in the dirt, unwanted, uncared, and insignificant. With the grace of the Guru, the True Guru, I, the worm, have been conferred greatness and exalted.

His creative work and poetry made him so popular that he was declared as Bhai, the brother of the Sikh order, very early in his career for his true contribution in spreading Sikhism. His residence on Lawrence Road, Amritsar has been converted to Bhai Vir Singh museum-cum-library and is keeping alive memories of an all-time great of Panjabi literature. On his birthday let us also remember him, and salute the genius.
References:

1. Singh, Prof. Harbans. Bhai Vir Singh: A Short Biography. Bhai Vir Singh Sahitya Sadan (1990)
2.Singh, Giani Maha. Bhai Sahib Bhai Vir Singh Da Gurmukh Jiwan. Bhai Vir Singh Sahitya Sadan (1977)