Malana, the village practicing social distancing from ages is itself the world of mysteries. When we heard the term 'quarantine' for the first time, Malana was already practicing it. The village has been known worldwide for its hashish. Even today, its hashish popularly known as 'Malana Cream' is sold at the costliest rates in the world. But when the world knows about Malana, then what's so mysterious about it? To find my answers I started my trek to Malana from district Kullu in Himachal Pradesh, India.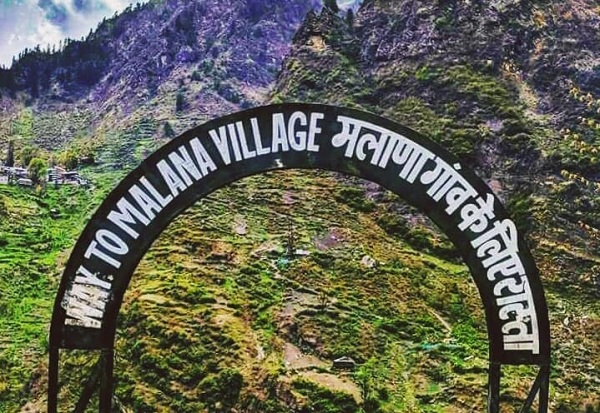 In the bleak mid winter when snow falls on the tops of pine, I wore my trek boots to the village shadowed by the peaks of Chandrakhani and Deotibba hills. My trek was smooth as I was accompanied by two canine guides. I named them Brownie and Jack as they brought me to the green arc gate saying, "Way to Malana Village''.

Touch-me-not Village

As I went down the gate I called Jack and Brownie but they didn't step ahead of the gate. I called them a few times but they turned their back. I was surprised when a middle aged man said, "They are not the residents of this village so they won't come with you." I was surprised and asked him, "Why is it so?" He said this is not an ordinary village; we have our own rules for every creature. While I was listening to him, my eyes witnessed the heavenly beauty of hills with Deodar trees and refreshing fragrance of night jasmine flowers. The village has chosen to be isolated from the city life and other cultures of the world. As I extended my hand to embrace the wooden hut with its walls covered in dried cow dung cakes, the man who introduced me to the village screamed from behind, "Don't touch anything." I quickly took one step back and looked at him. He said, "Madam, please maintain a distance otherwise you'll have to pay the fine."

The Descendants of Alexander

"We are descendants of Alexander-The Great and we have a strong faith in the ritual of purity and pollution," the man with brown eyes looked at me and said. He added, "I am sorry to scream at you but I didn't want you to pay a fine and go through our judiciary's punishments." He introduced himself as Naresh and guided me to a bonfire at the corner of his house. I insisted on telling Alexander's story which he left incomplete. He apologized, I don't want to disrespect you but whatever I will tell is the fact that we have been told since childhood. Long time ago when Alexander came to India, some soldiers from his army rested here after defeating Porus and therefore, we are now the descendants of Alexander.

No one in the world has proven that we are not his descendants and that's what makes us, the Malanese, superior to all races in the world and therefore the village considers non-Malanese as untouchables and inferior to us. We follow our traditions and customs with full faith and that's why it is strictly prohibited for outsiders to touch us, our walls or our houses. The outsiders are strictly advised to follow the rules of the village and if someone disobeys the rule of social distancing then one have to pay fine for it which will further lead to sacrificial ceremony of a lamb in order to purify that object again which has been impure by outsider's touch.

Malana's Secret Language

Naresh was very friendly to me and so were the other villagers. They clicked pictures with me but from a distance. Narsesh then turned to his children and spoke in some different language that I couldn't understand. What is this language? I asked. He said that it's pahadi (the language of hills). I said, "I am a pahadi and I know this is not the language of hills." He sat opposite to me near the bonfire. I could see him through the flames as he said, "it is Kanashi." We speak Kanashi which is our own cultured language and outsiders are not allowed to speak it. Kanashi was gifted to us from Jamadagni, Saint Parshuram's father. This gift has now become our sacred language and no one is allowed to speak it. He looked at my open jaw and said, "Yes! We have our own language as well."

Malana's Personal Judiciary

The sunset was near and so it was my time to leave Malana. It is not allowed for any tourist or outsider to stay in the village after sunset. It is to protect their culture and privacy. They love to live in quarantine, away from the city chaos. When our government announced nationwide lockdown due to covid-19 pandemic in March for only 15 days, Malana's own judiciary system had announced it till August. It is because of its own democratic structure. Malana is one of the oldest democracies of the world and it is believed that till today justice is being served according to their laws and one has to follow the rules and regulations. It is believed that whatever decision is taken in the village, it is on the orders of their God, Jamblu Rishi. The village practices a fully functional parliamentary system of its own and brings out its own verdicts.

As I stepped out of the village, I didn't turn back because of the mysteries the village stored. I smiled how a village that has won the title of Best Hashish twice- one in 1994 and another 1996 at High Time Magazine's Cannabis Cup is Malana in the abode of hills in India.