Amma's Gospel by Rajender Krishan
Paperback ISBN-13 : 978-1-947403116 Amazon ebook ASIN : B08LSYFLN4
Available on Amazon USA | Amazon India
Rajender Krishan is renowned as the founder and editor of the literary website Boloji.com established in 1999. Settled in New York with his family, he has been selflessly serving hundreds of writers across the world including me through publishing their creative and critical writings for the past 21 years. I express my deep gratitude to him.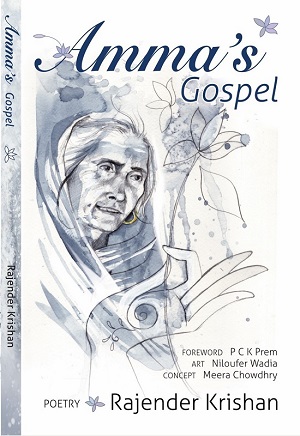 There are 45 short poems in this book. As Rajender has written in 'About the Book': "(He) tries to capture the spirit of age through the eyes and words and the innocuous counsels of worldly-wise knowledge and insight of old ma – Amma ji. It is about man's indistinct religious, social and intellectual affiliations, and human bondages belonging to discrete mental and rational regions where the old woman enters so often and gives discourse in fragments of judgment with isolated serious reflections on man's real worth in creating a world of peace and harmony with an attitude of total surrender of ego to humility." Thus the poet has summed up the content of the book. He takes mother not as an individual but a collective symbol of harmony and sorority. This book is in a way the poet's tribute to his grandmother Shrimati Ratan Devi (1900-1982). Rajender has confessed in his 'Preface' that whenever he is confronted with dilemma, he ends up invoking Amma. He invariably gets answers to the questions and also her guidance to deal with the difficult situations in life. (31) PCK Prem, renowned English poet and critic from Himachal has written a detailed Foreword to the book analyzing many poems.

The first poem of the book is 'Om'. The poet explains in just seven lines the sublimity and potency of the word:

"Om
Primordial energy
The sound of Silence

Om
The Only Verse
Manifesting eternally
The Universe" (33)
In the poem 'Greetings' he remembers his Amma's words:

"Every time whoever you meet
Remember to always greet
With a smiling face
And folded hands" (39)

What a great advice it is! A man who practices this will have only friends and no foes. This demeanor can conquer the minds of the people.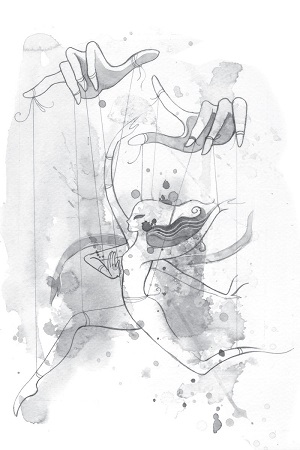 In the poem 'Leela' the poet tells that whatever we see on earth is the Creator's leela. He writes:

"Who is in control of this phenomenon?
The Master Puppeteer!
Invisible and mysterious,
as if nowhere,
while effectively being now here,
always within
from birth to death" (43).

The title poem 'Amma's Gospel' speaks about how simple the gospel of Amma was:

"Love yourself
by being true to yourself
Be not in haste to react
First anticipate then contemplate
and
then respond
Follow the right path
Be happy
Be successful." (45)

No doubt one who lives by Amma's gospel will surely succeed in his life as proved by the poet himself.

In the poem 'Why Pray?' Rajender remembers how his Amma with a twinkle in her eyes used to tell him:

"Do not hanker, despise greed
Let other riches seek you
And remember always
You get what you deserve
Only when it becomes due" (50).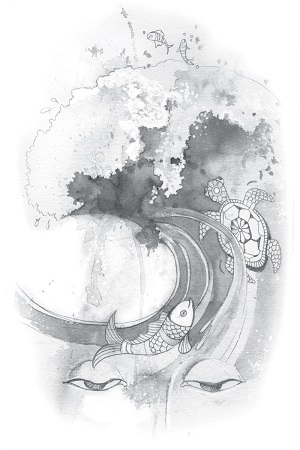 'Word' is poem through which Amma taught the poet the power of words, the several layers of their meanings. The poet then contemplates about the Word of words thus:

"Imagine if one contemplates
on the Word of words;
would not one
get the key to unlock
the supreme potential within,
that encapsulates
the absolute existence (63).

In the poem titled 'Amma' the poet speaks about the mysticism of Amma:

"Amma's mysticism
Death is inevitable
sleep with gratitude
for the ultimate dawn" (66)

What a philosophic message it is!

In the poem 'Poise' the poet tells how balanced should be our life:

"One who knows how,
when and what to speak,
where and why to be quiet,
in all humility grows strong
to reign the wild horses
galloping in mind's racecourse." (87)

In the poem 'Gurdwara' Rajender points out the philosophical inscriptions on the gates:

"On this side of the gate is "I"
On that side of the gate is "Supreme"
The Guru stands at the gate
Beware of charlatans!
Be alert and cognize
Fear not,
because
The True Guru does not spare
The Guru will destroy
your most precious possession
-- the Ego" (103).

In the poem 'Independence' the poet explains what independence is ultimately:

"Surrender in all humility
to the Witness within
the only Sovereign
unperturbed and carefree
as the eternal concept
of independence" (127).

Rajender in his poem 'Maya' beautifully explains the term thus:

"That
what was not
yesterday
but is
today
and will not be
tomorrow" (133).

In the poem 'Leaf' the poet compares life to that of a leaf. He ends the poem philosophically:

"Is this dissolution
Death or Life?
Perhaps, the path
that we seek … Nirvana" (135).

In the poem 'Heaven and Hell' the poet reveals his concept:

"Both heaven and hell
are echoes and images
revealing the temperament
of one's own persona" (139).

As the last section of the book there are short Previews written by Dr. Sunil Sharma, Neera Pradhan, Dr. Rama Rao Vadappalli, VB, Prof. Satya Chaitanya, Dr. S. Padmapriya, Dr. Jaipal Singh, Dr. Amitabh Mitra, Simi Nallaseth, Rajiv Khandelwal and Bhupinder Singh.

Let me wind up the review emphasizing that the poems of this book are intellectual overflow of a man who is very simple, humble, gentle and honest in his life. In a world where elders' opinions and advices are least considered and obeyed, here is a true representative poet of India who is led by the wise advice of his grandmother. Congratulations dear brother Rajender Krishan!


More About Amma's Gospel