Woody Allen's 'Manhattan' is a 1979 American romantic comedy film produced by Charles H. Joffe. The screenplay was written by Allen and Marshall Brickman. Woody Allen was largely inspired by European art cinema and he is often considered the face of the 'New Hollywood wave' of filmmakers. Most of his films are situated in New York, and it has only been in recent years he started to make movies in European cities such as London, Paris, Rome and Barcelona. 'Manhattan' along with 'Annie Hall' (1977), are considered as the most representative pictures of Allen –love letters to New York, fabulous jazz and an understanding of angst –ridden intellectuals, artists and middle-aged men. Manhattan is remembered for its poetic imagery of the city and musical score as much as it is for its witty dialogues.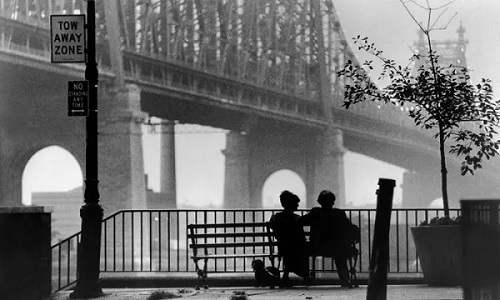 The film has four primary characters. Isaac "Ike" Davis (Woody Allen) writes for a rank rotten television show but quits in order to start a novel. He is dating Tracy (played by Mariel Hemingway – who happens to be Ernest Hemingway's granddaughter), a prep-school student. A close friend Yale (Michael Murphy), a literature professor, is married to Emily (Anne Byrne), but he is having an affair with Mary Wilke (Diane Keaton), a small-time journalist. Mary leaves Yale, though, and starts dating Ike who then dumps Tracy. Yale convinces Mary to get back. Ike rebukes Yale for his betrayal and then tries to win back Tracy's affection.

But there is a fifth character too – the city of New York itself! An ode to New York if there ever was one. Those who have been to that city would relate so much more, those who haven't, would wish they had. The idea for the film was inspired by the music of George Gershwin. It starts with the skyline of the city and then beautifully composed shots from around New York are shown as they are accompanied by Gershwin's "Rhapsody in Blue". Allen's character, in voice–over, narrates his writing of an introduction to a book about a character who loves the city.

Chapter One: He adored New York City. He idolized it all out of proportion. Eh uh, no, make that he, he romanticized it all out of proportion. Better. To him, no matter what the season was, this was still a town that existed in black and white and pulsated to the great tunes of George Gershwin. Uh, no, let me start this over….

The narration is important as it tells you about his mind and relationships in the context of his love for the city. He tells us how he adored the city, excessively perhaps. A city for all seasons. Allen's narration also gives us a peep into his character: he is neurotic and equally passionate. Outside of New York all the reference points are cities where the characters come from – or the characters' parents belong. So, there is mention of Connecticut, where there are regular everyday parents and children. Then there is Philadelphia. Mary talks about people believing in God in the place she grew up. The place where there is no talk of sex and violence. New York in contrast is as much degeneration as it is about beauty.

So, this romantic New York runs parallel to shots of the repellent side of the city- the ugly along with the beautiful and the garbage too. He once again attempts to introduce "Chapter One. He adored New York City. To him, it was a metaphor for the decay of contemporary culture". …

Allen had influences that ranged from comedians like Bob Hope and Marx Brothers on one hand and European directors like Federico Fellini on the other. While Allen's idols may have been Kurosawa and Bergman (Allen's 'Isaac Davis' is quick to rebuke Diane Keaton's Mary when she claims Bergman is overrated) he brought his distinctive touch to his films.

To think of intense conversation driven films – France has Eric Rohmer and America has Woody Allen. All of Woody Allen's films are dialogue driven and his scripts are influenced by a number of significant authors. One finds lots of references to the Hollywood golden era and classic foreign masterpieces, such as 'Casablanca', '8½' and 'Citizen Kane'.

Manhattan too, for all its visual appeal, the language is very verbal. There are not just the characteristic Allen one-liners, but long narrations that drive home the point. The first is the one with which the movie opens of course - his New York serenade.

The dialogues in Allen's films are funny and outright madcap humor. In 2004, Allen was ranked in the fourth position among 100 brilliant comedians and ranked third as the greatest comedian in UK. The film Manhattan itself ranks 46th on AFI's '100 Years...100 Laughs' list and number 63 on Bravo's '100 Funniest Movies' list. But scratch that surface, you find poignant life truths when you cease to laugh and reflect on these dialogues. The movie shifts gears from comedy to romance inconspicuously that all the while, while you are laughing out loud there is something tugging at your heart – thinking of life and loss and hoping there will be two people in this story with all their quirks and eccentricities who find a way to not just love - but stay there.

The dialogues can be appreciated in the context of all the central relationships too. Allen playing Isaac, while enjoying the thrill of dating the high school girl Tracy, doesn't seem to be taking the relationship seriously, but Tracy has fallen in love with him. He treats her as a young girl, one who he can have sex with but one who must expand her wings and fly away. She must take this as a beautiful life experience and benefit from it as she moves on in life to other relationships. She on the other hand is not convinced and insists that there can be no one else. Throughout the whole movie, Isaac treats Tracy like a child and is patronizing her a little in an attempt to undermine their mutual feelings ... Isaac says she has "a voice like the mouse in Tom and Jerry" and at another time he says, "I'm dating a girl who does homework".

When the realization that he loves her hits him, she is getting ready to leave for London on a scholarship, and he runs across the length and breadth of half the city to reach her apartment as she is leaving for the airport .Tracy comforts him by saying that when she comes back in six months, she would still love him. Isaac is not so sure about that but is convinced when Tracy says one of the most famous lines: "You have to have a little faith in people."

Diane Keaton as Mary, the sardonic journalist in Manhattan has traces of the singer in Annie Hall. Isaac meets Mary as his married best friend's affair. Their conversations flow and the best dialogues of the movie belong here. Mary's views contradict most of his to give a definite sexual tension and chemistry to their space. He takes pot shots at intellectuals whenever he gets an opportunity. Mary while talking of her ex-husband goes, "I was tired of submerging my identity to a very brilliant, dominating man. He's a genius." Isaac retorts, "Oh really, he was a genius, Helen's a genius and Dennis is a genius. You know a lot of geniuses, y'know. You should meet some stupid people once in a while, y'know, you could learn something." Then while talking of an interesting group of people she knows, he does not fail to mention, "Like the cast of a Fellini movie."

And yet in a dialogue where Mary and Yale, a pair of critics, club a whole group of creators as the Academy of the Over-Rated: Sol Lewitt, Gustav Mahler, Isak Dinesen, Carl Jung, Scott Fitzgerald, Lenny Bruce, Norman Mailer, Heinrich Boll, and Ingmar Bergman, Allen ( Isaac) pronounces that they are terrific.

So a lot of the thrust of the film's dialogue is on art. The characters discuss art tirelessly anywhere and everywhere. They meet in museums and galleries and their work revolves around writing and teaching about art too. Art that the characters live around. Art that they ridicule and yet can't live without.

Towards the end of the movie lies the most memorable part of Manhattan. Ike, sprawled out on a couch weirdly as only Woody Allen can, ponders upon whether a life is worth living at all. That's when he tries to list ten things that make him happy. Groucho Marx, Willie Mays, the second movement of the Jupiter Symphony (he keeps counting). Louis Armstrong's Potato head Blues. Swedish movies. Flaubert's Sentimental Education. Marlon Brando, Frank Sinatra. Cezanne's Apples and pears. The crabs at Sam Wo's. He sighs and then adds, almost as an afterthought, Tracy's face. And that's when everything changes and brings us to the climax when he goes on that chase to stop her from leaving.

Manhattan for all its specific references to those times, (One of their encounters happens at an Equal Rights Amendment fund-raising event, which was hosted by one of the Women' s movement leaders, Bella Abzug) has an eternal quality to it. In fact, its appeal is timeless. Look beyond the self-deprecating one liners and laughs and there are the realities of all the tensions that big city relationships carry with them. And beneath all that is the romance in these very relationships. Not cheesy, not in your face – but very Allenish while talking of art and personal quirks and idiosyncrasies. Nobody is perfect and people come with their own baggage. Allen makes you fall in love with the city of New York (With all of the love – hate) and all the characters as you follow their existential angst and their search for being complete – and in the process completes the viewer.
( First Published in Just-cinema.com)
Image courtesy guardian.com