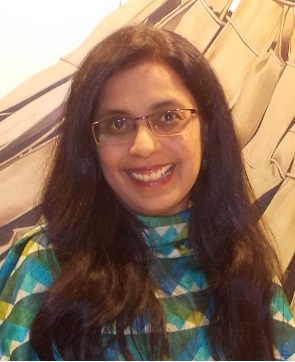 Vandana Kumar is a bon vivant who loves travelling, working with young minds and exploring possibilities beyond the ordinary. She is a high School French teacher in New Delhi. Her passions include playing the piano and quizzing. Further she is a French translator for various reputed companies and publishers. An educator with over 20 years of experience she is also currently a recruitment consultant.
She contributes poems regularly to online publications like 'GloMag' and 'Narrow roads'. She has been published in international journals like 'Mad Swirl', 'Lothlorien Poetry Journal', Toronto based 'Scarlet Leaf Review', Saint Paul, Minnesota based 'Grey Sparrow Journal', Philadelphia based 'North of Oxford', California ( U.S.A) based 'The Piker Press' , Canada based 'Halcyon Days', Founders Favourites, W-Poesis etc.to name a few. In addition, she has been published in poetry websites like UK based 'Destiny Poets' and more recently in the Singapore based 'Borderless Journal'. `One of her poems featured in a Turkish newspaper 'Sungurlu'. One of her poems was shortlisted and published by the 'All India Poetry Society' in their '2017 Annual Poetry Competition'. She featured in the winter 2020 edition of the Houston, Texas based – 'Harbinger Asylum'. One of her poems on Women was shortlisted in a competition organized by the 'Woman Inc. – TWIBB Sakhi Annual Poetry Awards 2019 (results of which were declared in March 11, 2020). She has also been published in the prestigious 'Madras Courier.' In her poems in the recent anthology on 'Mystical Voices', she explored the mysteries of the Universe. She translated one of Dr. Ampat Koshy's English Poems into French which appeared in the Fasihi magazine. Five of her own poems have also featured in the Fasihi magazine. She has featured in the book 'POSTMODERN VOICES – Volume 4', which is a part of the 'World Literature India Series', where she along with five other poets from around the World have been interviewed and it carries fifteen of her poems. Another engaging interview of hers has been published in the book '21st Century Critical Thought – A Dialogue With Post-Modern Voices – Volume 2', which is also a part of the 'World Literature India Series', where the scholars have been asked questions regarding the theory of poetry and different forms of poetry and its ever evolving forms and present day challenges. In December 2020 she was published in an anthology 'Poetry – the best of 2020 which was published by the 'Inner Child Press International'. In January, 2021 two of her poems featured in the prestigious "The Kali Project", published by the US based "Indie Blu(e) Publishing". The "Kali Project" anthology was a Finalist for the 15th Annual National Indie Excellence® Awards. In November 2021, a poem of hers featured again in the US based 'Indie Blu(e) Publishing' anthology titled – 'But You Don't Look Sick'. She was a jury member for the 'All India Poetry Competition' organized by 'Cocoa-Butter' and also co-edited their debut print anthology that resulted from this competition. She has made her foray into Hindi poetry writing and one of her Hindi poems is published in 'Sahityakunj'.
Apart from poetry she also writes articles on cinema. Her articles on cinema have appeared on websites and journals like 'Just-cinema', 'Daily Eye', 'The Free Press Journal', 'Boloji.com' and 'The Artamour'. Poetry for her, is her stress buster, her flight of fancy and strangely, what keeps her rooted too.