Amma's Gospel by Rajender Krishan
Paperback ISBN-13 : 978-1-947403116 Amazon ebook ASIN : B08LSYFLN4
Available on Amazon USA | Amazon India Also available in Tamil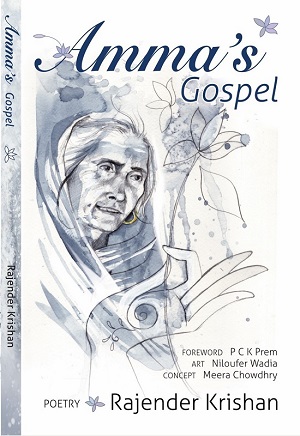 In my native Indian language Tamil, there is an oft-used expression with a film too with the same title: Paati sollai thattade which loosely translated means: never disobey your grandmother's words! Indeed, it is truly not possible to disregard one's grandmother or her words, as she brings with her a native wisdom gained over years of her experience in this world, besides her unconditional love for her grandchildren!

What I have stated above is amply demonstrated in the highly respected and distinguished poet and editor Rajender Krishan's poetry collection "Amma's Gospel"! Here is a poetry collection written by a doting and almost-awe-struck grandson Rajender Krishan in tribute to his worldly-wise and insightful paternal grandmother Shrimati Ratan Devi (1900-1982), and he has dedicated it to his grandchildren Isha, Jiya, Siddarth and Samarth, "With love and affection from Grandpa"! What better way to pass on a legacy of acquired wisdom and everyday life lessons to one's grandchildren, than in easy-flowing and heart-touching poetry!

Amma knew her limitations, often
admitting by saying "I don't know",
yet placing her hand on her chest
she would assert confidently:
"The One that is always with me
Have no doubt, That One Knows" - Page 37 – "Amma ji"



"Amma's Gospel" is a beautiful collection of pearls of wisdom that poet Rajender Krishan has lovingly and thoughtfully stringed together with great care and affection for posterity! Every poem in this poetry collection, drawn from the wise words of his Amma ji, stands out for its sheer simplicity yet great depth of meaning!

An outstanding poem in this remarkable poetry collection is "Quest" written in Q & A style with "Amma's Gospel"coming to the fore through her answers given to a grandson's questions!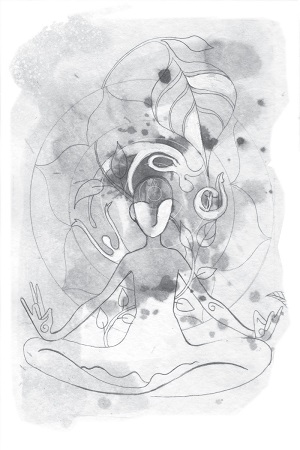 Be Silent and Listen*
To what Life wants to say
Meditate on the experience
Get not attached
Simply immerse
Become the witness
Relax

All conceptual debates
of birth, death, cycles, salvation
known and unknown
will adjourn and merge
in the abyss of silence

(*Simply rearranged, the alphabets used to write "Silent" and "Listen" are same. Perhaps to listen comprehensively one must indeed be truly silent) - Page 58-59 - Quest
Truly prophetic words that encompass the cycle of life! "Quest" is a poem that deserves frequent revisits to understand the true meaning of life, living, and death.

Rajender Krishan's poetic style is simple, straight and lucid – his Amma's Gospel is conveyed to the reader like it is and therefore, the reader feels an immediate connect with her wise words! As I read the poems of "Amma's Gospel", I felt one with the words, the moral lessons imparted and the deep philosophical learnings conveyed by Ammaji!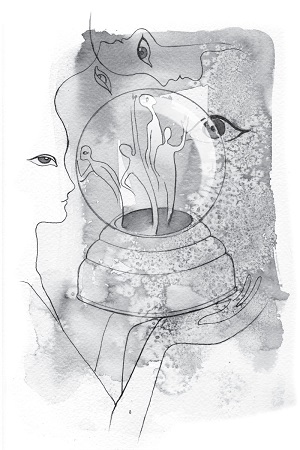 As a writer and poet, I could totally relate to these lines:

Write notable points
Then adjudge and scroll
delete the superfluous,
sanctify and validate
the final note

The idea will emerge
lively and worthy
to be awarded the verdict,
as an ideology
to pursue and explore - Page 145 – Musing


The above lines also amply demonstrate the width and depth of Ammaji's vision and wisdom!

As I read through poet Rajender Krishan's truly engaging poetry collection "Amma's Gospel", I was filled with a deep respect for both his Ammaji and him – for Ammaji because she was blessed by the Divine with an unparalleled wisdom and for the poet Rajender Krishan for his graphic memory that enabled him to remember and grasp all that his grandmother had told him, and to present it for the benefit of all through his simple yet impactful poetry!

These words of Ammaji particularly appealed to me for their sheer timelessness and wisdom:

Altruistic aim propels
legitimate constructive efforts
Vanity induces fraudulency

Plausibly, the cause itself
genetically engineers
and begets the path - Page 147 - Purpose

"Amma's Gospel" is a book I'd recommend for reading to all age groups. It is a poetry collection that will stand the test of time and continue to guide and inspire generations. It is a knowledge resource and guidance document worth having alongside always to refer and be guided at all times. So, go grab your copy of "Amma's Gospel" by poet Rajender Krishan today!

More on Amma's Gospel