Retracing Guru Nanak's Hallowed Journey by Guru Tegh Bahadur
Background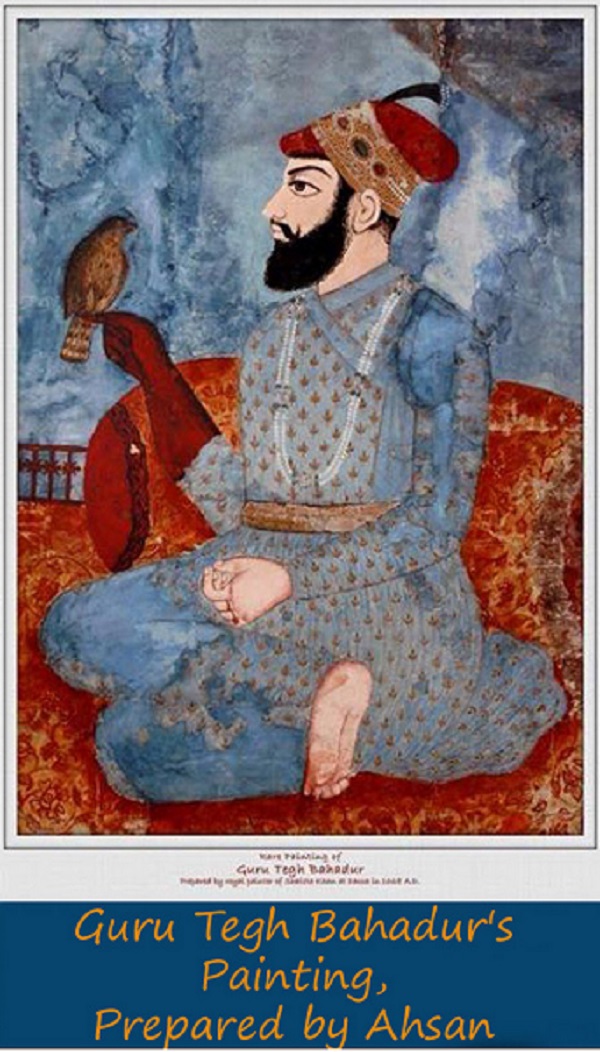 Guru Tegh Bahadur after assuming the mantle of Guruship visited Amritsar in November 1664. From there he came to Kiratpur, but did not stay there long and decided to found new township called Chak Nanaki (later renamed Anandpur) on the banks of Sutlej River in June 1665. Soon he started out on his missionary journey by stopping at Patiala.

From there he moved Kaithal now in Haryana, and moving further east following the same route hollowed by Guru Nanak Dev Ji in his first Udassi. Leaving his family in Patna, Guru Ji moved further east arriving in Dacca on October 1666. Guru Tegh Bahadur visited the site in Rayer Bazar, Dhanmandi area where Guru Nanak Dev Ji had stayed. The place where he held his congregation is marked by Gurudwara Sangat Tola. Guru Ji spent about a year in this region. Guru Ji moved further east in efforts to meet and revive sangats (congregations) at various centers established by Guru Nanak Dev Ji during his Udassi journey. Guru Ji stayed at Chittagong till end of the year 1667. After visiting Naokhali, Chandpur and Narayan Ganj Guru Ji returned to Dacca in early 1668.

In the meantime, the em­peror Au­rangzeb was in­formed of the losses of Guwa­hati on 19 De­cem­ber 1667 from Mir Jumla, Governor there. He com­mis­sioned Raja Ram Singh of Am­ber, son of the fa­mous Mirza Raja Jai Singh, to re­take Guwa­hati. Ram Singh left Delhi on 27 De­cem­ber 1667, halt­ing on the way at Patna to pay re­spects to Guru Ji. There he met Mata Nanaki, Guru Sahib's mother and Mata Gu­jri and came to know that Guru Tegh Ba­hadur was in Dacca on a mis­sion­ary tour. In the neighborhood of Mongher, Bihar; while returning from Dacca Guru Ji met Amber Rajput chief, Raja Ram Singh. Raja Ram Singh upon meeting Guru Ji persuaded him to come to Ahom kingdom with him.

Guru Ji in Ahom (now Assam)

Guru Ji agreed and they finally reached Dhubri in February 1669. Guru Tegh Bahadur decided to cross river Brahmaputra and camped at Dhubri, the site of visit by Guru Nanak Dev Ji. While Raja Ram Singh marched further with his forces and camped with his forces at Rangamati Fort. Rangamati Fort was Moghul outpost near the frontier of Assam. Raja Ram Singh was accompanied by Rashid Khan, ex-faujdar of Guwahati. The details of forces of Raja Ram Singh are as under:

4,000 troopers (from his char-hazaari mansab)
1,500 ahadis (soldiers recruited by the Emperor)
500 barqandezes
30,000 infantrymen, 21 Rajput chiefs (Thakurs) with their contingents
18,000 cavalry
2,000 archers and shield men and
40 naval ships

Armies from Cooch Bihar joined the Mughal forces since they were vassals.

The Ahoms, anticipating a Mughal strike back because of their annexing of Guwahati, are said to have followed his movements from Delhi itself. The Ahom ruler at that time was Chakradhawaj Singh and his Commander-in-Chief was Lachit Barphukan. When Lachit surveyed the massive Mughal force later, he was moved to tears and he uttered; "It is a tragedy that my country is facing this dire catastrophe during my Phukanship. How will my king be saved? How will my people be saved? And how will my posterity be saved?"

Although, the Imperial Army was very confident of its massive strength, but it was not as yet sure whether the five holy men from Malda with them would be able to destroy the evil effects of magic and witchcraft of the Ahoms. While just across the Brahmaputra river, the Ahoms were unnerved by the superior numbers of the Imperial Army, but they were confident that the supernatural powers of their magicians backed by their tactful resistance would keep the attackers at bay. The Ahoms resorted to guerilla warfare. With their knowledge of terrain, they were harassing Mughal forces and inflicting casualties. Few skirmishes took place then Ahom king ordered tactical withdrawal of his troops from line of engagements. He asked his retreating forces to reinforce the defenses of Guwahati. The Ahoms were determined to fight to the last drop of blood to keep Guwahati, the seat of their culture and government.

The Ahom women magicians employing their tantric paraphernalia began reciting mantras to Goddess Kamakhaya for destruction of Guru Ji's encampment directly across the river. But all their magic spells failed to harm the great Guru. In desperation from across the river they hurled a 26 feet long stone, which came arcing across the sky like a missile and struck the ground, near Guru Ji's camp. It struck so hard that nearly half of its length was embedded in the ground. It can still be seen today in the same position.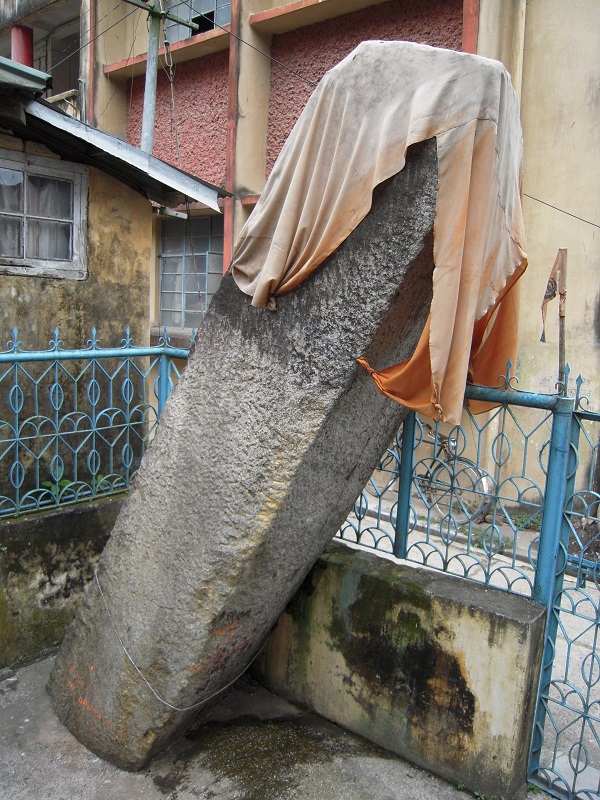 Next, they launched a pipal tree towards Guru Ji, and it landed close to where Guru Ji was sitting, but no damage was inflicted. Guru Ji finally shot an arrow taking aim at the altar from where the operations were being orchestrated. Suddenly, the whole operations of magic came to a halt. Then, women magicians realizing folly of their efforts came to Guru Ji, asking for forgiveness. The woman leading the magic operations was Neta Dhoban or a washerwoman. She told Guru Ji that she was only fighting the foreigner, with the only weapon at her command, of which her own people were proud. During that meeting Guru Ji assured that he will mediate between the Ahoms and Raja Ram Singh to avert the war. Raja Ram Singh was insisting on return of Guwahati from Ahoms as a precondition of peace.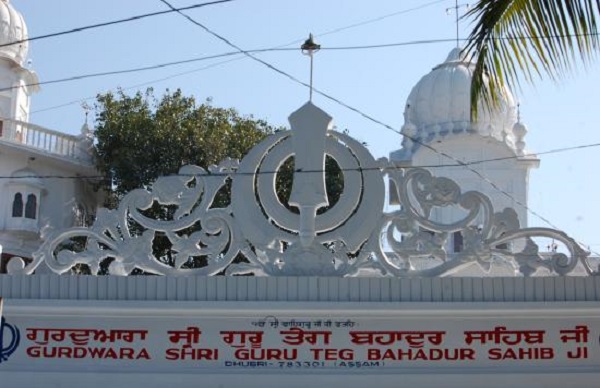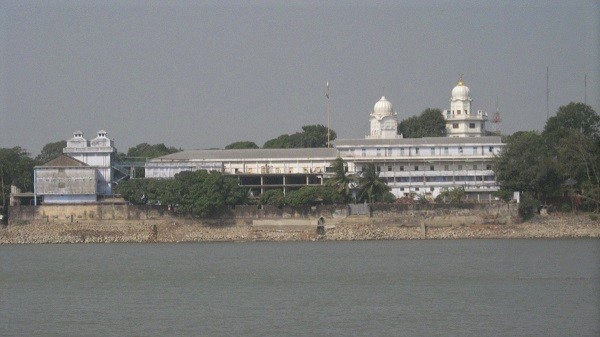 Lachit outmaneuvered the army of Raja Ram Singh at every battle, which led to the stalemate of the war. Aurangzeb asked his general to initiate diplomacy and sign a friendly treaty for the time being. But Lachit's trusted Lieutenant Atan Burhagohain, who later became the Commander-in-Chief after Lachit's death, opposed such a deal stating that the treaty would be an example of typical Mughal treachery. He further argued, what was the guarantee that once the Mughals take Guwahati, they would not reach further east for Garhgaon or even Namrup.

Guru Tegh Bahadur Ji in Cooch Behar

Guru Tegh Bahadur Ji left Dhubri for preaching tour of Cooch Behar areas. The Ahoms taking advantage of end of monsoon rains would raid Mughal fortifications at night and harass them. Raja Ram Singh was so annoyed that he wrote to Lachit; "Being unable to match with us you are adopting tricks employed by only by thieves, just as jackals contrive the death of wild elephants. No honor accrues in fighting with such dotards. So, I am not going to fight any longer." The negotiations were prolonged from February 1669 to December 1669. The Ahom generals realized that that their guerrilla attacks could not achieve any specific military results beyond harassing the enemy.

Guru Tegh Bahadur returned back from his tours and negotiations got restarted. There was a dampened enthusiasm for more fights so Guru Ji strived for peace between the warring parties. The settlement was reached in terms of which Raja Ram Singh no longer pressed the demand of Guwahati. According to peace terms the old boundaries before start of war were to be maintained. After the peace agreement was signed Ahom King invited Guru Ji to Kamakhya temple and honored him there with great respect. The happy occasion of the peace settlement brought about by the efforts of Guru Tegh Bahadur was celebrated by a joint homage to the shrine of Guru Nanak by the Mughal and Ahom armies. The mound of peace was erected with the red earth carried by the soldiers of the armies using their shields as pans. It is said that each soldier carried 5 shield load of red earth and dumped there to raise the mound. This permanent monument to Guru Tegh Bahadur's successful peace efforts stands in Dhubri to this day. The name Dhubri was given by Guru Ji as a remembrance for her remorse of Dhoban hurling the missiles in form of rock and pipal tree. Now a Gurudwara stands on the mound and it is called Thara Sahib or Damdama Sahib. From here before the monsoon of 1670 Guru Ji returned to Dacca and then visited Jagannath Puri before returning back to Patna via Bongaigaon, in May 1671. It was on return only that Guru Ji first saw his son Gobind Rai. Guru Tegh Bahadur and family reached Anandpur after leaving Patna in February 1672.

Events in Assam after Guru Tegh Bahadur Ji's departure

Although Guru Ji had left Dhubri, from the reading of Assam history the events took a tragic turn. Soon the ruler Chakradhawaj Singh died and was succeeded by his brother Udayaditya Singh who asked his generals to make full-fledged war. A period of battles between the Ahom and Mughal forces in the region of Guwahati followed, with varied results, forts changing hands many times. Lachit led the fight in 1671 in the battle of Saraighat, and inflicted a crushing defeat to the Mughals at every front. It appears that the Ahoms preferred to take on the Mughal army in water since this was a difficult and unknown terrain for the later. Thus, water warfare and the buruj (the small boat like structures on which the army was stationed) played an important role in favor of the Ahoms in the Battle of Saraighat.

Battle of Saraighat

When the final battle of Saraighat started in early 1671, Lachit was terribly unwell. However, despite being ill, he displayed tremendous valor and exemplary leadership. Such an action by an ailing yet forceful Lachit motivated his troops. They fought the battle with a fierce zeal and intense courage. The Mughal army suffered comprehensive defeat in the hands of Lachit's army. Lachit Borphukan died a natural death at Kaliabor about a year later in April 1672. This was not the final battle between the Ahoms and the Mughals, nor did Guwahati remain with the Ahoms for long. Lachit Borphukan's own brother and successor Borphukan, Laluk Sola, deserted Guwahati for the Mughals in 1679. It remained with the Mughals until 1682, when the Ahoms under Gadadhar Singh recovered it back, thus ending Mughal control in Kamrup forever. Even today Lachit is revered in Assam as a hero and a patriot.

Conclusion

So, we see this Chapter of Guru Ji Tegh Bahadur's travel to east was to renew the relationship of Sikhs with Guru, but it turned out that the timing was tumultuous from Assam's historical perspective. The details of the journey in parts of Assam and adjoining areas are not fully explored. It is hoped that this write-up can stir some interest and a thorough research is carried out so that all the historical details are captured.
References:
Singh, Ranbir. Guru Tegh Bahadur; Divine Poet, Savior and Martyr. Chief Khalsa Diwan. 1975.
Singh, Dr. Trilochan. Guru Tegh Bahadur: Prophet and Martyr. Gurdwara Parbandhak Committee, Delhi. 1967.
Kohli, Dr. Surindar Singh. The Sword and the Spirit. National Book Shop. Delhi
Gandhi, Surjit Singh. History of the Sikh Gurus (A Comprehensive Study). Gur Das Kapur & Sons (P) Ltd. (1978)
Dil, Dr. Balbir Singh. Guru Tegh Bahadur: Jeewan Te Rachna (Punjabi). Punjabi University. 1975.
Singh, Fauja & Talib, Gurbachan Singh. Guru Tegh Bahadur: Martyr and Teacher. Punjabi University. 1996.
Singh, Dr. Hakam & Chadha, Jaswinder Singh, India's Guru Martyr: Guru Tegh Bahadur.
https://www.bbc.co.uk/religion/religions/sikhism/people/teghbahadur.shtml
http://www.assaminfo.com/tourist-places/51/gurdwara-sri-guru-teg-bahadur-sahib-dhubri.htm
https://en.wikipedia.org/wiki/Gurdwara_Sri_Guru_Tegh_Bahadur_Sahib
https://en.wikipedia.org/wiki/Battle_of_Saraighat
https://www.organiser.org/Encyc/2019/11/24/Lachit-Borphukan-The-Unsung-Hero-of-Ahom-Kingdom.html