Of No Avail: Web of Wedlock - 8
Continued from Previous Page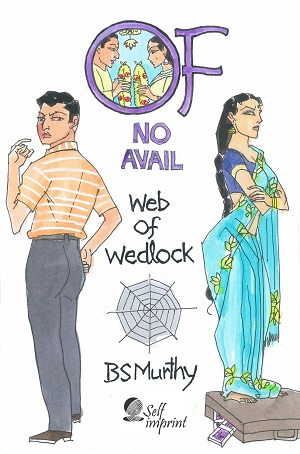 "To start with, he was no oldie of a filmy b-i-l," she said. "Actually he was quite handsome besides being well healed and was known to be kind and considerate as well. Moreover, as he became a part of their family, her parents were keen to keep him in her wedlock, and she too had no earthly reason to negate him; so, ironically, I had to supervise her post-nuptial bidai ceremony. Whatever, she said her marriage won't hamper our intimacy in any way for she made him privy to our affection for which he had no objection. Thus, sometime after their honeymoon, when she wanted to be with me, he wanted to accompany her for sight-seeing, and as she saw no more into it they came in tow. But as it transpired, the very first night, when she bid him good night to make it to my bed, he wanted her to persuade me for our threesome failing which, he made it clear to her that we have to forego our own lesbian joys. Needless to say, she was utterly shocked at his sexual blackmail of a different kind."

"Maybe that album could've caused that temptation," he said amusedly.

"It's not the case as that's confined only to my laptop and opened to your eyes only," she said coyly. "Seeing her shamefaced, though I pressed her for long, she didn't open her mouth that was until he called for her; but when she revealed, I was raveled, and as he called her again, I managed to mutter that if only he tried to woo me, then maybe I would've allowed myself to be seduced by him. However, she told me to expect her later as she would put him to sleep with a sleeping pill or two for he was habituated to drink milk before going to bed. Well, we always kept a stock of them at home, just in case, and that came in handy; and we both felt that it was a fit case for use as there was no other way."

"I'm coming to admire you more and more," he said taking her hand.

"So, sometime thereafter, she sneaked into my bed for the last time," she said reminiscently. "She said that she herself was taken aback by his weird proposition and jokingly blamed my charms for his out of character behavior. She said though she can't fault him for coveting me, she was embarrassed by his crassness in going about it all. She hoped that as and when the devil gets out of his head, he may come back to his senses to regain his understanding nature, and said that in the meantime, we've to keep our amour on hold as it made no sense for her to antagonize him."

"I can't but admire her for her sensible resolution to such a conflict of interest,' he said.

"True, and I too didn't grudge her when she told me that she has realized that for a bisexual, lesbianism though a value addition is no substitution for copulation," she said amorously, "So, exhorting me to have a man in my life before it's too late, she said that as an honorable exception, she would love to join me in a threesome with my husband as and when I take one. She said that as her man won't be in a hurry to send her here, she suggested that we may make love in some hotel in her town and hoped that it would be sooner than later; and to avoid any communication gap, she gave me half a dozen cell numbers of her friends and relatives to reach her, just in case. But don't think that I told you about her threesome intent to incentivize you in any way; it's just that I don't want to filter out anything, now or ever. So, as though driven by the thought that we've to keep our love on hold indefinitely, we indulged to the hilt all that night. But the next day, as he led her out in a huff, I felt as if my soul has sapped from my body."

She paused as if to retrieve her lost love.

"I can feel your loss," he said taking her hand.

"I can feel your empathy," she said pressing his hand.

"What a woman you're Priya!" he said pressing both her shoulders.

"Thank you but sorry for starving you," she said leading him to the dining table.

When she set the table, immersed in their own thoughts, they started having their meal.

'What's on her mind, would she propose now?' he began thinking. 'It's quite likely she would, but won't her economic clout leave me playing the second fiddle to her. Even for love, I won't like it for sure, besides that would sour our love party much before the seven- year itch. And what about her lesbianism that could only complicate matters; but would it really? Why that may even open up my own sexual frontiers' courtesy her threesomes, is not Rekha already waiting in the wings to extend our honeymoon with her bisexual fare? It may not be long before Priya would like to experience the Dhaatri thrill in our threesome bed, or even seek wife-swap with her man. Well, when she's a game to give me, why not I let her get it; and we've her guru's word that it does a world of good, isn't it? Well, whichever course our life may take, I cannot afford to lose her all again for whatever reason; am I not already dying to possess her forthwith."

He looked at her as if to see through her mind.

"What could she be thinking about?" he thought on second thoughts, "Is it about how to bring the curtains down after opening up of her stage? What if all her sexual overtures are unusual flirtations; is it possible that she's a habitual flirt? Maybe she had flirted with me and the others she mentioned; worse still, is she a lesbian averse to men? But am I not being unfair to her, oh, why am I letting my imagination run amuck? Has my troubled marriage robbed trustfulness without my knowing it? Could be, but I can't let it affect my future; I shall be open minded for sure, and that's what she expects, doesn't she?'

While he was lost in his thoughts thus, she tried to grapple with his doubts.

'After all the warmth, what if he develops cold feet?" she thought nervously. 'Not on account of my lesbianism for he's seemingly reconciled to it but given his nature, he would be averse to live off me, and that could be the real hurdle to our wedlock. But then, why can't I move into his flat as a way out, surely I would, if that's the only hitch. Anyway, I won't lose him this time; surely I shall have him whatever it takes, now and here. What about him, is he not sex-starved for so long; why not I broach the topic to set the tune? '

After dinner, as if to make a statement, he began assisting her in cleaning the table.

"If I may know," she said and paused.

"I too will make my life an open book for you, if I haven't already done," he said.

"I mean your sex life," she said coyly.

"I hope much of it lies in the future," he said smilingly.

"Are you not shifting the burden?" she said coquettishly.

While he made her privy to his brief encounters with the call girls, she set out to prepare pan for them, but soon finding only one cigarette in his packet, when he offered to fetch some more, saying that she kept stock at home, she led him into her bedroom; and after they had their pan and finished smoking, wanting him to protrude his tongue, she did likewise.

"As yours is blood red, it portends love for you wife," she said coyly.

"If the saying is true then your man too won't be in want of it," he said smilingly.

"That way it is tempting isn't it?" she said heartily.

"I'm eager to hear the rest of your story?" he said lighting another cigarette.

"Well, as I was living in a void ever since her loss two months back, my life began craving for a companion," she began as though in a hurry to finish it. "Maybe owing to Dhaatri's narrative and Rekha's advice, as my urge took the heterosexual turn, I toyed with the idea of marriage all again. So, I looked around for marriage bureaus, and impressed with Renuka's pitch - All marriages are made in heaven but some are delayed on earth: We endeavor to hasten them all – and hoping that I could be third time lucky, I've been to her place this evening. Lo, leafing through the files, when I came across your picture, I couldn't believe my eyes. So without much ado, I rushed to you with my application."

"Somehow my registration has gone out of my mind," he said.

"Would you mind taking my hand now?" she said extending her hand.

"Don't you think it's beyond my economic grasp?" he said in spite of himself.

"I'll give up all to be your wife," she said taking his hand.

Holding her hand and staring into her eyes, he thought for long that seemed ages for her.

"Glad you've said that," he said at length, "but as you've lost so much in acquiring all this, it would be unfair to ask you to forego it for my sake; maybe the real issue is the male ego that I've to tackle myself."

"Well, I only made some money at the cost of my life, but even imperiling your marriage, you'd enriched ethics by resisting the lures of the graft. So, as I see, that settles our score once and for all in your favor, and moreover, won't the Gita aver, 'Wise neither want, nor they shun / That's how they give up ever engaged'. So do become my wise head."

"I understand that but still.. "

As though more of his apprehensions were of no avail, closing his mouth with her palm and pushing him on the sofa, she sealed his lips with hers to wade through the web of wedlock.

Not the end, just a beginning.
Dedicated to – the flawless Bullipapa, my distant cousin, with whom I had savored the fruits of our platonic love before she attained moksha at the young age of twenty-six.