In one of the greatest military tragedies in the recent times, an Indian Air Force (IAF) helicopter carrying the tri-services Chief of Defence Staff (CDS) General Bipin Rawat and thirteen other active service personnel crashed near Coonoor in Tamil Nadu on 8 December 2021. Thirteen other members on board included his wife Mrs Madhulika Rawat, Defence Assistant Brig LS Lidder, other staff officers/NCOs and four crew members. While General Rawat, wife and eleven other members had succumbed to shock and burn injuries within hours of the crash, the lone survivor of the chopper crash, Group Captain Varun Singh too succumbed to injuries on 15 December, a week later. The IAF twin-engine Mi 17 V5 helicopter, which is frequently used by important dignitaries and generally considered as a safe flying machine, was on its way from Sulur Air Base (Coimbatore) to Defence Services Staff College (DSSC) Wellington, where the CDS was scheduled to participate in a military event.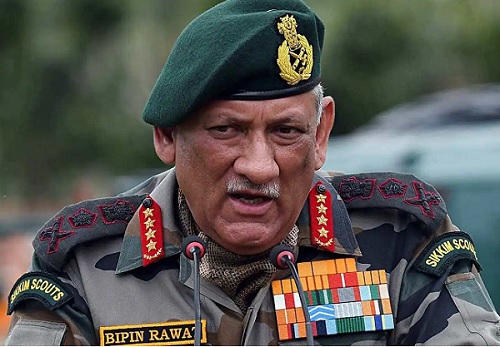 General Rawat was India's first CDS with effect from 1st January 2020, an inter-services post which was envisaged nearly two decades ago but implemented only by the current political regime at the Centre. Needless to mention, this unexpected fateful development sent shockwaves nationwide leading to grave concern and hectic activities in the political, diplomatic and social circles. The television visuals showed badly damaged helicopter and trees reduced to broken pieces under the impact of the crash, flames engulfing the wooden logs and billowing smoke at the crash site. Many locals and rescue officials from the forest department were seen frantically trying to douse the fire using buckets and water hoses. The immediate cause of the crash in the forest area is not known except that the area had poor visibility due to dense fog; hence prima facie it could be the foggy weather and consequent quagmire with power lines or high trees, or even a mechanical failure with some remote chance of a sabotage.
General Rawat and Controversies
Born in Pauri Garhwal district of the Uttarakhand state on 16 March 1958, General Bipin Rawat was the only four-star general of the Indian Army at the time his martyrdom. He belonged to a family with the tradition of serving Indian army and his father Lieutenant General Lakshman Singh Rawat too was a commissioned officer who retired as the Deputy Chief of the Army Staff in 1988. General Rawat was commissioned in the army as 2nd Lieutenant in December 1978 and held several coveted assignments at senior levels such as Corps Commander, III Corps at Dimapur, GOC-in-C Southern Command at Pune, Vice Chief of the Army Staff before taking over as the Chief of the Army Staff (COAS) on 31 December 2016. When he assumed the charge of CDS in January 2020, he was serving as the Chairman of the Chiefs of Staff Committee and 26th COAS of the Indian Army. It was during his time that the 73-days military standoff took place between India and China at Doklam in 1917 and, ultimately, the People's Liberation Army (PLA) had to eat humble pie by retreating from India guarded Bhutan territory. No wonder that both China and Pakistan saw him as a potential enemy and threat to their territorial ambitions at the respective borders.
Even after the standoff ended, General Rawat had made a public statement without mincing words that China had started flexing its muscles and was attempting to nibble away territory held by India in a gradual manner to test the limits of thresholds. Therefore, India had to be wary about the Chinese intentions and remain prepared for situations leading to conflicts. Ideologically and strategically, he did not visualize any scope for reconciliation with Pakistan as the latter's military establishment, polity and people have already concluded that India wants to break their country into pieces. At one occasion, he even cautioned that India must be prepared for a simultaneous two-front war with China and Pakistan in future. As a true patriot and nationalist, he was not shy of speaking his mind even in public which had earned him many critics and detractors among the opposition politicians, a section of media and so-called (left-leaning) intellectuals-liberals of this country. Consequently, he had faced a serious controversy and criticism at least on two occasions as COAS in the recent years.
On the first occasion, it was during April 2017 when the Army General Rawat defended the action of a young major of army who had resorted to rather an unconventional method of tying a stone-pelter with the bonut of military jeep for a while to rescue a polling team of civilians and police party from the violent gathering comprising of over a thousand people including women and children pelting barrage of stones and, thereby, ensuring a safe passage through the hostile mob in Kashmir without firing a bullet. Then a gentleman called Partha Chatterjee, who calls himself social scientist and historian, wrote a blog on a news portal 'The Wire' calling the incident a "Dyer Moment" in comparing it with the Jallianwala Bagh Massacre of British era triggering a nationwide controversy. Consequently, the General was severely assailed by the political leaders of the Congress, Communist Parties and some intellectual-liberals in the country. Those who keep in touch with history would remember how British General Dyer's troops had opened indiscriminate fire on a peaceful gathering in Jallianwala Bagh, Punjab on 13th April, 1919 rendering some 379 people killed and about 1200 wounded - though the unofficial figures have recorded much greater human toll. Any rational person of common prudence would agree how unfair is to draw a parallel between two events when the presence of mind of an army major saved many lives and impending crisis with minimum collateral damage in the present case.
The other occasion was when General Rawat, as Chief Guest, addressed the participants of the Six Sigma Healthcare Excellence Awards 2019 in Delhi on 26 December 2019, where he touched upon the subject of "leadership" as well citing illustrations from the armed forces. What he essentially mentioned was that the leaders were not those who led people in inappropriate direction as witnessed in many universities and colleges these days. Instead, leaders are those who lead people in the right direction through personal example, and in that context every officer in the Indian army has proved his worth as a leader. As a students' agitation incited by the opposition political parties against the recently passed legislation on the Citizens (Amendment) act was going on in the country around that time, the aforesaid utterances of the General were promptly linked with agitation and the issue instantly became a national controversy inviting sharp reaction and criticism from the Indian National Congress and Left parties. The crux of criticism by many leaders of the Congress and Communist parties was that an army general had no business to speak on the subject (of leadership). A self-proclaimed champion of Muslim's cause, Asaduddin Owaisi even tried to preach him that leadership was about knowing the limits of one's office (General Rawat) and the idea of civilian supremacy over the military.
Actually, what General Rawat spoke on both occasions was the forthright and plain talk of a soldier who would not mince or twist words like politicians do owing to their vested interests, or the pseudo-seculars and intellectual-liberals display their (cunning) intellectual vibrancy. Some political leaders, particularly representing the left and left-centric ideology, apparently believe that public speech or freedom of expression is a copyright of people like them. These are the very people who have been habitually dragging the armed forces and their leadership in political controversies on many occasions. In the past, they questioned and mocked their action and achievement during the surgical strike by the Indian army in Pakistan-occupied-Kashmir to avenge Uri terror attacks, another surgical strike by Air Force at Jaish-e-Mohammad terror camp at Balakot, Pakistan to avenge Pulwama terror attack, action against the militants and stone-pelters in Kashmir on many occasions and even mired the acquisition of Rafale fighter jets from France with imaginary controversies and corruption charges. Even if sub-consciously General had the ongoing unrest and lawlessness by students in mind causing the nationwide ruckus, arson and violence, he neither named any party or leader in his address nor violated any provision of the extant Army Rules.
Reactions and Responses on General's Death
The kind of heat and dust this tragic event has created is unprecedented in the military history of the past many decades. As the nation mourned the death of General Rawat, almost every prominent nationalist Indian - from the political parties, armed forces and common people - has expressed shock and grief over the incident while condoling the martyrdom of CDS, his spouse and other members of the armed forces on board of the ill-fated chopper. Similarly, condolences poured from across the world from many friendly countries including all neighbouring countries, USA, Russia, UK, France, Australia, Israel, Japan, China, and so on, with some of the heads of states personally choosing to offer their condolences and sympathies over the tragic loss. The US Embassy preferred to issue a public notification extending their deepest condolences putting on record how the India's CDS spearheaded the historic period of transformation in the Indian military overseeing significant expansion and defence cooperation with the US military.
Perhaps, the account would remain incomplete if the paradoxical truth of Pakistan and China is not separately mentioned here, which have increasingly emerged as rivals and sworn enemies by certain accounts and norms, with the passage of time. While the top military brass of Pakistan including their COAS General Qamar Javed Bajwa expressed condolences over the death of CDS, his spouse and all other martyred service personnel, a considerably large section of the Pakistani media and public also appeared to be rejoicing the moment as was apparent from the television debates, and other print and social media reactions. On the other hand, while the Chinese spokesperson formally expressed their shock and sympathy for the dead (General) but almost simultaneously the state controlled Chinese media, particularly the Chinese daily tabloid "The Global Times" published a series of quick articles publishing scandalous reports about the alleged indiscipline among the Indian armed forces, defective planning and preparation, and supposedly faulty and outdated equipment and aircraft.
While the aforesaid reaction and response from China and Pakistan is not unexpected, what came as more shocking and worrisome was the reaction and response of the members of the particular minority community in India and proclaimed intellectual-liberals of the country. However, before briefly dealing with some of these occurrences, the author would like to cite a true soldier-like interaction between two retired officers of the Indian and Pakistani armies. Retired Brigadier RS Pathania, a former war veteran of India, posted his respect and condolences on Twitter to mourn the tragic death Of General Rawat, to which Major Adil Raja, retired from the Pakistani Army, responded in the thread, "Sir please accept my heartfelt condolences." When Pathania acknowledged him with gratitude, Adil Raja responded, "Off-course sir, it's the decent thing to do as a soldier. Again, sorry for your loss, sir. In our Punjabi folklore they say - dushman maray te khushian na manawoo, kadday sajna v mar jaana (Don't celebrate the deaths of your enemies as some day friends would also die)." Pathania's response was equally likeable, "Thank you again, Adil. I understand Punjabi and speak it as well. We are enemies on the battlefield. Off that, let's be civil to each other if we cannot be friends." Needless to mention, the conversation was liked by the hundreds of Twitter users appreciating it as "soldier-like" and commensurate with the "subcontinent's traditions".
Traditionally, the popular political and religious leaders may have a large following but they are always opposed by some people or groups due to ideological differences and sectarian interests but the military, and particularly the Indian army, faithfully serves the country without any political or religious affiliations or considerations. Therefore, if a military leader is given similar treatment, it certainly raises many questions and doubts in the rational and patriotic minds. Immediately after the helicopter crash and reported casualties, the Twitter handles of some private television news channels were flooded with rejoicing emojis and smiles suggesting some people of the particular community (mostly Muslims) were happy with the news of General's accidental death. People in India ordinarily tend to interpret such occurrences as the misgivings from across the border but from a little investigation it was soon apparent that many Indian folks were indeed happy and celebrating the tragic incident.
In fact, a well known Modi detractor and Aam Admi Party activist retired Lieutenant General HS Panag tweeted "RIP" for General Rawat even before the news of his death was made public. Similarly, some lower rung retired service officer too made unsolicited remarks and gestures indicative of their joy over the death of CDS. For instance, one retired officer posted image of a cake in his Twitter account and another retiree wrote on Twitter, "Karma has its own way of dealing with people." Once the news of the helicopter crash and General Rawat's nemesis hit the newsstands, a considerable chunk of the suspect populace started rejoicing various ways on social media; some of them cheered, some wished him death while some others tried to settle with more hateful expressions. For instance, someone named Mustafa Riaz from Hyderabad at the Osmania University tweeted, "Mar gya M*******d, ab Modi ki bari Inshallah". However, when Hyderabad cyber police started investigating the tweet, he protected his account, changed name to Anshul Saxena adding sufixes like Proud Indian, RSS and Om Shanti. One "Asif" remarked that there was no reason to be sad except one that someone else would take Rawat's place but also declared that the occasion was like a mini-Eid for them.
Needless to cite all such occurrences but a large number of such unpleasant comments and emojis appeared and many of them deleted or secured by changing content and status, representing suspected Islamists, Khalistanis and other separatists. However, surprisingly, such reactions were also received from the people with known links to the Congress or Left parties. For instance, the editorial consultant of the Congress mouthpiece National Herald, Ms Sanjukta Basu shared a tweet of supposedly Gandhi scion follower describing CDS as a warmongering chief that said "Warmongering Defense Chief Generals like him are India's biggest security threat." Endorsing the tweet, she added "I have been trying not to say anything, self-censoring because ok tragic death and all but yeah, just few weeks back he excitedly supported lynching of 'Kashmiri terrorist'you know. People should not wish cruel death for others, even if they are terrorists." Ashlin Mathew, a journalist and news editor of Congress party's mouthpiece, posted a tweet saying 'Divine Intervention', but he deleted it after some time. Another person ridiculed martyred General as "Sanghi Chief of Indian Army" and one lady government lawyer in Kerala High Court with alleged leftist links posted a longl unsolicited and caustic remark. Outrageous remarks and rejoicing made by Islamists and Leftists in Kerala state made film maker Ali Akbar so upset and unhappy that he publicly announced to renounce Islam to join Hinduism.
The position is General Bipin Rawat was neither a politician nor a celebrity with frequent public appearances and utterances; instead, he was the apex military commander and chief of the Indian armed forces who never spoke against any politician or party or institution in the country, except what was considered necessary while discharging his bonafide duties and responsibilities. Indian armed forces have an established reputation of secular credential and faithful service to the nation irrespective of the political party or alliance in power at Centre. Therefore, it is understandable considering a long history of conflict and tension if the Pakistani and Chinese media and people rejoice Indian General's death but similar reactions and gestures within the country indeed surprises and is certainly a cause of concern. So what are the reasons that merely the news of the helicopter crash carrying the CDS on board made many Islamists and left-liberals so high-spirited that many of them scrambled out to celebrate by openly revealing their mind on social media: Like the one, at the time, when there was no official bulletin on the condition of helicopter passengers or the identity of people injured or dead, retired Lt Gen Panag tweeted "RIP" for the CDS.
As for Lt Gen Panag's tweet and political considerations, this author has personally worked with him as Financial Advisor of the Army Central Command during his stint as GOC-in-C at Lucknow but there seems to be no express need of examining his background and current interests in this piece. Apart from the usual attributes and merits that an outstanding army officer needs to inculcate in his persona, General Rawat was an outstanding soldier, strategist par excellence, a loyalist, true patriot and staunch nationalist. These are some of the determining qualities why he was selected by the political leadership as the first CDS, a post lying unfilled for nearly two decades. Besides, he was also a forthright officer who minced no words in speaking about the external and internal threats faced by the nation while dutifully complying with such decisions taken by the civilian leadership. Needless to mention that external and internal enemies of India have remained constantly wary and critical about the personalities like General Bipin Rawat and National Security Advisor Ajit Doval during the last few years. In author's opinion, the following three could be chief reasons why some people in India are hateful and rejoicing General's demise.
1. The way successive post-independence regimes treated few select minorities and allowed unreasonable religious and socio-economic concessions in the garb of secularism to groom them as reliable and permanent vote bank to stay in power, they now consider it as their right and privilege disregarding the similar needs and sentiments of the majority and other minority communities. Many foreigners may be surprised at the very mention but it is true that a large populace in such minorities do not even recognize the Indian national flag, national anthem or other national symbols. They maintain that their religion is above everything and many of them are strongly averse to the idea of nationalism. In fact, the left and left-centric political parties also avoid a mention of nationalism, or even oppose the concept, lest their supporters in such minorities would alienate diluting the voter base. Naturally, in such environment if an army General publicly endorses the concept of the nationalism and conducts like a true patriot, he is bound to make many enemies in a nation, where even during a cricket match between India and Pakistan, many people openly support and bid for the latter.
2. Traditionally, since independence the Congress or its allied parties have ruled this country for most of the time during the first six decades during which a harmonious socio-political ecology comprising of the politicians, media and intellectual-liberals too was built up to suit mutual conveniences and interests based on a common ideology. With the iconic advent of Prime Minister Narendra Modi and Bhartiya Janta Party during 2014 parliamentary elections, the aforesaid socio-political groups face existential threat of mass rejection by the electorate for the first time. It is not surprising that such forces inside and outside the country are now restless and active frantically trying to malign the image and bring down the Modi government. As a matter of fact, some political parties are so committed to oppose and embarrass the incumbent government that, at times, they forget even to make distinction between the Modi government and national interests. Many of them believe that General Rawat was a personal choice and close confidante of PM Modi; therefore, they are now exhilarated and rejoicing General's death.
3. There is yet another reason for many to be happy with the elimination of the Indian General. No other Indian military officer has been so open and vocal against the terrorists, insurgents and separatists in the country. His continuous efforts and zeal to carry out effective operations fully endorsed by the government of the day against such elements in Kashmir and elsewhere had earned him many detractors and enemies. In April 1917, when he endorsed and appreciated the action of a young army officer who had strapped a stone-pelter on jeep to use as shield in the rescue operation of the polling team threatened by a violent mob during a bye-election in Kashmir, he was openly criticized by the prominent leaders of the left and left-centric parties and the event was much publicized by the same people nationally and internationally. Ever since the very same elements have not spared any occasion to criticize or doubt Indian army and General; hence it is not surprising that some of them and their supporters are publicly expressing their joy now.
Chinese Unethical Reaction
Perhaps, this article would remain incomplete if the Chinese reaction and attempt to encash the indian tragedy as their opportunity is omitted or ignored. After initial condolence posted by an authorized Chinese official, their state controlled mouthpiece daily "The Global Times" published multiple articles with their usual and characteristic agenda of denouncing India undermining its achievement with a view to embarrass and malign its global image. In one commentary, citing a Chinese expert it published that the death of India's defense chief in a helicopter crash on Wednesday, 8 December not only exposed the Indian military's lack of discipline and combat preparedness but also dealt a heavy blow to the country's military modernization that could linger now for a long time. It added quoting yet another Chinese expert that India was known to have a loose and undisciplined military culture, and Indian troops often did not follow standard operating procedures and regulations. Consequently, many previous accidents, including a fire on India's aircraft carrier in 2019 and an explosion on an Indian submarine in 2013 could all be traced to human negligence and error.
Then the Newspaper went on to sermonize that the latest helicopter accident could have been avoided if the flight was delayed until the weather improved, the pilot had flown more carefully or skillfully, or the ground maintenance crew took better care of the chopper. Then it further went on to take a dig on the Indian defence capabilities deploring that the accident time and again has exposed the Indian military's lack of combat preparedness. They added that this is a general problem across the whole Indian military, including Indian troops stationed along the China-India border regions, which keep making provocative moves but have no chance against the Chinese military if a real fight begins. The Paper did not miss to add that the China-India border issue is not just a military but also a political issue. Hence India will not likely change its approach to the border issue after General's death; however, whether India changes or not, it will not change the fact that India's biggest enemy is its backwardness, not China, the paper added citing a Chinese strategic expert. Needless to mention, if only two incidences of conflict in the recent past viz., the Doklam standoff and Galwan clash are reckoned, they represent altogether a different story.
The aforesaid is what reflects the Chinese mood and reaction on General Rawat's death in a helicopter accident. We all know the Chinese government and their control on media is like an iron curtain and outside world wouldn't know what is happening there except what the CCP (Chinese Communist Party) decides to selectively disclose to the outside world. However, whatever little information is available in the public domain is suffice to prove that the Chinese military and defence industry is equally, if not more, prone to accidents like India or any other military in the world. For instance, there had been an explosion on board of an overcrowded Chinese Ming-class diesel-powered submarine in 2003 where 70 people were reported killed but the cause of explosion was not revealed. Then in August 2011, radioactivity release was reported on board an 8,000 ton Jin-class nuclear-powered ballistic missile submarine docked in Dalian but no further details were reported. In the past, The Washington Post too had reported an explosion of a Xia-class nuclear submarine during the construction and scrapping of the construction of a Ming-class submarine after a fire broke out on board. Notwithstanding these mishaps, the Chinese media is conducting as if the Chinese military and defence industry is superior and immune to accidents.
Conspiracy Theories and Probable cause of Crash
In media reports, different people have speculated the possible cause of accident being the foggy weather, an entanglement in power lines, a mechanical failure or even the wrong height at which the chopper began to fly. Similarly, some aviation experts and sources have been quoted as suggesting the bad weather and "controlled flight into terrain" as the probable cause of the crash. In the mean time, a high level tri-service inquiry has been ordered which is likely to explore and critically investigate all possibilities including sabotage, if any. Some social media buffs have also attempted to link the crash to either an attack by insurgents, or internal sabotage, or even a communal attack. One Delhi-based defence expert Brahma Chellaney finds some strange contrast between the current Indian helicopter crash with one carrying Taiwan's military chief in early 2020. However, any substantial evidence has not been provided by any source to actually substantiate any of these claims.
According to one theory that is quite common in circulation, the chopper was possibly shot down by "Tamil rebels," a phrase now used for the long-defunct Liberation Tigers of Tamil Eelam (LTTE), which has been dormant for more than a decade since its defeat by the Sri Lankan forces in 2009. Investigation by the Wion-News suggests that this theory has largely been driven by few Pakistani accounts (Twitter handles) presumably to propagate that pro-Tamil Eelam sympathizers are active in Tamil Nadu. Some of these Pakistani Twitter accounts appeared hopeful and reassuring Kashmiri terrorists through their tweets that Tamil rebels and Khalistanis will soon join them against India. However, neither there has been any statement from the insurgents belonging to the alleged group nor there is any known activity or evidence of attack anywhere near site in the past. The Tamil Nadu Crime Branch Central Investigation Department filed a case against one such Twitter handle and the post was eventually withdrawn.
Another bunch of social media posts suggested that the crash was the result of internal sabotage or "inside job" trying to insinuate a political conspiracy theory and crisis within the governance. Again there is absolutely no evidence or any expert opinion or any official defence statement to suggest any linkage between the helicopter crash and any internal sabotage or planned attack. A tri-services inquiry has already been ordered by the government into the crash which is headed by a senior Indian Air Force officer Air Marshal Manvendra Singh. The Indian Air Force has also released a statement to this effect appealing general public to avoid any uninformed speculation "to respect the dignity of the deceased".
The Delhi-based defence expert Brahma Chellaney opined in two tweets on the day of helicopter crash: "At a time when China's 20-month-long border aggression has resulted in a warlike situation along the Himalayan front… General Rawat's death has an eerie parallel with the helicopter crash in early 2020 that killed Taiwan`s chief of general staff, Gen. Shen Yi-ming, and seven others, including two major generals. Each helicopter crash eliminated a key figure in the defense against PRC`s aggression." As expected, the Chinese state controlled mouthpiece Global Times strongly reacted and refuted to Chellaney's statement suggesting such people are actually responsible for vitiating the atmosphere and a major hindrance in normalizing relations between the two Asian neighbours.
Then in a sinister design, the Global Times spared no time to spin Chellaney's statement to own strategic advantage by suggesting that the Indian strategic expert's view is like suspecting the US having played a role in the crash. The CCP mouthpiece suggested that India and Russia are moving forward with the delivery of the Russian S-400 Missile Defence System, which the US is strongly opposed to. Chellaney, however, promptly rebutted Chinese claim of linking the crash to the US stating that the CCP mouthpiece has misused his comments, which only represents the depraved mindset of the CCP folks. Here, what needs to be remembered is that unlike India and US where the electronic and print media is free to express sans a few general regulatory guidelines of the government, the Chinese media operates under strict control of the CCP and government in China. Therefore, any views published by the Global Times actually represent the thought and mindset of the State.
Epilogue
Although the exact cause will be known only after the proper investigation and report if made public by the government, any conspiracy behind the crash is prima facie ruled out. Nonetheless, the possible cause of the accident may turn out to be the foggy weather with poor visibility, and consequent entanglement of the low flying chopper with power lines or huge trees, a mechanical failure, or a momentary miscalculation by the pilot. As some aviation experts and sources have also suggested that the bad weather and "controlled flight into terrain (CFIT)" could be the likely cause of accident. According to the definition provided by the International Air Transport Association (IATA), CFIT is an accident involving an in-fight collision with terrain, water or an obstacle without indication of the loss of control, a probable cause in air accidents only next to the loss of control in-flight (LOCI).
It is not the first time that the Leftists and Islamists in India and Pakistan have been observed rejoicing a national tragedy. Many of them, including politicians and intellectual-liberals, have constantly questioned the actions and achievements of the Indian armed forces on various occasions. In the past, some of them even celebrated the death of nationalist leaders like Atal Bihari Vajpayee, Sushma Swaraj and Arun Jaitley. Authors recalls how on a social media group, some retired officers fondly paid homage to British author VS Naipaul on his death in August 2018 who was well known for his bias against India but same people were averse to do it for Ex-PM Vajpayee, who too died around the same time. General Rawat was the incumbent defence chief and apolitical person; hence if some individuals or groups find his death an occasion to celebrate, this only reflects their depraved mindset and anti-national proclivity.