Progressive Literary & Cultural Society (India) organized a 3 day Online Poetry Festival on Google Meet, "India International Multilingual Poetry on 18-20 December 2021. The event started on 18th December with Inaugural. PLCS Treasurer Dr. Ruchi Malviya (S. S. Khanna Girls' Degree College) commenced the event. She presented the Objective and works of the Society (PLCS). She invited Muhsine Arda (Turkey) who gave the introduction of the Organizing Committee Member of the event.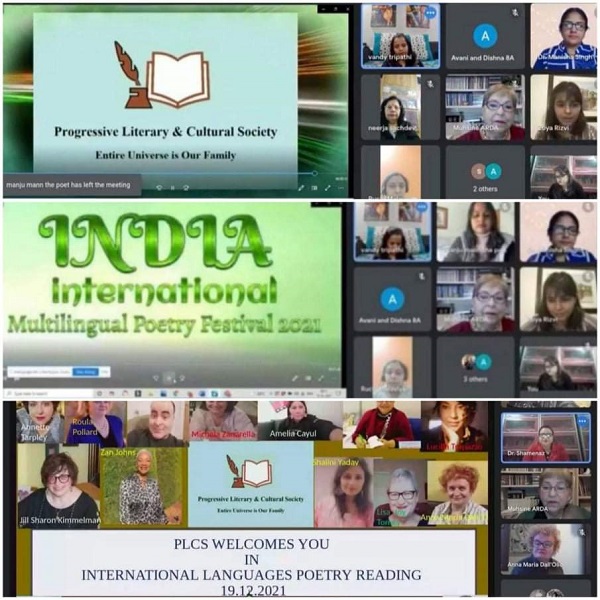 Many National and International artists performed in it; Avani- Dishna Tripathi (Chennai, India) performed Bharatanatyam, Nithika Gomez sang English songs, Lucilla Trapazzo (Switzerland) and Ermano Dorado (Spain) performed Dante's Francesca Letters. Berrin Cetinkaya (Turkey) played Saaz, Amelia Cayul Tranamil (Chile) played her traditional instrument and Zoya Rivi (Mumbai, India) sang Urdu ghazal. In her speech, Guest of Honour Melissa Studdard (Poet & Professor, USA) praised the working of Society and recited two of her poems. In the end, PLCS Members gave their wishes. Event was Coordinated by PLCS President Dr. Shamenaz (Rajarshi Tandon Mahila Mahavidyalaya, Prayagraj).

On 19th December, two sessions were organized, International Languages Poetry Reading Session I & II. First session began with PLCS Vice-President Dr. Manisha Singh (NKVI College, Lucknow) introducing Dr. Neerja Sachdev (Vice-Principal, S. S.Khanna Girls' Degree College, Prayagraj) who coordinated the session. She introduced all the poets of the session, Wansoo Kim (South Korea), Helen Sarita (Philippines), Adrian Fisca League (Philippines), K. Radhakrishnan (India), Dr. Nalini Tandon (India), Meher Pestonji (India), Dr. Qudsi Rizvi (India), Perwaiz Shaharyar (India), Dr. Kanu Priya Verma (India), Manju Yadav (Spain/India), Shaista Maseeh (Saudi Arabia), Debra J. Mascarenhas (UAE) and Shokhida Yasupova (Uzbekistan). So 12 poets from 6 Asian countries and 6 languages recited their poems in the first session.

In the second session, 12 poets from 8 European, American and Latin American recited their poems in 5 languages. Poets in this session include, Lucilla Trapazzo (Switzerland/Italy), Muhsine Arda (Turkey), Lisa Joy Tomey (USA), Anna Maria Dall'Olio (Italy), Annette Tarpley (USA), Shalini Yadav (India), JIll Sharon Kmmelman (USA), Michella Zanarella (USA), Amelia Cayul Tranamil (Chile), Sarfraz Ahmed (UK) and Zaneta Johns (USA).

On the third day, 20th December in the session, 'Indian Languages Poetry Reading' 17 Indian poets recited in 13 Indian languages. The Session Coordinator commenced the event with her Sanskrit poem. Then she introduced other poets, Neerja Sachdev (Hindi), Nalini Tandon (Hindi), Alka Prakash (Hindi), Avaninder Sharma (Punjabi), Avik Gangopadhyay (Bengali), Deepak N. Pawar (Marathi), Jaishree Sangitrao (Marathi), Jamuna Bini (Nyishi), Prasanna Kumar (Telugu & Hindi), Ruchi Malviya (Hindi), Usman Mehmood (Kashmiri), Manisha Singh (Bhojpuri), Shamenaz Braj Bhasha & Urdu), Vandana Tripathi (Tamil). In the end, Dr. Shamenaz announced the upcoming event. PLCS Joint Secretary, Dr. Anupama Sharma gave a vote of thanks'.