Progressive Literary & Cultural Society (India) organized an Online Webinar on Google Meet, "PLCS Women Conference Gender Discrimination" on 9th January 2022. The event commenced with Dr. Shamenaz (PLCS Founder & President) introducing the topic. She said that "gender-discrimination is an issue of vital importance which any woman around the world co-relate herself. It is not related to any one country but entire woman-kind are facing it in some way or other in their day-to-day lives whether they belong to Oriental or Occidental world. In the Indian context, women in North India are facing more than Gender-discrimination than South India though both the societies are patriarchal but still women in South India enjoy more freedom and liberty. We as women are facing gender-discrimination in our everyday lives in different ways whether it is our work places, public places and even at or houses".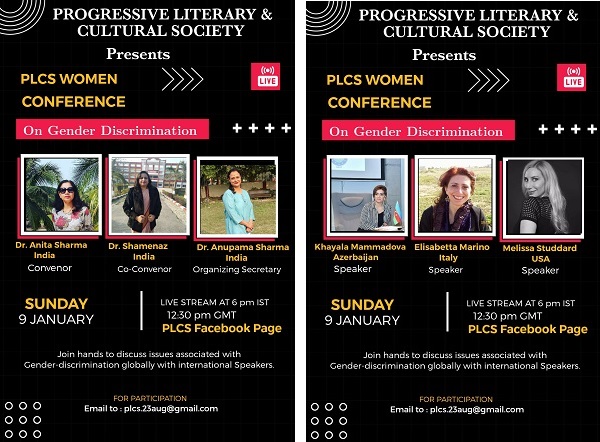 She then invited the Convenor of the Conference, Dr. Anita Sharma (Principal, Principal, G. C. Dhami College, Shimla). She introduced the topic in broader way saying that, "Gender discrimination is the unequal or disadvantageous treatment inflicted on someone because they belong to a specific gender. It is usually the women who usually have to face such gender discrimination. Throughout the South-Asian region, discrimination against women is rampant. The gender-based discrimination is attributed to the roles assigned to the two genders. This form of biased attitude is prevalent even on matters related to marriage or seeking a divorce, where women are always at the receiving end. Women marrying as per their own choice or seeking a divorce is considered a taboo in South-Asian societies and are forced to suffer humiliation and violence at the hands of male members of their family for such acts. She introduced both the international speakers of the Conference.

Dr Elisabetta Marino (Associate Professor, University of Rome, Italy) shared her information on the topic, "Position of Women in Academic, Domestic and Societal Norms in Italy". She said that, "according to the Central Institute of Strategic Development in 2018, women in Italy are actually breaking the glass-ceiling because in comparison to the past there are more women occupying the top positions nowadays but still much has to be done and still there are lot of problems and these problems have been made even more stringent and difficult because of the covid situation that we are living it into because of the lockdown situation which has somehow entered precarious balance previously established between the sexes. In Italy, the domestic chores which women do are not acknowledged. The patriarchy is still the most important into which families are forced.

She threw light on the situation of women in the Universities of Italy. She said that she prefer to use the word "imbalance" in place of discrimination because it is more apt. In the field of Humanities there are more female students and when you proceed to the levels of education, you see fewer women and more men. When it comes to University's positions, the top positions are still occupied in the majority of cases by men. Women get fewer opportunities to proceed in their career. Women apparently are more productive but it is very difficult for them to produce volumes of monographs but they don't have many opportunities due to various reasons both domestic and academic which is affecting their careers. Women have to wear certain dress codes at workplaces and other places and if something happens to them they are blamed.

Dr. Khayala Mammadova (Founder & President, International Muticultural Network, Azerbaijan) spoke on the topic, "Global Issues: Challenging Gender Discrimination, Gender Attitudes and Trends in Azaerbaijan". She said that "we are enforced by gender and each one of us has to play certain roles related to our gender. Gender discrimination describes the situation in which people are treated differently simply because they are male or female, rather than on the basis of their individual skills or capabilities. Girls and women suffer most of the negative impact of rigid gender norms and roles - they are more likely to experience restrictions of their freedom and mobility, they experience epidemic levels of violence and harassment across the globe and have fewer opportunities to choose how to live their lives. Gender discrimination is prohibited under almost every human rights treaty. The COVID-19 pandemic has threatened to put years of hard-won progress at risk. Far too many girls, especially those from the poorest families, still face gender discrimination in education, child marriage and pregnancy, sexual violence and unrecognized domestic work. Gender equality is not only a fundamental human right, but a necessary foundation for a peaceful, prosperous and sustainable future. Eradicating gender issues means a world where women and men, girls and boys all enjoy equal rights, resources, opportunities and protections.

Azerbaijan has a history of taking steps to empower women; it was the first Islamic state to grant women political rights equal to men, and more recently issued a series of progressive laws on domestic violence, gender equality, anti-trafficking and the minimum age of marriage. In the thirty years of excellent governance, Azerbaijan has undergone significant development and transformation in every field, including economy, trade, business and investment, education, media, and robust reforms. Moreover, Azerbaijan has potentially made progress in empowering women and mainstreaming them. Achieving gender equality is one of Azerbaijan's highest priorities and is considered a necessary precondition for fully achieving human development.

In the end, PLCS Joint Secretary, Dr. Anupama Sharma (G.S.P.G. College, Bulandshahr) gave a vote of thanks. The Conference was graced by many scholars and academicians of India and abroad.