Progressive Literary & Cultural Society (India) and PLCS Turkish Forum organized an Online Workshop on Google Meet, "Art and Earth Civilization" on 23rd January 2022. The event commenced with PLCS President, Dr. Shamenaz greeted everyone in English, Hindi-Urdu and Turkish. Then she introduced the event and the Convenor of the workshop, Dr. Kanu Priya Verma (Assistant Professor, Dr. Shakuntala Mishra National Rehabilitation University Lucknow, PLCS Indian Coordinator). She then invited her to carry further the programme

Dr. Kanu Priya Verma gave a brief bio note of the speaker and welcomed him on the digital platform of PLCS. In her address she said that PLCS is committed to promote peace and harmony globally and today's event is another step in the direction. We also believe in promoting global literature & culture so for this we have formed various forums and PLCS Turkish Forum is one of them and today's workshop is the first event of the forum. She then invited Tarik Gunersal on the dais.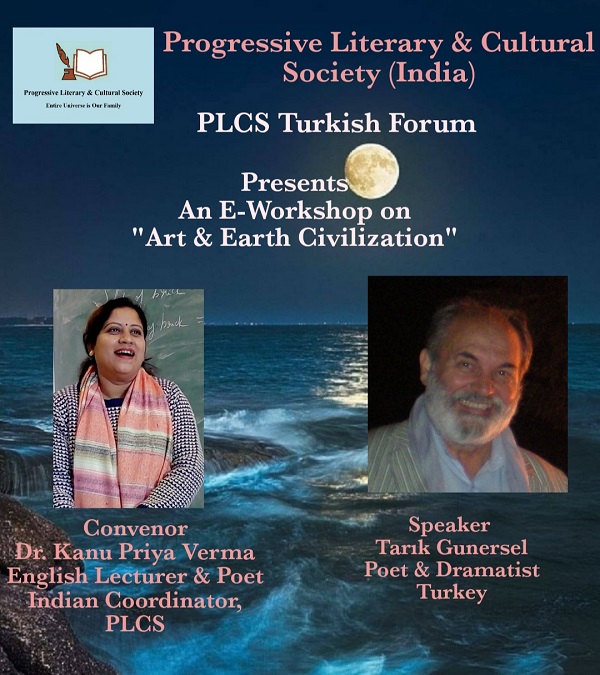 Tarik Gunersel in his speech addressed as:

Synergy, Dear Earthmates,

I've recently decided to use the word 'synergy' as my greeting word. Earth is our common home. Art is an organic part of being human. Civilization is a problematic concept with good and bad connotations, but it may be acceptable in the sense of a complex mechanism with values. I prefer to see all the civilizations past and present as proto-civilizations which we may benefit from as we try to co-construct an Earth Civilization.

Among the present turmoil, how can we contribute to the progress of a civilization based on the awareness of the limitations and the possibilities of solidarity related to science/s and art/s? This presentation is related to the Declaration of the Earth Civilization Project written by Tarik Gunersel in 2013 and supported by several Earthmates, leading to the present Earth Civilization Network (ECN). Because numerous volunteers are needed for the Earth Civilization to flourish, the EC Network should become plural -leading to tens, hundreds, millions of networks with a simple basic 'formula' :

"I, too, am on this planet; I, too, am responsible. As an Earth Civilization Volunteer, I'd like to cooperate with other Earthmates."

Connected to the values and principles mentioned in The Universal Declaration of Human Rights and numerous related contributions during the past billennia, the non-violent activism and contributive solidarity of Earthmates from different countries, cultures, ages, and fields can help humanity (the whole biosphere) to survive and transcend the present crisis as we co-evolve ourselves. UNESCO's 17 Goals for 2030 constitute a practical guide. People should come before 'profits' -hopefully leading to a postcapitalist global society.

So the small number of volunteers from various parts of our planet constituting the present Earth Civilization Network should and hopefully be multiplied by other Earthmates, enlarging the fruitful synergy by forming a network of networks. The EC Network is not an alternative to countless local and international organizations. It is like air, open to all useful organizations, inviting them to form bridges. In fact, as a fine example, the wonderful Progressive Literary and Cultural Society has been doing so, by Promoting Global Literature and Culture -as declared on the Facebook page.

Dear Earthmates,

The visual Olympic symbol with circles that represent the continents may also be seen as an integration of unchosen backgrounds and a chosen horizon, embracing Earthmates from all ages and fields.Where is art in this journey? Where should it be? These ideas and questions will help us focus for an hour or so -with interaction. We're together. Many contributions lead to contributions.

In the end, Dr. Kanu Priya gave a vote of thanks and stressed on what Mr Tarik Gunersel said that "the earth is our common home and art is a common form of being human. I am responsible on this planet. PLCS is promoting global world literature. She appreciated the speaker's view that art helps us experience our being more fully that's why art and earth civilization go together. The event was graced by scholars and students of India and abroad.