Progressive Literary & Cultural Society (India) organized an Online event, "E-Workshop on Cyber Crime Awareness" on 9th February 2022. The event commenced with PLCS President, Dr. Shamenaz (RTMM, Allahabad, India) giving introduction of the event. She said that, "We live in a world which has turned into a cyber world for three years, thanks to the current pandemic crisis. But before that we have also been a part of the cyber world since the advent of the internet and the fact is that day-by-day we are becoming dependent on it. Whether it is buying stuff for our houses, marketing, business, banking services and other such daily amenities, we are dependent on the internet. Though it has made our lives easier but at the same time it has a darker side because it has given rise to many cyber crimes but we can counter these crimes by being vigilant. So for this purpose PLCS has organized this workshop to make people aware of various crimes related to the cyber world.

She then invited the PLCS Joint Secretary & Convenor of the Workshop, Dr. Anupama Sharma (Assistant Professor, G. S. K. P. G. College, Bulandshahar). Introducing the topic, she said that, "Cyber crime is a contemporary and relevant topic to discuss. Everybody thinks that only stealing someone's private data is cyber crime. But cyber crime involves digital devices like computers or other hardware devices. As we all know that we are living in the age of internet and cyber crime is one of the most complicated issues related to it. But we can't escape from this because today we are totally dependent on online working. Cyber crime may include credit card frauds, voice phishing, distribution of viruses, cyber stalking, child pornography, forgery, crime related to money and women.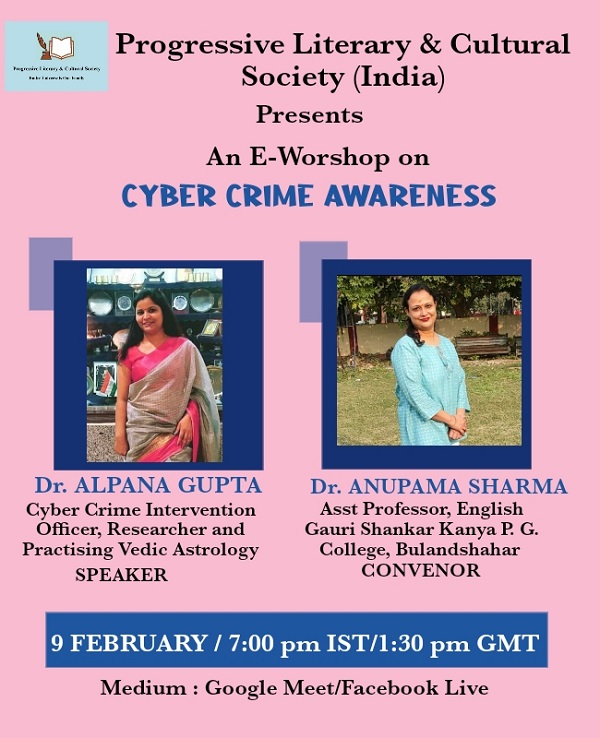 She then introduced the Speaker of the Workshop Dr. Alpana Gupta (Cyber Crime Intervention Officer, New Delhi). She tried to covered the presentation under the following heads:
Types of cyber crime
Few examples of cyber crimes
Crime which are affecting our future generation that is Gaming disorder
Followed by the necessary precautions that we should incorporate to stay safe and keep our loved once safe from cyber crime
In her address, she tried to explain, "In this tech savvy world of 21th century, each one of us is using the internet through WhatsApp, twitter, Facebook, net banking and lots of other platforms. So, we should know what are the problems that are occurring in the usage of these internet platforms. Cyber crime is a criminal activity done by using computers and the internet. It targets a computer or computer network or any device which is connected to the network, who commits it? It is committed by hackers who want to make money. It can be an individual or any organization. And the hacker's sole aim is to get profit could be personal or political. "Cybercrime does not occur from a want of feeling for others but from an over-sensitivity for self and an over indulgence in our desire". As cyber crime is emerging as a serious threat, worldwide, govt police dept and intelligence units have started to react.

Types of Cyber Crime
Email and internet fraud
Identity fraud : where personal information is stolen and used
Theft of financial or card payment data: cyber attack
Cyber Extortion: demanding money to prevent a threatened attack.
Ransomware attacks: a type of cyber extortion.
Gaming disorder
Preventions against Cyber crime
Keep software and operating system updated
Use anti-virus software and keep it updated
Use strong passwords
Never open attachments in spam emails
Contact companies directly about suspicious requests
Keep an eye on your bank statements
Do not click on links in spam emails or untrusted websites
Do not give out personal information unless secure
Keep an eye on your bank statements
Monitor your child while gaming online
Teach your kids how to deal with cyber bullies
Downloads/installs are always handled by adults
Use parental controls effectively
After the session, there was a discussion in which various delegates discussed their experiences related to cyber crime. Dr. Anupama Sharma gave a vote of thanks, especially felicitating the speaker. The event was graced by scholars and students of India and abroad.