Progressive Literary & Cultural Society, India organized an online Anti-War Poetry Reading Event via Google Meet, on 05 March 2022. The event started with the welcome of the participants by PLCS President Dr Shamenaz (RTMM). She talked about the current war situation in the world and introduced the convener of the event Dr Kanu Priya Verma (Assistant Professor, DSMNRU, Lucknow) and asked her to carry the programme further. She started with the quotation, "If we don't end war, war will end us". So more than an end to war, we should take steps to end the beginning of all wars.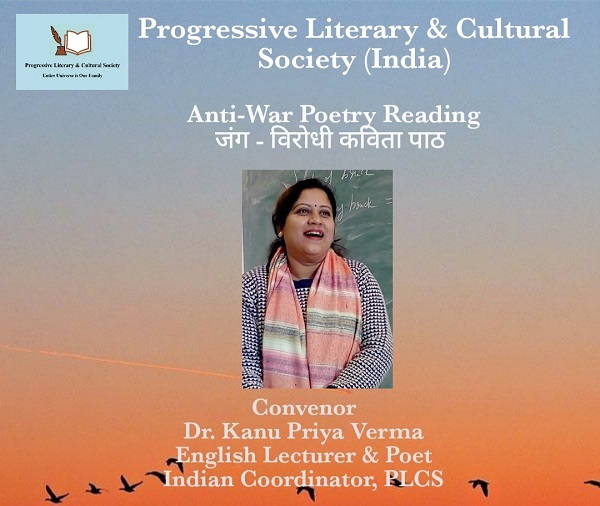 Dr Kanu Priya Verma first invited Dr Neerja Sachdev (Vice-Principal, S.S.Khanna Degree college, Prayagraj) to recite her poem. War between Ukraine and Russia is very contemporary. This gave the thought to her poem "Wrecked Souls" which talks of sparks of violence. She also recited the poem of Dr Nalini Tandon , a doctor from London entitled as "Whose's Heart Will Glow". Next Sarfraz Ahmed (United Kingdom) recited his poems "Revelations of War" and "To find Peace" in which he wants to transform all the negativity of war.

Saraswati Poswal, a social worker and full time writer from Haryana recited her poems Jung and "Yudh Kyon" in Hindi. Through her poems she poses the questions on war. She says what are we teaching our children? Through her English poem, "Why" she talks about the politics of fooling people.Next to recite was Roula Pollard from Greece, residing 2 hours away from Ukraine and so is acquainted with the present ongoing war. Through her poems, "How MuchShould My Children Remember? and "Ukrainian Children" say that war is the darkest of words. She feels the problem of war refugees.

Manju (India/Spain) read her poem, "This Side or That Side" in which she says that war destroys society. In her poem. "Dhund or Fog" she talks about the aftereffects of war. Shaiqa Anjum read the poem of Sahir Ludhainvi. In the end, Dr Shamenaz recited her poem, "It Hurts" where she says that it hurts to hear any cry irrespective of boundaries. She also read a poem on refugees , "Where Shall We Go". Dr Shamenaz also read a poem "Kise Acche Lagte hain" in Hindi, a poem based on soldiers.

Azam Abidov (Uzbekistan) recited the poem, "Longing for Doomsday" where he talks about a mother longing for doomsday.In his poem, "Farewell To Earth" he says that mother earth deserves all good things. Dr Kanu Priya Verma in her poem When Will You Become Human? talks about the atrocities of war.

In the end Dr Kanu Priya Verma concluded with the quotation Military don't start wars. Politicians start wars. She then invited Dr Shamenaz to propose the vote of thanks.The event was organized with the aim to make the world realize atrocities of warfare and urged the world to stop war and make peace. The program was a huge success in which participants from different parts of the world participated.