Great men are not born accidently
They are born when nature needs them for a purpose.
— Swami Vivekananda.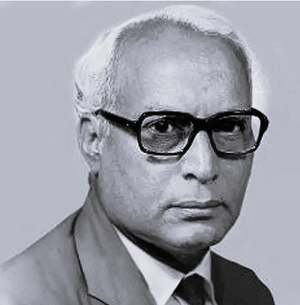 A S. Rao - Scientist, Visionary, Humanist greatly impressed all by his vision with his role in the field of Electronics and helped to achieve technological self-sufficiency in the field of rapidly resulting growth in nuclear, defence and civilian establishments in our country in spite of adverse skepticism from many quarters.

He was born on Sept 20th 1914. The home of Venkatachalam and Sundaramma welcomed their youngest child into this world - Ayyagari Sambasiva Rao in a little village of West Godavari Dist, Mogallu(v), A.P. South India. - Moggallu's Sambasiva Rao is a memorable son. He came from very humble circumstances in his personal life. He has an inner urge to motivate himself and sculpt his personality to achieve far-reaching goals. Many awards showered on him.

He had his schooling in his village to study further and venture into the realm of higher education that lay beyond the boundaries of Mogallu. By the time Sambasiva Rao finished his primary schooling, it become difficult for the struggling family to take care of his higher studies. His first break came from a gentlemen named Vanguri, a family friend from Tanuku, a small town located about 12KM from Mogullu village. Vanguri offered the boy shelter and one meal a day at his house.

With the help form various volunteers he managed to complete SSLC at Tanuku. The next challenge was to complete his Intermediate, another two years struggle. Providence came from yet another corner: the M. R. College of Vizianagaram, which used to provide fine meals in local choultry to deserving students pursuing their studies at M. R. College of Vizianagaram, a renowned seat of education in those days. His determination eventually paid off, and he has successfully completed his Intermediate.

In 1935, with the encouragement from his brothers and family friends the young man reached Banaras Hindu University (BHU) where he completed his B.Sc and M.Sc in Physics with high academic honors. Not only did this dream come true, but it also offered, for the 21 year old, a window to even great dreams.

A S Rao married Annapurna in April 1938. Having obtained MSc in Physics 1939 A S Rao stayed at BHU for few more years to work as a demonstrator/lecturer and to continue his research. In The mid 40s Indian students used to go for higher studies to USA, where academic and industrial activity was running in overdrive. Three of A S Rao's juniors obtained admission in US Universities. These urged AS Rao to try his own luck. In 1944, a recommendation from no less a personality than Sarvapalli Radhakrishnan, the Vice-Chancellor of BHU, who ensured his admission into the prestigious Stanford University, California, USA. To cover his travel and living expenses A S Rao approached J. N. Tata endowment for higher education of Indians and won its coveted scholarship, which sanctioned him a loan of Rs 7000/- and a gift of Rs 5000/-. Due to ongoing world war with a nine-months delay he went to USA.

His stay at Stanford University helped him to improve and his outlooks and sharpen academic research skills. His association with David Packard, one of his contemporaries, come in handy many years later, while setting up ECIL in gaining a peak into the working methods of industrial giant HP.

1947 with a Degree of Engineering he returned to India with a desire to put his newly acquired knowledge at the service of his new independent country.

On his return A S Rao joined Indian Institute of Science (IISC, formerly TATA institute) Bangalore, to study cosmic rays and conduct High Altitude research . Homi Bhabha was also at IISC, carrying out research in an allied field. The two great souls of India met at that point of time to eventually create history in more than one field, which resulted highly fruitful over. He was assigned the task of designing and building equipment for measuring cosmic ray intensity at high altitudes. Inspired by his performance Homi Bhabha offered A S Rao the post of reader in TIFR(Tata institute of fundamental research). Bhabha decided to involve Rao in his ambitious and exciting atomic energy program. Thus, A S Rao grounded in Mumbai with a critical role in ensuring the nation's first step towards self-reliance in Atomic Energy.

APSARA (it means 'water nymph' in Sanskrit) was a swimming post type reactor with fuel bundles consisting of enriched uranium plates with water as a moderator and coolant. This reactor was an excellent experimental facility for our scientists to study effects of nuclear radiation. The team received congratulations even from the Prime Minister Jawaharlal Nehru. A S Rao was made the person in charge of the director of radiation protection, health physics and air monitoring divisions. Prime minister Lal Bahadur Sastry took the stock of the activities of electronics production division of AEET , Smt Indira Gandhi visited on the occasion of renaming AEET as Bhabha Atomic Research center after Bhabha's death as a fitting tribute to him in 1967.

Recognizing his contribution to the nation he was conferred the Shanthi Swarup Bhatnagar Award in 1969. Earlier in 1960 he had received Padma Shri from Dr Rajendra Prasad, the first President of India, and eventually in 1972 Padma Vibhushan for ECIW.

When ECIL was started in 1967 at Hyderabad with about 300 scientists and engineers and technicians he brought together V. Rama Rao (the production man), S.V. Ksargod (the control factor) and U. Venkateswarlu (warlu gam).

Throughout the formative years A S Rao kept close contact with the line leaders, patted them on the back when they achieved something or lent a patient ear when they failed. He formed a group called RAIDS (Review, Analysis, Interpolation and Development systems) which brought together dedicated senior line leaders, ECIL offering to common man televisions.

ECIL first Chairman -Vikram Sarabhai, assumed Chairmanship of Atomic Energy Commission after Homi Bhabha's death in 1966.

ECIL made a major mark in instrumentation for power reactors and manufacturing components. The basic building blocks ECIL, the pioneer of India's computer age. The development of computer assemblies which was explained to H N Sethna by A S Rao. ECIL was able to make nuclear instruments, analytical instruments, gamma camera, scanning security, turbines, digital seismic systems, sound ranging systems, Automatic data handling systems, computers, evms, nano components, communication products etc... It began to experience a sort of amnesia about that we can and we will develop on our own sprit that governed first decade after Indian independence.

In the first few decades after independence A S Rao stood as a colossus in young India's fledgling domain of electronics. For the entire generation in fact the pioneering generation of electronics professionals, he became nothing short of an 'elder' figure, inspiring hundreds to excel and to help lay the firm foundations of an entire industrial sector. It was no wonder, therefore, that A S Rao was honored as 'The man of the century of Indian electronics' at the turn of the century in the year 2000.

After A S Rao's demise in 2003 several articles and writings have been published in tribute to his extraordinary professional and human achievements. Once again it is a re-iteration that A S Rao provided a spark to the scientists and engineers who believed in the psychology of Indian self-reliance. Even in those days of globalization Dr A S Rao's achievements are lendable and his commitment worth emulating.

But the greatest award for a karma yogi like him ultimately in regard and respect to his fellow men, as reflected by their decision to name a part of Hyderabad city as Dr A S Rao Nagar and erecting his statue in the portals of ECIL.