March 27, 2012: On our way back from the Wagah border back to Amritsar city and eventually to the airport, we momentarily parked the car on the curb side of Amritsar-Lahore highway to have a quick (distant) view of the Khalsa College building which from the highway is a little over 500 feet away.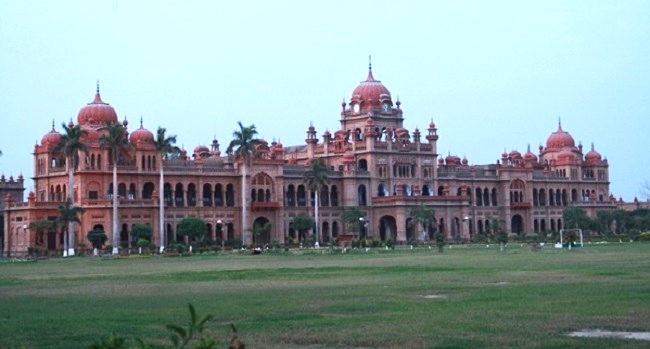 Khalsa College, a landmark and a heritage marvel, is about five miles from the city-center of Amritsar and is the oldest institute of education in the region. The building is a synthesis of Mughal, Sikh and Victorian architecture.

Conferred the status of heritage educational institution by the University Grants Commission in 2017, Amritsar's Khalsa College is among the 19 colleges across the nation that has been given this significant status.

Khalsa College was founded in 1892 and the college building was designed by architect Bhai Ram Singh who was the then vice-principal of the Mayo School of Arts, Lahore and also credited for doing partial architectural work for the Buckingham Palace in London.

The construction started in 1904 and it took seven years to complete the college building in 1911. The final structure looks like a cross between a palace, a temple and a fort. The architectural style of the college is a major attraction for not only locals, but tourists visiting Amritsar from various places as well. The college building and complex boasts of a British era clock, the oldest cricket stadium in north India and several residential quarters that date back to the British era.

The autonomous co-educational Khalsa College claims to have many firsts to its credit. For one, it has the only private veterinary college of the country. While its structure may be all about heritage, it is hi-tech in its day-to-day working with a biometric attendance system for staff, solar plants and a farm with drip irrigation.

Khalsa College has been featured in several moves.

Some famous alumni of Khalsa College include former Olympian Balbir Singh, writers Bhisham Sahni and Mulk Raj Anand, politicians Partap Singh Kairon, Hukam Singh, Gurdial Singh Dhillon, cricketer Bishen Singh Bedi, screenwriter and film director Kidar Sharma.

Image (c) Rajender Krishan