PLCS organized Indo-Turkish Reading
Progressive Literary & Cultural Society, India and PLCS Turkish Forum organized an online Indo-Turkish Reading Event via Google Meet, on 12th March 2022.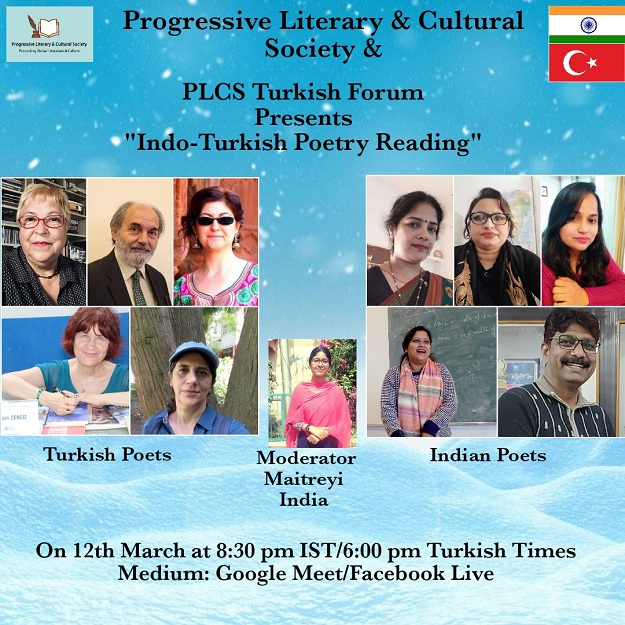 The Moderator of the event, Maitreyi (Allahabad University), started the event by giving a brief introduction. The first poet to his poem was Tarik Gunersel Change/de?i?tirmek and ?f Only/Ke?ke. Dr. Manisha recited Safalta/ Success & Utsah ki Shakti/ Power of Passion. Dilek recited, Solgun Bahçe/The Pale Garden and Büyümek/Growing up. Deepak N. Pawar recited Avyakt (Unexpressed/Unsaid) and Vyakt(Expressed/Revealed). Muhsine Arda recited Yard?m ?ster misin?/Help me/not and Oyun/A Play. Dr. Kanu Priya, recited 'Only You/Sirf Tum' and 'Prarthana/Prayer before death. Hilal recited, My night is above eternal time/Gecem sonsuz zaman?n üstündedir and None can close the night's door/Gecenin kap?s?n? hiçbir el kapayamaz. Manju recited Tere Log (Your People) and Sajaa (Punishment). Gulsum Changez recited Origami/The Origami and Çocu?umun Ninnisi/Lullaby to My Child. In the end, Dr. Shamenaz recited, "Kise Achche Lagte Hai/Who Likes'' and the second poem, Faraar/Being Escapist.
The event was organized to bring forth the poets of two countries with the aim of cultural collaboration between India and Turkey.