PLCS Kids Forum organized Treasure of Talents II
Progressive Literary & Cultural Society, India and PLCS Kids Forum organized an online Event, "Treasure of Talents - II" via Google Meet, on 16th April 2022.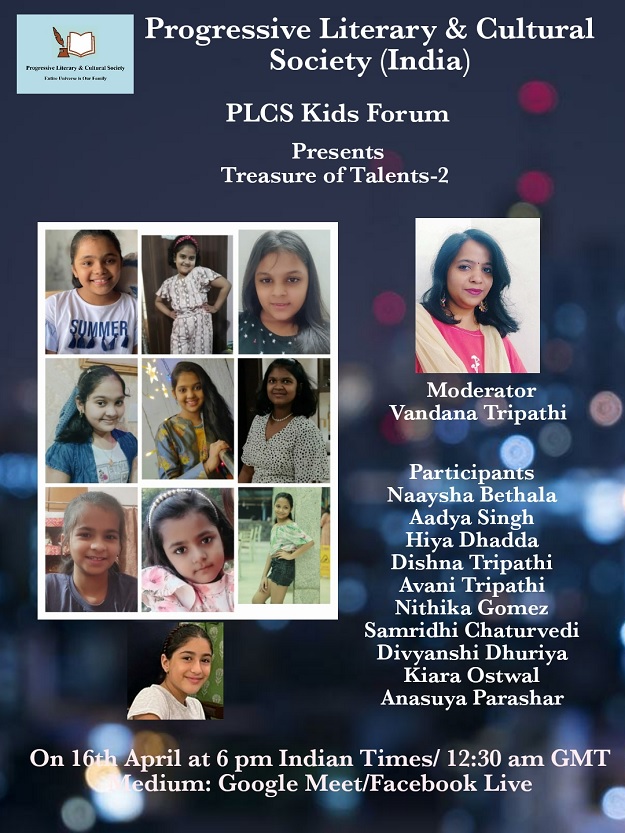 The Moderator of the event, Mrs Vandana Tripathi (Coordinator- PLCS Kids Forum) commenced the event by the quote, "The world recognizes you, when you recognize your talents". She encouraged the students to recognize their talents and potentials and work hard on it because this is the right time for it and also promised children to start competition for them on PLCS Platform soon. She then invited all the participants one by one. The first kid to perform was Nikitha Gomerz (Chennai), who recited a beautiful song. The next participant, Hiya Dadda (Chennai) presented a bollywood dance. Samridhi Chaturvedi (Prayagraj) presented some magic tricks and bollywood dance. The little girl, Divyanshi Dhuriya (Prayagraj) recited a poem on " Lord Hanuman". Aadya Singh (Lucknow) narrated a story in English) Naaysha Bethala & Kiara Ostwal (Chennai) presented a duet dance and in the end Dishna Tripathi & Avani Tripathi (Chennai) presented two classical dances. They presented their second dance as a tribute to "Hanuman Jayanti". After the event Mrs Vandana Tripathi quoted, "One of the greatest talents is to recognize your talents and show it to the world. She then invited Dr. Shamenaz (Founder & President, PLCS) to speak a few words. Dr. Shamenaz wished everyone a Happy Hanuman Jayanti, Happy Easter and Ramzaan Mubarak. She announced "Call for Articles' for book for Kids and also to organize a Seven-day workshop for kids in summer. She thanked Vandana Ma'am and all the children for their performance. In the end, Mrs Vandana Tripathi gave a vote of thanks.