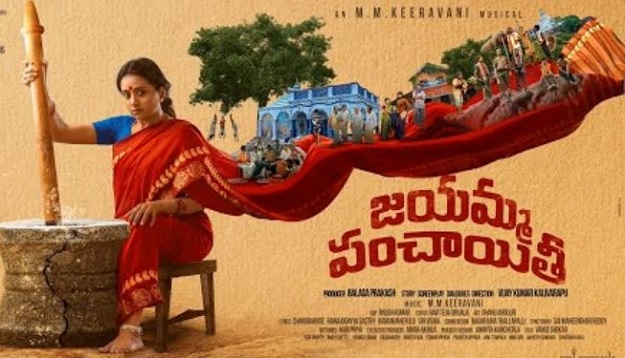 Cast: Suma Kanakala et al. in Jayamma Panchayathi:

I watched this Telugu movie on the OTT platform during my visit to the USA.

The film ran slowly at the beginning when most of the cast seemed to be not up to the mark when compared to the casting on the regional TV soaps. But as the story progressed, the entire cast footed the bill for the producers and paying viewers by making the movie a realistic experience finally.

The low-budget film took me 'lock, stock, and barrel' straight into that hamlet in the Srikakulam forests. The nativity, rustic innocence, and rural melodrama are realistic, including the dialect used rightly but in bits and pieces. What appealed to me included a side story of a non-Brahmin priest who was taken back into the service of a village temple after at first being shown the gate by the village elders due to caste issues. I was also impressed by another cameo storyline where a young Brahmin priest married the daughter of the above senior priest. Yet another sideline story masterly weaved into the plot was about an old dumb man mistaken by the village for a sorcerer. But he was ultimately found to be a successful Ayurvedic quack curer.

A couple of main leads were passable and acted below their potential but carried off only due to 'the lot' of the lesser characters that included a handful of elders on the village council who performed brilliantly among those who stole the show.

A must-watch surprise hit movie for any unbiased perchance viewer. Three cheers to the entire team for making this offbeat cinema a big success that may not be so much talking in tens of its box office collections. But the movie is sure to stay as a record in the history of realistic cinema.