Early Years
"The relationship between you and history is this: When you study history, you think you're studying a record of events in the past. And that's not right. What you're studying is the circumstances that gave rise to you as a being. And unless you understand your history in every way you possibly can, then you're an incomplete creature. You don't know enough to move forward." ~ Jordan Peterson
The above quote by the Canadian psychologist Jordan Peterson sums the depth of who the humans are and our relationship with history. But we the Sikhs have further handicapped ourselves, by failing to write our own history, whatever others have written we dismissed it as biased, instead of freeing from it. This would have produced an unbiased history making it truer, authentic, and balanced. However, the path that we have embarked upon is to forget the history altogether, blaming the writers for the shortcomings, without us taking the validation cum correction course.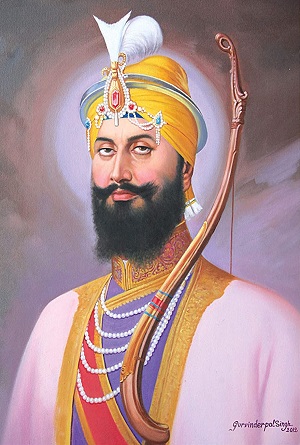 One such piece of history is life of Guru Gobind Singh Ji. A short life span of 42 years which can be summed as full of challenges, revolutionary changes, fights for survival, inspiring, and uplifting the downtrodden.
Gobind Rai was born to father Guru Tegh Bahadur, Mother Mata Gujri on December 22, 1666, in Patna, Bihar. Guru Tegh Bahadur Ji, 45 was in Dhaka (Dacca) at the of time the birth of his only child, 23 years after his marriage. Such was Guru Ji's commitment to his cause and mission, that even such a significant event did not result in changes to his plans and return back. From Dacca where he was, he continued his travels eastwards, heading to Dhubri in Assam and other places in Assam and Bengal before returning back home to Patna. Finally, Guru Tegh Bahadur Ji first saw Gobind Rai when he was about 4 years old. There are other Gurudwaras in Patna associated with Guru Ji's childhood there:
Gurdwara Kangan Ghat – This is the place on banks of River Ganga where the child Gobind Rai had thrown his new gold bangle into it.
Baal Leela Gurdwara – Queen of King named Fateh Chand Maini who did not have any child, seeing child Gobind Rai used to wish that she would wish for such a child. One day he set on her lap and called her mother. He told her he was hungry and what she had ready for him to eat. She had boiled black grams called Ghungani, which was fed to all the children playing. Even now in the langar of same food is served there.
Gurdwara Handi Saheb at Awasthi Ghat in Danapur – This is where child Gobind Rai and their entourage had stopped on the way to Anandpur Sahib and an old lady Jamuna Devi had cooked and served khichri to everyone. Even today the langar there is khichari.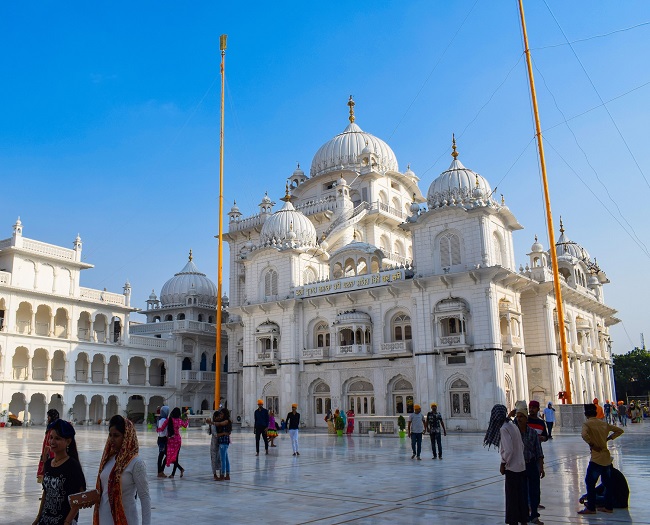 Gurdwara Patna Sahib - Image (c) istock.com
From Patna Guru Tegh Bahadur Ji hastened towards Anandpur Sahib, because of the Emperor Aurangzeb's policy of persecution and forceful conversions of Hindus and other non-Muslims, arriving in Delhi in August 1670. Guru Ji reached Anandpur Sahib along with child Gobind Rai in February 1671. During this journey they had witnessed massive destruction of temples and heard stories of torture and killing of the innocent victims. According to some writers who have documented the destruction and carnage that was unleashed following Aurangzeb's orders in 1669 that the entire towns and even provinces became depopulated from religious violence. Later in Anandpur, a Kashmiri Pandit's delegation of 500 led by Kirpa Ram of Mattan visited Guru Ji in 1675 to share their tragic plight of persecution and forced conversion. During that historical meeting the child Gobind Rai had walked into the somber atmosphere of the meeting room, seated himself in his father's lap and enquired about the visitor's purpose. After hearing from Guru Ji, he suggested that there was none more qualified than him to offer his life for the Kashmiri's right to practice their faith. The implication of such a response challenging the royal decrees was obvious to Guru Tegh Bahadur Ji and child Gobind Rai. Guru Ji was executed on November 11, 1675, at the Kotvali opposite of Red Fort, in Delhi for refusing to convert, thus protecting the Hindu faith. The supreme sacrifice by Guru Ji is revered as shield of India "Hind de chaddar." The Sisgang Gurdwara marks the spot of execution.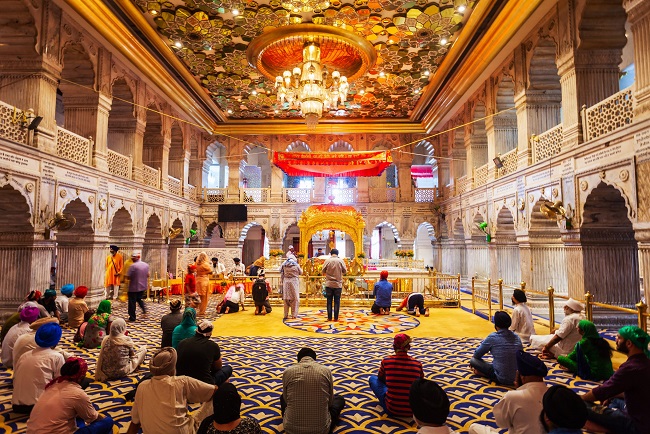 Gurdwara Sisganj - Image (c) istock.com
Thus, young Gobind Rai had lost his father at very young age of 9. He was anointed as next Guru by Guru Tegh Bahadur before departing from Anandpur. Although Guru Gobind Rai had spent very little time with his own father, still the weight of his mission in life was clear to him. He did not get to stay in Anandpur for long, but had to move to Paunta Sahib in April 1685, at the invitation of Raja Medini Parkash of Nahan. It was his strategic move to lie low and not give Hill-Chiefs an excuse to mount an attack on Anandpur on a fabricated pretext. He used his time there in creative writings by writing Jaap Sahib, Tav Prasad Saweeyae, and Akal Ustat.
Then on 18 September 1686 (no consensus on the date amongst the historians) Guru Gobind Rai, 21 years old was forced to fight against the combined forces of valiant King Fateh Shah, his ally Hari Chand of Hadur. The volunteer rag-tag army was facing the wrath of professional army of 30,000 bent on wiping out Guru Ji. Guru Ji made a strategic move of selecting the heights of a hillock Bhagani providing higher visibility to check on the approaching armies.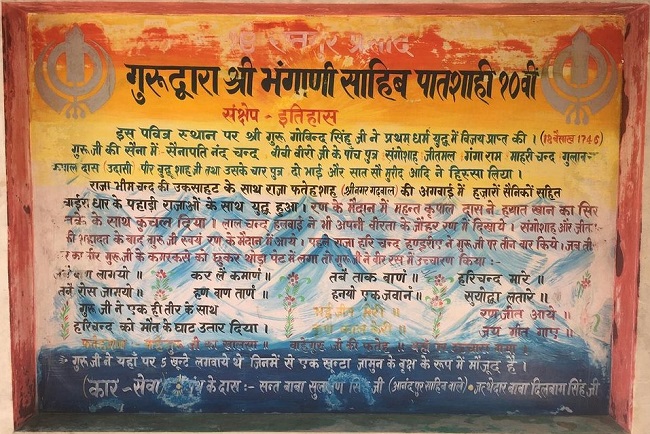 The Guru's Sikhs fought valiantly with courage and determination in the battle. Guru Ji's arrow killed Hari Chand and aggressors beat a hasty retreat along with Fateh Shah. This victory was a major morale booster for the Sikhs. Guru Ji's composition "Bichitar Natak" gives the glimpses of the key details of this battle. Guru Ji credits his Sikhs for this victory, while expressing his own humility in these words:

"Einehee Kae Prasadh Si Bidhaya Laee Einehee Kee Kripa Sabh Sathr Marae. Einehee Kee Kripa Kae Sajae Hum Hain Neheen Mo So Gareeb Karor Parae. 2." – (Gyan Probodh)
Translation: It is through their grace that I have gotten (arms) education, and through their assistance I have conquered all my enemies. It is through their assistance that I have attained this status, otherwise there are millions of unknown mortals like me.
Guru Ji decided not to occupy the territory of the defeated Hill-Chiefs but opted to return to Anandpur after taking care of the wounded and disposal of the dead bodies. The Rani of Bilaspur came forward requesting Guru Ji to stay as her state guest, which he agreed to. Guru Ji returned back to Anandpur after a lapse of four years. There he started the tradition of celebration of Hola Mohalla instead of Holi. The Hola Mohalla celebrations became a week-long event, where besides display of mastery over weapons, mock war games were played to instill fighting skills and valor. Over time the significance of these celebrations waned and now the celebrations last three days.
The peace did not last a year as the Raja Bhim Chand of Nadaun was accosted by Commander Alif Khan on behalf of Dilawar Khan to pay due tributes or be ready to fight. Bhim Chand sought advice of Guru Ji then refused to pay the unreasonable demand. The inevitable battle of Nadaun took place in 1690, where the joint forces of Guru Ji and Raja repulsed the attack. Dilawar Khan next assigned Hussain Khan to extract the revenge for the rout of his forces. This time Raja Ajmer Chand, who succeeded Raja Bhim Chand agreed to pay the demanded tribute, and even joined him in a joint expedition against Guru Ji to collect tributes. This resulted in another battle in Guler in 1696, which was again won by Guru Ji. Despite his preoccupations with the battles, Guru Ji still made use of lull to write spiritual poetry. He completed Chaupai Sahib at Bibhaur, 18 KM away from Anandpur on September 14, 1696, while staying there as guest of Raja Rattan Rai.

Continued to Next Page