From Strength to Strength: Finding Success,
Happiness, and Deep Purpose in the Second Half of Life,
by Arthur Brooks,
Penguin Random House, 241 pages, $27.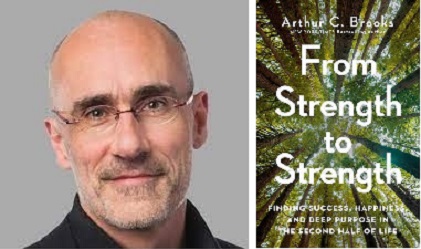 This book by Arthur Brooks, a Harvard University Professor can be categorized as a Self-Help book, but it is refreshingly different from the other books being produced in this genre. The popular adage is that at "40 you are over the hill". The author has not debunked that viewpoint, but what he shared is a totally unique and fresh perspective in existence of another curve waiting to be explored.

The conventional age-related intelligence that shows decline at forties is termed as "Fluid Intelligence", while the other intelligence that starts its growth trajectory he calls is "Crystallized Intelligence". That decline of fluid intelligence is a natural process, but the onset of crystallized intelligence based on knowledge and past experiences opens new vistas. The successful "strivers," will likely peak in their careers between the ages of 30 and 50. The decline from the peak is termed as striver's curse giving a sense of failure and despondency. He makes an interesting observation that; "Satisfaction from success lasts an instant (P 21)."

The existence of this Crystallized Intelligence on the graph of age vs intelligence level is the subject of Chapter 2, titled The Second Curve. He ends the chapter with the advice "Be like Bach" based on the life of most famous music composer, who did not let his failing eyesight extinguish his position as a composer, by reinventing himself as a writer whose book "The Art of Fugue" become a classic textbook cementing his legacy as the father of music. The material possessions, social status which are indicators of success become the biggest impediments for making the shift to the second curve. Brooks says, "What workaholics truly crave isn't work per se: it is success (p 50)."

He defines satisfaction as continuously getting what you want. He further refines that idea by saying that success is continuously having more than others and failure is having less (p 85). Brooks proposes an interesting equation that is "Satisfaction = What you have ÷ What you want (p 86) ". Thus, the key to happiness is in having least needs. So, if life is driven by desires for money, prestige and other worldly things then expect your wants to explode and have low life satisfaction (p 141).

His seven words book summary is worth their weight in gold (p 215). These seven words are:

Use Things – Love People – Worship the Divine.

These words are novel, precise and concise. But what we find around in real life is that things are loved, people are used, Divine is not on the radar. It is a beautiful book that makes us think about our life, more so when we have passed our prime. It shows how to find success in later life. His recipe is to shift your focus from innovation to applications. The book makes us understand that changes in life are inevitable and how to use those as a potential source of success in later life.