A couple of years ago the city planted trees of various varieties on the sidewalk curb of our office building. Two of them were Cherry Cultivars. One of these is on the same sidewalk where I have been parking my car for the last several weeks.
As much as I was ignorant of the Flowering Pear, I was totally unaware of the Cherry Cultivar (Botanical name: Prunus Kanzan). It's an irony that despite being blessed with the abundant natural bounty, we remain oblivious of it.
Upon gazing at the first buds intimately I was captivated to see the work of glorious and wonderous nature.
Using the macro lens option of the phone camera, I went on taking pictures of the progress and transformation of the buds every day. It was a treat. Once the tiny flowers had taken some shape, I went to a local nursery to know for myself the name and related details of the tree.
I must say at 72 years of age, it is a great experience to revisit the innocence of that child who was always eager to explore, learn and was often forgetful. That silly child in me is apparently still alive!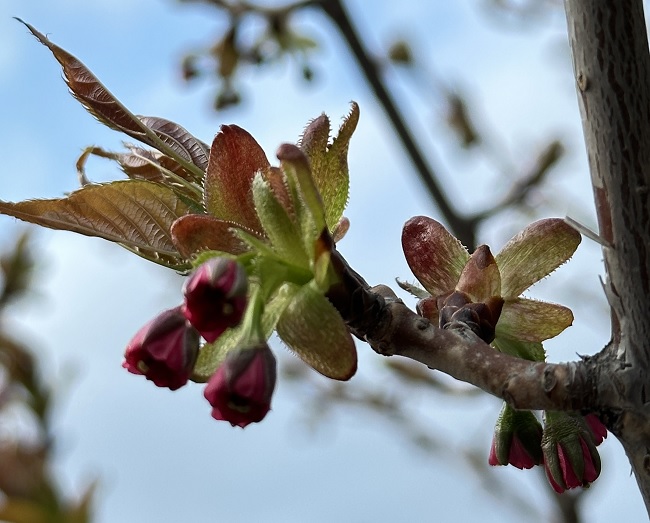 Some brief information gathered from the local nursery and internet is given below while the pictures speak for themselves.
The Prunus Kanzan is the most popular cultivar of all the double-flowering cherries with showy pink blossoms in the spring. The trees have a vase-shaped form and typically grow 25 to 30 feet tall and 25-30 feet wide with ascending branches and spreading round-crown. Each flower, about 2.5 inches in diameter has 20 to 30 petals and blooms in pendant clusters of two to five flowers during April.
Since this tree does not produce any fruit, it is useful as a showy tree for landscape, colorful foliage, attractive bark, along walks and streets, parks and in other buffer strips. It is best grown in moist, moderately fertile, well-drained loams in full sun. The tree tolerates light shade, but the best flowering is in full sun.
The Prunus Kanzan was developed in the Edo period in Japan as a result of multiple interspecific hybrids based on the Oshima cherry. In 1912, the people of Japan donated 12 different varieties of flowering cherry trees to the U.S. for planting in the Washington, D.C. area. From that original donation, the Prunus Kanzan has spread far and wide in North America.

See also: Flowering Pear - Cleveland Select

All images (c) Rajender Krishan