In the village in Sindh's Sanghar district where Nasreen Awan was born in 1961, the nearest road was 3 km away, the nearest market 7 km away, and the only school in the neighborhood had no furniture and no roof. However, Awan, the daughter of an unlettered mother, was determined to get herself an education.
First, she studied at the primary school in her village, and then combined long walks with tedious bus journeys to reach the secondary school in the nearest town. Despite logistical problems and family crises, she did not lose sight of her educational goals, and managed to pass her matriculate from this school.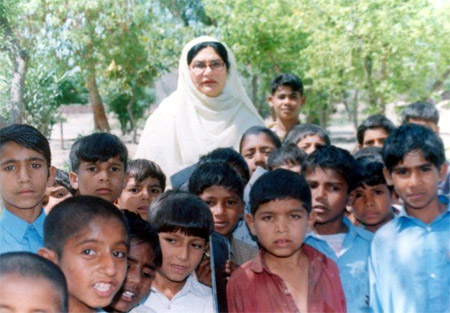 Awan secured an education for herself in her home district of Sangarh, a backward and poverty-stricken part of Pakistan's Sindh province, against the most extraordinary odds. Then, she determinedly carved out a career for herself as social activist in a region where women were considered the property of their men folk and not allowed to step out of their homes without their permission.
Today, as head of an NGO and a political functionary in her district, she is an inspiration for hundreds of women trying to make a better life for themselves in a strongly patriarchal society. A severe shortage of schools exclusively for girls is one of the main reasons for very low levels of literacy in Pakistan's Sindh province. Social taboos do not permit co-educational schools
After school, university education beckoned Awan, but marriage intervened. Although Awan secured admission to a college, her father - who had supported her drive to carry on with her schooling - fell in with local customs and married the 16-year-old to his nephew. Awan's husband's family was strongly opposed to her studying further, but Awan did not abandon her dreams. With the support and encouragement of her husband, she managed to finish college in Karachi, living with her elder sister for this purpose.
But Awan next had to deal with her family crisis. Her husband, who had gone to Saudi Arabia for work, was seriously injured in a road accident and had lost his arm. Pakistan did not have the facilities for the kind of treatment he needed, so Awan took him to India, living there for a year and selling her property to finance his treatment.
When Awan returned to Pakistan in 1983, to live in the small town of Chichawanti (district Sahiwal of Punjab province), where her husband's family came from, her opportunity to work for the community finally presented itself. Noting the lack of decent schools, she set up a private school and established skill development and vocational training centers for poor women by selling her own land and soliciting donations from the community.
She allied herself with a local NGO, Anjuman Falah-e-Niswan Chichawanti, which was working in the areas of literacy, health and poverty-alleviation. Awan was elected president of this NGO in 1990 and, with its support, managed to increase the range of her services, establishing a total of 13 vocational training institutes and 13 non-formal schools in villages around Sahiwal.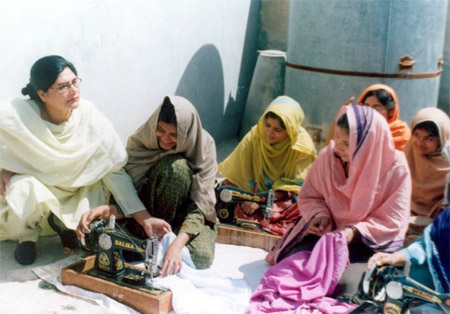 Awan also set up a unique scheme to provide vocational training to women at their doorstep. Women were taught knitting, sewing, hand embroidery and machine embroidery tailoring at centers situated in villages, which provide government-recognized certification. The scheme is particularly helpful for those women who are not well-educated and no qualifications for professional work. About 2,250 women have attended these courses. Eventually, Awan also set up a free legal aid cell for poor women and a shelter home for them. Over 6,300 women have benefited from the free aid, and their numbers are increasing day by day. It provides them with both educational and moral support.
Awan's eventful life journey has finally taken her into politics. In 2001, she was elected a member of the district council of Sahiwal, after a tough contest, since the feudals in the area opposed her election. The women members of this local government body are 29, one-third of the total number of members.
Awan is also a member of the national steering committee of the Pakistan Social Forum, an alliance or coalition of organized officials trying to provide basic rights to people. It also works for interfaith harmony and friendship between India and Pakistan.