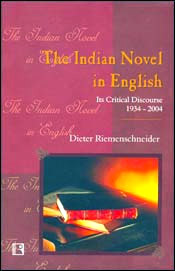 As the blurb says this study by Jaydeep Sarangi is devoted to a sociolinguistic analysis of Indian novel in English. It analyses the language, structure, style and socio-cultural nuances in Indian navels in English by writers from India. The text is very impressively presented by the publishers, Prakash Book Depot, Bareilly.

This research work is divided into six chapters. Jaydeep Sarangi in his introduction defines sociolinguistics and various related aspects. Like a scientist the author embarks on methodical description of the chosen topic, presents clinically tangible evidence and judiciously pronounces scholarly judgment.It is a novel method , indeed, in evaluating Indian novel in English.

Sarangi, quite confidently selects nine Indian English novelists that includes the triumvirate Mulk Raj Anand, Raja Rao and R.K.Narayan, apart from Bhabhani Bhattacharya, Khushwant Singh and Amitav Ghosh. Discussion on the novels of Rama Mehta, Anita Desai and Arundhati Roy lends grandeur to the scheme of the text under consideration.

'Introduction' is a revelation virtually. Sarangi's grasp of the topic and in depth scholarship in sociolinguistics is splendidly displayed. Every term required to understand the subject is lucidly explained with suitable examples. This, in a way, prepares the reader to appreciate subsequent chapters comfortably .Not many scholars have undertaken such a demanding task as lovingly as Sarangi does.

'Raja Rao's Indianness is a binding force, the result of many other forces ' sense of tradition, culture, heritage, geography, life-attitude, habits, deep-rooted philosophy and social life'(p-49). Sarangi sums up what Indianness , in general , represents in Indian English fiction. As he aptly states Indianness is an internal and abstract value .It is that mental unity where differences melt. ' In Indian context, two responsible features of politeness are modesty and humility (or meekness)'(p-50). Sarangi provides a profusion of examples from the novels of Mulk Raj Anand and Raja Rao to vivify this aspect.

'The process of nativisation involves experimentation with the expressive resourses of language at various levels; vocabulary, morphology, collocation, syntax and rhetorical patterning.'(p'63). Sarangi brilliantly enumerates what makes Indian English unique. An elaborate evaluation of the novels of R.K.Narayan, Bhahbani Bhattacharya and Khushwant Singh is very lucid and enjoyable.. 'Indianness is essentially an important criteria for Indian writing in English because it gives the Indian writing an identity of its own' (p-71).Sarangi offers ample examples to illustrate orthographic, syntactical and morphological foregrounding in support of his argument..'

Greetings and blessings are characterized by the use of a special language. The content of a blessing is always positive .Blessings are culture-specific. Blessings create favorable interpersonal atmosphere.'(p-97).Sarangi deals with this essential aspect of Indian life with remarkable erudition and pragmatism. He examines the work of Rama Mehta and Anita Desai with clinical precision. He recounts instances of self-humbling and addressee-raising, two dominant aspects of Indian English polite discourse.

Sarangi throws light on the techniques employed by Amitav Ghosh and Arundhati Roy in their novels. He concludes quite rightly 'In India, the English writers have gone back to their roots and yet, they have totally rejected the language of the colonizer; they opt for hybridization of the adopted language' (p-119). True, the indigenous words and expressions have been freely accommodated in the writings of Indian writers in English.

The last chapter' conclusion' not only signs off an extraordinary scholastic and linguistic endeavour but also dwells at length on the themes that represent Indian sensibility. Jaydeep Sarangi has provided excellent notes at the end of each chapter in addition to an impressive list of references..

How ever, Sarangi deserves appreciation for appending a very lengthy and highly useful bibliography to the text under review. This, in it self, is a glowing testimony to the quality of work offered as a labor of love to the seekers of knowledge .In fact, this is a very valuable referential text and an eminently enjoyable book providing a new dimension in the evaluation of Indian Novel in English.