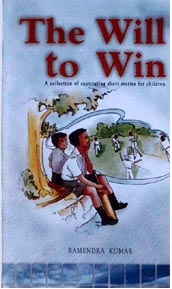 If an Indian child wants to read about kids like him or her, who live in the present times and face contemporary concerns and dilemmas he has to go on a 'treasure hunt' and more often than not end up unsuccessful. Most of the books for children that are available are either about western characters or are set in the 'once upon a time long, long ago...'.
In such a bleak scenario books like The Will to Win are like a breath of fresh air. Written by Ramendra Kumar, a national award winning writer of children's books, the book offers nine stories. All the stories feature young 'winners'. But these winners are neither school kids with magic wands, nor precocious youngsters with the genius of an Einstein, the creativity of a Leanardo Da Vinci or the speed and strength of a Bruce Lee. They are your friendly neighbourhood kids with whom any young reader can empathise.
In The Spirit of Christmas, Tony's resilience, kindness and generousity help him emerge a 'winner'. The title story is an exciting tale of a cricket match in which the youngsters take on their elders for a special 'prize'. In a thrilling climax the kids lose the 'battle' but win the 'war'!
A moving story that uses the Kargil conflict as its background 'A Father and a Patriot' describes how a father's love for his daughter transgresses all boundaries of cast, creed and country.
The young Swati in this eponymous tale exposes an environment scam by indulging in some investigative journalism.

The Performing Monkey tackles the almost ubiquitous problem of ambitious parents who push their children too hard and often pay for their actions.
The book should be an engrossing read for 9-14 year olds. Even though the illustrations leave much to be desired, the cover design is pleasing. Another plus point is the faultless editing: the book is completely free from proofing errors.