By using symbols in Flash you create a 'Library' of symbols that you can drag onto your movie at any time. Instead of re-creating graphics over and over again, you will have access to them at any time.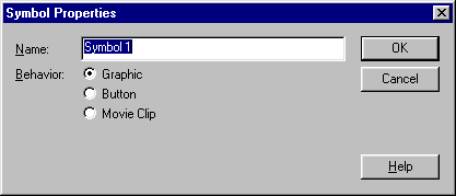 To create a new symbol all you need to do is press Ctrl+F8. Else if you have an object selected at the time press F8 and Flash will make that object a symbol. If you have no object selected you will have a blank symbol to work with.

There are three different types of symbols:
Graphic,

Button and

Movie clip.
When working with symbols you will get taken to the 'Edit Symbols' screen. You can use the shortcut CTRL + E to get to this screen (otherwise right click and EDIT). The screen looks exactly the same as the Edit Movie screen except for a small bar on the right hand side that looks similar to the one below. You work in the 'Edit Symbols' mode just as you would your movie.
To leave the Edit Symbols and return to your movie just hit the arrow above the symbols tabs.


The symbols tabs allow you to switch back and forth between your symbols to edit them. They automatically are alphabetized into the tabs on the side when you make a symbol (F8).
All the symbols will appear in the Library window. So, to work on any on the symbol you can also edit them from the library.

When you update a symbol it will automatically update all those symbols that you have put into your movie. You don't need to go back and put them over the old ones in other words.