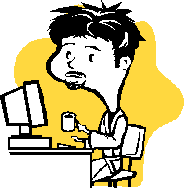 The case of ecological and environmental aspects of fields such as energy, industrial production & urbanization are hotly debated issues across the world. The environmental impact of IT hasn't as yet received due notice. Almost all of us are well-aware of the beneficial aspects of computers and the tremendous changes in our lives computers have brought about in its wake. No aspects of human activity has been left untouched by the mind-boggling development in this field. Faster communications through emailing, online business, better medical care, better household appliances, faster and accurate crunching of voluminous scientific data helping in scientific study are just a few examples to illustrate how computers are changing our lives in big ways. The demerits would be the individual's dependence on computers can cause untold miseries, if for some reason the data which he had fed into the computer were to be lost without a back-up. An alarming situation may arise wherein an individual may cease to use his brain for commonsense arithmetic and runs the risk of losing his numerical ability. Privacy of individuals is no longer impregnable because an individual becomes so transparent to the whole world through the storing of information about every aspect of his life in many places. Transparent information and at times inaccurate information about an individual may act as one's disadvantage. Effect of radiation which is harmful from the continuous exposure to the VDU will affect computer users. Users may even develop ailments like Spondylitis because in many third world countries proper computer furniture are not provided.

The management process which tries to substitute rationality in decision making using timely, relevant and accurate information is greatly facilitated by the computer. Tremendous gains in financial control, inventory control & market control are possible using computer technology. In factory production quality control, production planning and monitoring are made more effective and easy with the help of computer. Organization can move into higher levels of forecasting, using such technique as simulation, and also benefit by the use of various OR techniques with the help of a computer.

Many organization have and continue to invest in the technology without sufficient systems analysis, and without preparing the ground properly for implementation resulting in various kinds of frustration in such organization.
The mix of skills needed in the organization undergoes major changes which may create lot of tension and may harmfully affect the human resources. When computers take over many items of work from human beings, the organization may find itself loaded with unwanted manpower. This can lead to a lot of industrial strife. The employees start living in continuous fear of being declared redundant and lose morale and motivation. Distribution of power in the organization gets altered with attendant struggles for regaining power through unhealthy ways. Non computer skilled employees may find themselves treated as second class citizens in the organization.

One of the major changes that can arise is that people need not spend as much time as they spend now waiting for information. Much better public service at the railway station, airport, banks, hospital, tourist services can release a lot of tension and frustration of the people of society. People can reduce a lot of their local as well as long distance travel when the potentialities of both computers and modern communication are combined. This adds to convenience as well as saving of time. A time will come when people will be able to trade without having to use tools and coins. This adds to safety and convenience.

Shopping can be done from home. Ticket for a show can be booked through computers. Sales of shares can be done through computers. Books in libraries can be reserved through computers. For the professional who is hard-pressed for time, these facilities are extremely valuable.

One of the major impact of the adoption of computer technology is that it may displace a substantial proportion of employed people, especially those employed in white collar jobs. This will naturally affect society's equilibrium in socio-economic spheres. The trade unions and social leaders naturally will organize against such displacement. In a developing country with high unemployment, therefore, the extent of resistance from white collar workers is bound to be naturally very high. As long as policy level changes in rehabilitation, promotion scheme are not introduced to protect and safeguard the interest of those who are displaced, the resistance will continue.

It is well recognized that introduction of computers will reduce or eliminate the drudgery of repetitive and low intellectual type of data processing manually. The speed of processing will increase tremendously and this will help quicker public service. Among managerial people a further division will be created in terms of the extent of computer knowledge and skill. The relatively senior people stand to suffer in this situation, unless they can quickly accomplish the necessary learning. Already the strain of the people in this phenomenon is visible.

The huge potential of the computer technology for handling large volume and complex problem also throws open equally large opportunities to commit frauds. More thinking and innovative safety devices have to be generated. The time released by the computer may corrupt the society rather than being used for beneficial purposes. This needs careful social intervention. When more reliance is placed on computers for decision making in such strategic areas like defense, operation of weaponry the threat to society is also increased. If people can do everything from home conveniently using the computer, individuals can become less sociable and more and more self-centered. The possibility of a moneyless society can take away the pleasures of shopping, bargaining etcetera.

From the foregoing discussion it becomes clear that the computer technology is endowed with tremendous potential for benefits to society as well as different types of harmful impact. The question of the adoption of technology or the extent of adoption, the extent and nature of curbs to be introduced, the monitoring and correction process to contain the harmful effects are all matters of social choice which should not be left to the technologist alone. Multidisciplinary groups through democratic procedures should take decisions. The concern which society has for ecological and environmental issues in respect of energy, industrialization, deforestation & mining should be extended to computerization also.