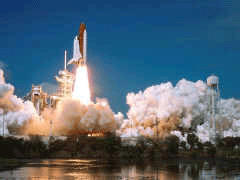 In India, the space program was formerly launched in 1972 with the setting up of the Space Commission and the Department of Space. Advancement in areas of communication, meteorology, resources survey & management, develop satellites, launch vehicles & associated ground systems were the initial objectives. Since then, India has made impressive progress in this field. Space technology has not only enhanced India's communication capabilities, but has also contributed in meteorological forecasting, providing advanced disaster warning, search and rescue measures and distance education to remote areas.

At the outset, one might ask "what is a satellite?." A satellite is an object that revolves round a planet. For a successful orbiting around the earth, it's essential for a satellite to attain a speed of about 20,000 kms per hour. Satellites are launched by very powerful rockets.
Space probes costs enormously as the launching rockets cannot be recovered and used again. The space-shuttle has emerged as a remedy to this drawback. The main part of a space shuttle is an Orbiter, an aircraft about the size of an air bus. It hovers into space astride a large tank containing propellants to fuel the three main engines of the craft. Two booster rockets are strapped onto the tank; these rockets fire with the rift-off of the Orbiter's engines and fall off on exhausting the fuels. They are retained to be used again. The propellant tank is jettisoned. The Orbiter is injected into orbit and after carrying out its task, it retro-fires and descends back to earth. Due to its wings, it is easily maneuvered through the air and it lands on an ordinary runway.

From a historical perspective, the first Indian satellite was Aryabhata, which was launched by a soviet rocket on 19th April 1975. This was launched from a cosmodrome near Moscow. It was designed and built by Indian scientists and engineers of Indian Space Research Organization. Orders and instructions were transmitted to the experimental 360 kg satellite Aryabhata from the control station at Sriharikota.
Bhaskara-I was the second Indian satellite & Bhaskara-II the third which were launched from the same soviet cosmodrome mainly for observations on the earth.

With the successful launch of SLV-3 on 18th July 1980 when a 35 kg satellite called Rohini I was placed in LEO, India became only the seventh nation in the world to achieve space orbit capability. This was the first time when a satellite was launched from Indian soil. This was followed by the development of SLV-3 D1, launched on May 31st 1981 injecting a 38kg Rohini-D1 satellite into an orbit near the earth. Its life ended prematurely, nine days after the launch instead of 90 days as envisaged. The second development flight SLV-3 D was launched on April 17, 1983 from the launch pad Sriharikota. It put the 41.5 kg Rohini satellite RS-D2 into low earth orbit. It carried a two-band solid state camera called 'smart sensors' to take images of identification of landmarks for orbit. It could also classify the ground features such as water, vegetation, cloud and snow and helped in evaluating the vehicles performance for future flights.

APPLE, which is an abbreviation of Ariane Passengers Payload Experiment, was India's first geostationary telecommunication satellite. It was shot into orbit on June 19, 1981 by European Space Agency's Ariane rocket from Kourou in French Guyana.

Since 1982, a series of multi-purpose application satellites like INSAT-1A, INSAT-1B, INSAT-1C and INSAT-1D have been launched. INSAT-1B and INSAT-1C are geostationary satellites. Nowadays, INSAT-1B is used extensively for weather forecasting. INSAT-1B is also used to receive and retransmit telephone calls. The telecommunication and mass communication capabilities of the INSAT system, which is linked with the International Telecommunication satellite (INTELSAT), is being used by the Oil & Natural Gas Commission (ONGC), the Indian Post & Telegraph Department with 28 fixed and 3 transportable stations, Doordarshan, Indian Meteorological Department, All India Radio etc.

India's first operational Earth Observation satellite IRS- 1A, a 850 kg satellite was launched into a 900 km polar orbit on 17th March 1988 by a Soviet rocket. In 1997, India used its own rocket PSLV to place IRS-1D into polar orbit. With the development of PSLV, India has the capability to place up to 1,200 kg satellites into polar orbit.

For near atmosphere weather scanning and forecasting, the Rohini and Menoka series was developed by the Vikram Sarabhai Space Center (VSSC) at Thumba near Trivandrum. Till date, nearly 1500 rockets have been launched from Thumba, Balasore and Sriharikota ranges for space technology studies. VSSC at Trivandrum, the largest ISRO center, has various chemical, mechanical and electronic facilities for development, production and testing. The major units found here are Space Science and Technology Center (SSTC), Rocket Fabrication Facility (RFF), Rocket Propellant Plant, Propellant Fuel Complex (PFC), Thumba Equatorial Rocket Launching Station (TERLS), Ammonium Perchlorate Experimental Plant (APEP) & Reinforced Plastic Center (Replace).

The principal rocket & satellite testing and launching station is SHAR in Sriharikota island in Andhra Pradesh. The ISRO satellite center in Bangalore has the primary responsibility for planning, design, development, fabrication, integration, test and qualification of satellites. The primary tasks of the Space Application Center at Ahmedabad are to conceptualize, plan and execute projects. National Remote Sensing Agency at Secunderabad, an autonomous registered society supported by Department of Space, utilizes modern remote sensing techniques for planning and management of the country's natural resources and provides operational support for various users. The experimental data of NRSA finds application in many fields such as land use, pollution monitoring, soil classification, cartography, geological and geographical survey, oceanography, agriculture, etc.

Other institutes working in this area includes Physical Research Laboratory (PRL) at Ahmedabad which conducts basic research in space sciences. The Master Control Facility at Hassan in Karnataka is a tracking station for launching satellites.

Satellite technology have strengthened existing telegraphy, telephony, wireless telegraphy and also radio communication. Bio-prospecting in India is becoming a lot easier, with satellites helping Indian scientists reap nature's benefits. Scientists are using the Indian Remote Sensing (IRS) satellites to map vegetation, ecological zones and landscapes to provide valuable information that biologists could use in their hunt for new resources. Researchers from more than a dozen institutes have teamed up for the research project supported by the Department of Biotechnology (DBT) and the Department of Space (DOS).

There is a growing global interests in plants as potential sources of undiscovered drugs. "Satellite remote sensing will provide a tremendous boost to bio-prospecting," says Manju Sharma, DBT Secretary. "It will help speed up the search for novel biological resources. And speed is crucial in the increasingly competitive field of bio-prospecting."

Scientists involved in the DBT-DOS project are using IRS satellites to map India's richest zones of biological diversity, the eastern and western Himalayas and the Western Ghats. They're among the world's top 20 areas teeming with a rich diversity of plants and animals.

DOS researchers with the National Remote Sensing Agency have already mapped an important plant called Taxus in the Tale Valley of Arunachal Pradesh using satellite images. Taxus is the source of an important cancer fighting chemical called Taxol. With the help of satellite imagery, IHBT scientists hope to search for elite varieties of Taxus in the forest of Arunachal Pradesh.

Remote sensing specialists also plan to use satellite imagery to map regions where another plant called 'Hippophae,' which is one of the richest known sources of Vitamin C. Several countries are already exploiting this plant for its vitamin and oil content. The landscape map generated by satellite imagery will help in locating appropriate places where special varieties of 'Taxus' or 'Hippophae' could be cultivated.

Scientists have already completed vegetation maps for five states in the North East region and three districts of Karnataka and Maharashtra. By analyzing maps of the same region over time researchers hope to evaluate threat to biodiversity caused by human activity.

There're several botanical and agricultural research centers participating in the bio-prospecting program. The images beamed down by the IRS satellite will be processed by the Scientists at the Indian Institute of Remote Sensing at Dehradun and the National Remote Sensing Agency at Hyderabad.

There have been hiccups along the way. Recently i.e. on 6th Nov, 2000 payload operations of the multipurpose satellite INSAT 2B were switched off following erratic functioning after it was retrieved from loss of earth lock. ISRO said it has abandoned Insat-2B. Yet it claims there would be little impact on the telecommunications, broadcast and meteorological sectors it supported. "Most of the services have been taken out. So for all practical purposes, from the service point of view, the satellite has been decommissioned," ISRO chairman K.Kasturirangan told a news conference in Bangalore. He said the impact of decommissioning Insat-2B will be minimal because all telecommunications and most broadcast services had already been moved to other INSAT satellites and one Thaicom satellite.