Baisakhi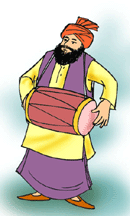 Baisakhi, marks the beginning of New Year, particularly in the northern part of India. It is among the few Indian festivals that has a fixed date. Baisakhi is always on April 13th. In Kerala, Baisakhi is called as "Vishu" and in Tamil Nadu, it is celebrated as "Puthandu".

Considered a holy day, the devout celebrate the Baisakhi with a dip in the holy rivers just around the break of dawn. It is on this day that Sun enters Aries, the first sign of Zodiac. This signifies ushering of the new year.

In Punjab (the land of Green Revolution) particularly and in the northern belt of India in general, farmers perform their own prayers and rejoice. For on this day, they commence cutting their harvest. The fields can be seen full of nature's bounty. Dressed in their typical folk attire, both men and women, celebrate the day with Bhangra and Gidda. Sweets are distributed, old enmities are forgiven and life is full of joy, merriment and everyone seems to belong.

The above two are the main reasons for celebrating Baisakhi.

Baisakhi, however, has had a new dimension added to it by Guru Gobind Singh. For it was on the day of Baisakhi in 1669, that he established the Khalsa Panth and gave a final impetus to the course of the earlier nine Gurus of Sikhism.
18-Mar-2000
More by : Rajender Krishan
---