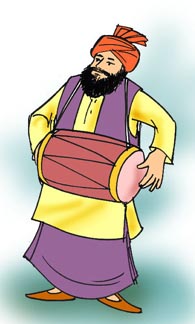 There is nothing classical about Bhangra. One can talk about Bharatanatyam, Kathak, Kathakali, Orissi, Raas which all seem to have some Gharana connected with the art form or a documentation as Natya Shastra for Bharatnatyam, Bhangra remains simply a dance - a popular dance to that. The question therefore remains, what is Bhangra?

Finding its origin in the fertile land of Punjab that also witnessed innumerable invasions and corresponding hostilities over the centuries, Bhangra typically is a male dominated folk dance portraying farmers. Bhangra's female counterpart, Gidda, is similar in concept - together they synergistically complement each other. The basic movements in Bhangra relate to farming activities like ploughing, sowing, harvesting and festivities connected with such activities. The overall movements are from medium to high pace - one may get easily burned out in under 15 minutes flat. The traditional Bhangra musical instruments are Dhol (drum), Chimta, claps and vocals. Boliyan, (proverbial short poems) dealing with rural life, romance, relationships including quarrels between daughter-in-law and mother-in-law. Love and excitement provide the added backdrop on which the Bhangra and Gidda dances take the form of jubilation, exuberance and vitality. Be it the festival of Baisakhi or a happy occasion of wedding, birthday etc., if it is a Punjabi party, it is not complete without Bhangra - anywhere in the world. And nowadays its not limited to Punjabi parties either!

Unlike devotional invocations and prayers attached with other classical Indian dances, Bhangra, one may unhesitatingly say, is closer to nature and has a worker-like, down-to-earth theme. And therefore not surprisingly, while not many may be able to dance to the form of Bharatanatyam or Kathakali, almost anyone and everyone can (and does) dance to Bhangra with immense joy and ecstasy that nature bestows to all.

With a large number of people having migrated from Punjab to England and Canada, the contemporary Bhangra has become a synergistic blend of its traditional origins and contemporary musical styles ranging from Reggae, Techno to Rap. Inspite of the fact that Bhangra still remains undefined, the form still lures the young and old alike. The Boliyan, in its simplest form as "Oye-Oye or Shava-Shava, to the traditional folk songs remain an integral part of the this "Balle Balle" dance form that we call "Bhangra". A festive treat alright!