Unlocking Potential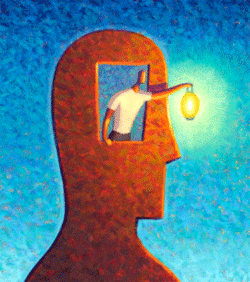 We do not have to look far to find people who are leading their lives keeping their own potential in a locked condition. And the most astonishing feature is the satisfaction such people display. They might not be concerned or they might not be even aware of the potential that they have. They keep working for days together which gradually culminate into years, without realizing that they have lot of un-tapped potential. They become machines by walking the same path with the same speed and with the same line of thoughts and then pat their backs when the output of the machine matches the target.

It is unjustified to take pride in doing just the regular things. It would be erroneous to feel elevated when our superiors appreciate us for the customary basic work which may be nothing more than pedaling a cycle to some distance every day. It may be apt occasionally for comparative purpose to drive home the point in some other person. But if such praise is assumed to be a feather in the cap we are grossly mistaken.

What happens when we rejoice on hearing compliments for conventional work? We bury and lock ourselves deep down the cellar of our organizational built-up. Listening praises for the job which is in no way extra-ordinary, will make us slide. The more we slip the difficult it becomes to recover. It is for such reasons that in organization with more of less capable people, we find that the good performers start giving lesser output with time. They actually glide themselves into the same pool which the non-performers have occupied and enjoy while remaining oblivious to the fact that it is not an entertaining slide into a swimming pool but rather a slip in a pool filled with muck.

Managers have a certain role to play here. They need to prevent the good performers of their organization to slither into a muddy puddle created by the non-performers. Prevention is better than cure. In context to business management this adage advices managers to prevent the good performers against lowering their performance level rather than ignoring them while they tumble down to the zero line and then start working on them. They should find ways to prevent the decline in the performance level of the good performers. The best way is to explore the untapped potential of each employee, draw it out in the open, make them aware of their inherent capabilities and coach them into utilizing those.

How to tap the latent potential?
The question is easier asked than answered.

Potential has to be recognized. Seldom has it dropped like an apple from a tree. Even then it needs to be noticed. This is more of an art than a science. It comes by observation and practice. Managers need to develop this ability of identifying untapped potential. They also have to remain un-biased because a little prejudice can tempt them to push someone's unveiled potential under the carpet.

People often do not know their own potential. They require help. Managers can provide this by observing their methods, checking their limitations, interrogating them and by speaking to them. Counseling amazingly acts as stimulants alongwith the remedial measures.

Sometimes people conceal their potential and keep them like gemstones are in deep sea. They fear upsetting their superiors who might not possess the same and might draw a battle line with them should they come to know about it. Managers need to get rid of this undesired characteristic.

Providing people with a platform to exhibit their talents can work wonders for any organization, otherwise the skills get buried in heavy hearts. Gradually the performance of individuals takes a 'U' turn and the curve starts speeding downwards. The biggest losers are persons who are left alone with untapped potential. Skills do not remain with us for long if we do not practice them. It's wake up call for Managers if they loose a single performer because of this reason.

The key to unlocking potential lies with the Managers. Building team culture, encouraging meaningful work, sharing plans, creating innovation are some other methods by which strugglers at work can be made star performers.
28-Mar-2010
More by : Nikhlesh Mathur
---
---
| | | |
| --- | --- | --- |
| | Great article, should be read by every manager. | |
---
| | | |
| --- | --- | --- |
| | Thank You Mr. Himanshu Anand....................Nikhlesh Mathur | |
---
| | | |
| --- | --- | --- |
| | Awesome article... | |
---