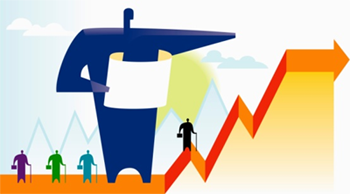 In the present dynamic business environment of corporate governance and regulations, financial reporting is an inevitable and extremely significant process for every business enterprise. Several financial elements such as Annual Reports, Quarterly Reports, ad-hoc filing, and other statutory/regulatory reports provide vital information to the investors and regulators, and establish trust and rapport between the internal and external stakeholders of an organization. Financial reporting also reveals the true financial and overall health of the organization. Investors today are very demanding, and emphasize greatly on authenticity, accuracy, and reliability of financial data.

Despite high prominence being attached to external reporting, it is disconnected in most companies, who generate their external financial documents manually, resulting in high degree of errors and prolonged cycle times. There is a lack of common platform to manage the sensitive information – internally and externally – in financial reports. CEOs and CFOs are increasingly susceptible to endorsing error-laden reports, late filing of reports, and non-compliance with regulatory acts.

However, with the addition of XBRL (eXtensible Business Reporting Language) toolkit in financial reporting, quick and useful comparisons between different elements of financial data are made possible. Deploying the XBRL solution reduces the risks associated with external reporting, and simultaneously saves time, cost, and effort in producing reams of financial documents.

With the advent and adoption of eXtensible Business Reporting Language (XBRL) in the financial world, the investors and management have discovered an unprecedented financial tool that enables swift, meaningful comparisons between elements of financial data. XBRL – also known as Interactive Data – is an electronic reporting language for the communication of business and financial data globally. To reduce risks and improve the efficacy of the external reporting process, investment in state-of-the-art technology is quintessential.

Investment in XBRL software by companies is a wise decision that not just makes financial reporting risk-free but also ensures accuracy and efficiency of the external reporting process. It is no exaggeration that there is no better time than now to make that all important investment in XBRL software. XBRL provides companies this great opportunity to invest in technology to leverage their net ROI.

Significance of External Reporting

An annual report is the single most important document to the investors of any company. As dissemination of financial information is very confidential in every organization, quarterly and annual reports are the official source that provides accurate statistical and financial information of an organization, apart from management insights. External reports are critical documents that deserve high attention and investment in automation. With sophisticated technology and constant innovation, companies are embracing powerful software to automate their external reporting process.

Impact of XBRL

In one year, XBRL has grown from a single country comprising 13 members to a global movement. XBRL is now being adopted by 70 members in 400 organizations in 12 countries, including 19 stock exchanges, totalling more than USD 2.5 trillion in market capitalization. XBRL is growing exponentially, and this is just the beginning.

XBRL is a set of tags that can be applied to each and every element of data in a financial report. Tags also store the context information, what the number represents, the period for which it is reported, the currency, etc. This approach enables users to perform comparison of specific line items. For instance, when users are comparing revenue tags between two companies, they are comparing data for same class of revenue. Thus, with XBRL data, the viewer can highlight if the currencies are different. XBRL enables quick retrieval of data electronically as defined by the tag. XBRL benefits everyone who relies on timely and accurate reporting of business performance, from management and finance to intermediaries to analysts, creditors and investors.

Organizational Benefits of XBRL Solution

XBRL – a significantly improved language for financial and business reporting – is being rapidly adopted by corporations and regulatory agencies worldwide. Uses for XBRL generally fall into two categories, viz., External Reporting and Internal Reporting. External reporting is for regulatory compliance, while internal reporting is for data consolidation and reporting. In future, all financial reporting will be done in XBRL. A good XBRL implementation software enables users to work with taxonomies on a report-by-report basis. Specific reports are built into taxonomies, which may include balance sheet, income statement, and other items, depending on the required nature of information. Reports may collect numerical financial information, textual information, or a combination of them.

XBRL also provides a powerful process for data consolidation/data integration, and reporting. Data integration is the process of procuring data from spreadsheet and financial systems into XBRL.

XBRL transforms paper reports into multipurpose electronic documents, which reduces the risk of data error. Companies can record how the virtual documents are used, who uses them, and for what purpose. XBRL will make it easier for companies to generate reports, as applied at general ledger and journal entry, and also enable them report under different accounting standards. With XBRL, any single piece of information never needs to be keyed in again as it flows through the organization to external stakeholders.