Orai, the nondescript headquarters of Jalaun district in Uttar Pradesh (UP), has an amazing story to tell the world. Lying in the neglected Bundelkhand region, Orai, which has a large Dalit ('downtrodden') population, not only experiences acute water scarcity, its literacy levels are low and unemployment levels, high.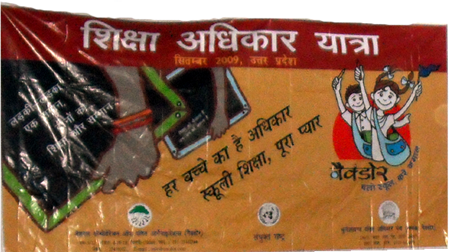 Yet, it is in this unlikely environment that the Dalit community here is asserting its right to education. Children who have been denied schooling over generations are now waving Right To Education cards before the faces of the authorities. In a region where daughters have never been sent to school, there is a spirited campaign focusing on girls' education.
Spearheading this unique social inclusion movement is Kuldeep Kumar, 21, a Dalit student. The son of a mason, who is preparing for his Bachelor of Education degree, Kuldeep decided to do his bit to change things. For two years now, he has been taking the message of universal education to the people through his organisation, the Prayaas Jan Uthan Samiti.
Kuldeep was 18 when he participated in an international research project and witnessed the plight of the people in the region. The experience stayed with him. Today, sitting in a two-room rented apartment in Jalaun, which functions as an office-cum-hostel for the girls in the group, he observes, "The root cause of poverty is illiteracy and unemployment. The best way, therefore, to empower the poorest is to give them access to education."
Popularising the idea of education was, however, a huge task, and Kuldeep realised it could not be done alone. That is when he set up
Prayaas Jan Uthan Samiti
with a core team of nine youngsters, including three girls. Most of these volunteers are less than 30 years old, come from very poor Dalit households and have experienced discrimination at first-hand.
Support for
Prayaas
first came in the form of Baldan Singh and his wife Alka, who work on issues of anti-Dalit violence in Orai. Soon other groups, such as the Aasha Mahila Adhikar Manch and Dr B.R. Ambedkar Yuva Samaj Sudhar Samiti, came forward. Together they formed the Bundelkhand Dalit Manch (BDM), an umbrella body of Dalit NGOs which had the twin agendas of education and employment. Presently, there are nearly 35 organisations that work as part of BDM.
Convinced that lasting social awareness can stem only from "informed" communities, this larger team began chalking out ways by which Dalit children could be brought into the educational mainstream. Supported by National Confederation of Dalit Organizations (NACDOR), they soon came up with the idea of Right to Education rallies.
Organising these meets proved far tougher than anticipated. "The area of our work was the tribal belt, where ignorance, disparity and discrimination were huge," says Kuldeep. But the youngsters were full of exuberance. A team of 21, including five girls, representing three regions of Jhansi, Jalaun and Lalitpur in Bundelkhand, was trained for three days before they embarked on a month long journey to spread literacy awareness here. NACDOR volunteers from Delhi provided the training. The first rally was at Hiya village in Jhansi. The response was overwhelming.
While Kuldeep personally visited 20 villages, his team ended up covering a whopping 103 villages! Instead of one, they visited three villages in a day with their message: Every child had a right to education. The team members found that that many children had been denied school admission outright. Others were admitted but did not attend classes largely because of the caste discrimination they encountered, both from teachers and upper-caste students. Cattle grazed in the premises of many schools, and the dispensing of mid-day meals was irregular.
"First we had to tell people that education was their children's right and that they cannot be denied it because of their caste or religion. We had to build up confidence in both parents and children," reveals Baldan Singh.
The children who were refused admission were handed Right to Education cards. They were told to show these cards to any school authority that denied them admission. Taking caste prejudices head on worked. Recalcitrant school officials found themselves cornered. In one instance, children demonstrated outside the home of an absentee teacher, holding placards that read, "Teacher,
aao aur padhao
" ("Teacher, come and teach."). When storerooms for the mid-day meal provisions were found locked, Prayaas members had them opened and ensured that meal schedules were followed. They left behind their mobile numbers so that they could be contacted if there were such disruptions again.
In most places, the team also noticed that parents and teachers blamed each other. While the parents argued that teachers were absenting themselves, the teachers accused the parents of not sending their wards to school. To solve this problem, triangular Parent-Teacher-Student associations were formed, where everybody could together sort out their differences.
The team also wrote simple slogans on village walls: '
Ghar ghar vidya deep jalao
' ('light the lamp of education in each home'); '
Bachcha bachee sabhi padhao
' ('teach both son and daughter');
Padhee likhee ladki roshni ghar ki
('an educated girl is the light of a home') were just some of the inspiring messages.
Information on education was combined with entertainment. Skits, highlighting the importance of schooling, were enacted for local communities. Public discussions on school education were conducted, so that views could be freely expressed or countered. This was followed by a two-month-long Dalit Shiksha Jagrukh Abhiyyan (Dalit Education Awareness Campaign).
The female members of the team were entrusted with a special task of acting as motivators for girls' education. Explains Shilima Gautam, 23, a Prayaas member, who is preparing for her Bachelor of Education exam, "Take Pattipura village in Jalaun. It has a 100 per cent Dalit population and none of the girls went to school. So we spent a lot of time here stressing on the importance of educating daughters." Shilima, who has three sisters, works as a '
kisaan mita
' (friend of farmer — a semi government post — who provides local farmers with information about good farming practices) and earns Rs 1,000 (US$1=Rs 44.6) per month. With this she supports herself and her college-going sister, Neelima, who dreams of becoming a police officer. The sisters - trained as motivators - live independently in Jalaun in a rented room about 55 kilometres away from their village, Gohan. They are fortunate to have an enlightened father. Says Shilima, "My father, a watch repairer, supports girls' education. He believes that no development - whether individual or national - is possible without education."
Interestingly, not only has Kuldeep helped to motivate teachers, parents and the students themselves, he has inspired many youngsters like him. Sometimes Kuldeep is a bit embarrassed by the attention. But he is clear that school education is the first step towards addressing growing social disparities and grinding poverty. "I ask everyone just one question: How many officers put their children into government schools? I tell them that in this question is hidden the answer to improving government schooling and ensuring the Right to Education of every child," he says. It is precisely such awareness raising that will help in the implementation of the new Right to Education Act, in both letter and spirit.
Young Kuldeep is confident that Orai is slowly moving towards achieving Millennium Development Goal Two: Universal primary education. Because it is only when the poorest and most socially disempowered communities discover the importance of schooling can there be lasting change. By flashing their Right To Education cards and demanding that the lamp of education be lit in every home, Orai's children are signalling change in a forgotten region of the country.