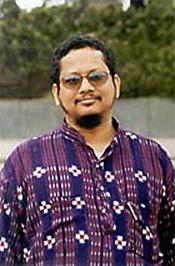 Ragging can spoil one's career, but it can make it too… As it did for Subodh Pattanaik, the doyen of Odiya Theatre. Subodh was a student of science when he joined his college. In an instance of ragging, he was severely beaten up by his seniors and in order to take retaliation, he joined a group of gangsters. All this entangled him in a police case.

To escape from the situation, Subodh went under ground by joining a theatre troupe. Destiny made him meet a student studying the course of Drama from Utkal University. Subodh was fascinated to know that its teachers were the top actors of Odiya film industry. He took the challenging decision of joining the course on Drama. His parents did not comply with him but he stood firm and did his intermediate, graduation and post graduation in Drama from Utkal University.

Subodh, being a brilliant student since his childhood secured top position in all his exams. With the assistance of his star teachers, he got an opportunity to act in Odiya movies. His shining career as an actor took a U-turn, when he met with an accident and broke his ribs that did not allow him to bend. So, Subodh shifted to theatre direction. He worked as an Assistant Director for few years. But the harsh realities of glamour world detached him from continuing it. He realized that his artistic skill was not given due prominence.

He found his way into theatre. On 10 Nov. 1986 at an age of 21, he laid down the foundation of Natya Chetana (creating awareness through theatre). His journey to bring social changes commenced.

The first three years were a phase of learning through mistakes. Subodh discovered two new theatre models, 'Cyco Theatre' and 'Intimate Theatre' which aspires to bring psychological change amongst the rural and urban people respectively.

Subodh entered into a relationship by marrying Mamata in 1989. Mamta is an Ayurvedic doctor who works with international health organizations like UNICEF, UN etc. She also provides financial support to Subodh's innovation.

He made his first international performance at South Asia Festival in Nepal. Sice then, the world was his and Natya Chetna has been performing on several international stages like that of Belgium, France, Netherland, Hong Kong etc. Subodh has not only rocked international audience but has also broken the silence of National School of Drama, Delhi and Nandikar Theatre Festival, West Bengal.

'Blue Gold' was a brilliant innovation by him. It so happened that the theatre artists of Belgium challenged him to direct a multilingual play. Subodh directed a play that was performed by two artists each from Belgium, Africa, Palestine and Odisha. He has also directed several other fusion plays like "No man's land" which is a conglomeration of Indo-French style. In 2001, the multi talented director got the honor of being appointed as the General Secretary of IDEA (International Drama / Theatre and Education Association).

He has written and directed about 20 long and 35 short plays. He is a hard working man who believes in creativity and commitment. He sleeps on floor, eats with his subordinates, wear ordinary clothes. At the same time, he also travels in aeroplanes, resides in five star hotels and is acquainted with modern technologies. Subodh is a local man with an international repute. At present, he conducts both creative and administrative work of Natya Chetana.

Subodh is a learner who is an inspiration for the learned.