Every second Saturday of the month, a small office near the City Light cinema in Mumbai comes alive with peals of laughter, excited chatter and lively discussions. Eighteen women drivers, part of an all-women taxi service called 'Forsche', are busy exchanging notes and narrating their experiences of the month gone by over a sumptuous meal.

"It was in December 2006 that I hit upon the idea of starting a pre-paid taxi service for women in this metro. It was just a thought and I wasn't too sure of the reaction to my venture. But I knew that I had hit bull's eye when I received a tremendous response for the first full-page advertisement I placed in an eveninger asking for competent women drivers,' says Revathi Roy, 45, the brain behind Forsche. Incidentally, 'Forsche' has been derived from the word Porsche- the German sports car firm - but is spelt with an F and pronounced as 'for she'. Of course, Roy's service motto is: 'By the women, for the women and of the women'.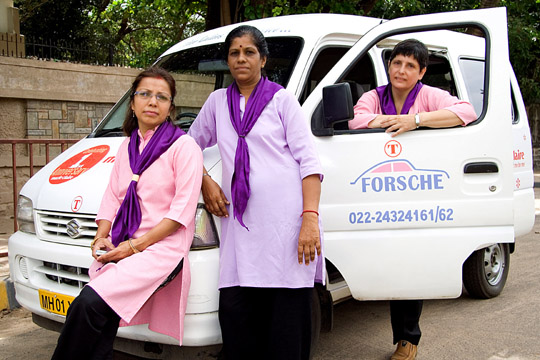 Owner Revathi Roy (forefront) with drivers, Aruna Pathane (centre) and Annhaita Mistry.
"As a frequent taxi passenger, I would find it irritating that some drivers would stare at me in the rear-view mirror. Also, I wasn't too comfortable with the lack of cleanliness of regular cabs and even the way the drivers drove,' remarks Roy.

With her personal savings and some money from friends and relatives, Roy raised funds to the tune of Rs 1,400,000 (US$1=Rs40). Friends and well-wishers bought her the cars and she pays the EMI of these cars plus Rs 1,000 extra to the car owners.

Despite the experience of running a successful business - her family owns Windors, an outlet for windows and doors accessories - Roy was pleasantly surprised at how quickly word spread about her venture.

Forsche taxis - the fleet comprises 18 air-conditioned white Marui Versa cars - are cleaned daily so that the passengers don't inhale stale air. In addition, Forsche offers its women-only passengers a mini make-up kit that includes a mirror, nail polish remover, cotton buds, clippers and nail files. There's a selection of magazines and newspapers on board so that passengers are pleasantly engaged during long rides. Each taxi is also fitted with a walkie-talkie so that the drivers are in constant contact with each other and also with the head office, manned by Roy.

Interestingly, these cabs also double up as advertisements on wheels. Currently, the women's magazine, 'Marie Claire', has had a pink stripe painted on the taxis, which gives them an attractive and feminine appearance. "We have a six-month contract with 'Marie Claire'," explains Roy, who began the Forsche service this year, on March 8, which is International Women's Day. "I will later be tying up with Hindustan Lever for an all-India sponsorship."

These good-looking vehicles stand out from among the regular yellow-black cabs in the city. But it's not just the cabs that are trendy. The drivers are, too. Dressed in pink or lavender 'kurta' (tunic) and blue trousers, an ink-blue scarf tied Girl Guide fashion around their necks completes the very elegant and posh look. "Not only do our passengers like our looks and that of our taxis, they also enjoy the music we play," says Annhaita Mistry, 45, a graduate and one of the senior-most drivers.

That is another plus point of Forsche - the drivers are well educated and can speak fluent English, Hindi and Marathi. A few are also conversant in Gujarati. And all of them are passionate about driving. The drivers take home Rs 9,500.

Prachi Jaiswal, 28, a graphic designer from the J.J. School of Arts in Mumbai, is the latest entrant at Forsche. Says Prachi, "I have always loved driving. When I got this chance to indulge in my passion, earn and also work on my freelance design work, I jumped at the offer." Some drivers pursue higher studies, working part-time with Forsche over the weekends.

The 24-hour, door-to-door service is a big hit with the women of Mumbai. One has to just pick up the phone and dial 09323208277 or 09892819245 or 022-24324161 to arrange a cool ride. Forsche's customers also include outstation women who fly down to the city for work. "They call up and ask for the taxi to be at the airport to pick them up at a particular time," Roy says. For instance, Bangalore's Swarupa Gangadharan always books in advance and enjoys a comfortable ride with Forsche.

Then there is 81-year-old Dr Nalinee Odak, a former physician at ESIS's MG Memorial Hospital in Parel, who likes to engage a Forsche. "Being a senior citizen, I found it difficult to move around. But with Revathi's taxis, which have reliable, well-behaved and courteous women drivers, I have started travelling around the city with ease. Now I use their services at least two to three times a month to visit my sister at Walkeshwar, or my friend at Dadar," she says.

But the comfort comes at a price. Forsche charges Rs 200 per hour. Roy concedes, "Our services are 20 per cent higher than other taxis. But with us, women can relax and enjoy the ride without having to worry about their plunging necklines as there are no gawking male drivers looking in the rear-view mirrors.'

The facilities are only available to women, though. No man can ride in a Forsche taxi. Not even husbands or sons, though children up to 12 years are welcome. "The family can always hire a regular taxi," suggests Roy.

In the last six months, these drivers and their regular customers have become an extended family that meets often and shares benefits. Any tips earned are put into a common kitty, a 'handi' (clay pot). "We break the 'handi' every second Saturday and distribute the money equally among all the 18 drivers. Every driver makes an extra Rs 1,000 to Rs 2,000 a month from these tips,' says Revathi.

The venture has already broken even. "From next month I hope to make profits,' says Roy, whose last six months have been fraught with many personal tragedies. She lost her husband, her mother and her grandfather.

Revathi credits her family for her accomplishment. "The immense support that I have got from my parents-in-law and my three children - Satyajit (21), Shurojit (18), Shubhojit (12) - has made my venture very successful," says the petite but strong-willed entrepreneur.

What are her future plans for Forsche? Having tasted success, Revathi wants to expand her business to Delhi and Bangalore. In fact, she has already set up the Delhi office and her eldest son has begun the initial groundwork. Here's hoping she has a smooth ride.